Abby Candles Wax Melt Reviews
November 11, 2017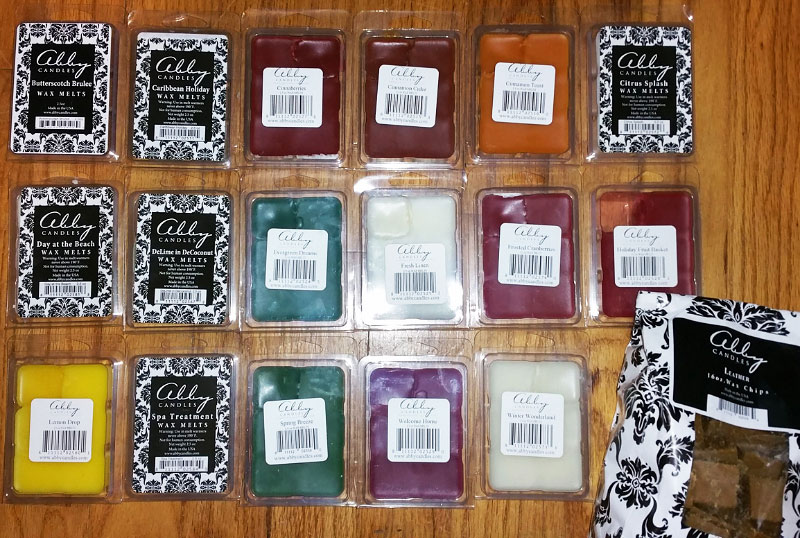 This is a review of Abby Candles wax melts. Abby Candles is a small candle and wax melt company in Oklahoma. Their wax is a soy blend, and they carry over 60 fragrances. They also carry warmers and air fresheners. Abby Candles is heavily involved in fundraising for any size group, from 5 to over 500, perfect for schools, class trips, sports teams, student activities, and more (read more information about their fundraising).
Abby Candles can be found on their website at http://www.abbycandles.com, and on Facebook.
I enjoyed the Abby Candles wax melts. The wax was stuck to the inside of most of the clamshells, so I had to cut each cube out with a butter knife. But this was definitely not a deal-breaker; they would probably pop out more easily if tossed them in the freezer for a bit.
Butterscotch Brulee
So yummy, you'll be reaching for a spoon; a scent just like butterscotch pudding
A fantastic super rich buttery sweet butterscotch scent with lots of brown sugar. So incredibly yummy! Looking at the scent notes, it's much richer than butterscotch pudding. It smells like brown sugar mixed with melted butter, and some caramel mixed in. I love this scent!
Caribbean Holiday
A blend of tropical berries and vanilla
This smells like cranberries and a floral. It's a nice scent.
Cinnaberries
The perfect potpourri of cinnamon and sweet berries
A sweet cranberry scent with a bit of cinnamon.
Cinnamon Cider
Like a delicious glass of fresh apple cider with a touch of cinnamon stick.
This smells like apple cider with a little extra cinnamon. It's not a harsh or sour "mulling spices" type of cider.
Cinnamon Toast
As warm, spicy and comforting as the treat itself.
A nice cinnamon roll scent.
Citrus Splash
A refreshing blend of grapefruit, lemon, lime and a hint of orange
A nice sweet authentic orange juice scent. Looking at the scent notes, I smell mostly orange, and maybe a bit of the grapefruit. Lemon and lime might be in there although they're much more subtle.
Day at the Beach
Spicy vanilla, exotic florals and a touch of citrus
A very nice subtle coconut scent with vanilla and a little bit of floral, although it's not a very sweet scent. Looking at the scent notes, I don't smell citrus at all.
DeLime in DeCoconut
Smooth creamy coconut and zesty lime combine to make a refreshing combination
A nice creamy coconut lime scent. It's not an overly strong or citrusy lime, and it's sweet but not overly sweet. Very nice!
Evergreen Dreams
A clean, woodsy scent that's perfect for the holidays--or all year long.
This is a unique scent. I do smell pine, but I also smell some sweet cinnamon I think, but the cinnamon itself is subtle. Looking at the scent notes, there might indeed also be a hint of a light woodsy note like sandalwood, but it's very faint.
Fresh Linen
Wrap yourself in the scent of freshly cleaned linens dried in the warm summer sun. Like a billowing breeze, this scent is fresh, clean and crisp.
A nice but generic fresh laundry detergent scent. It's not a harsh biting detergent or soapy scent.
Frosted Cranberries
A scent perfectly blended for holiday entertaining, mixing white cranberry, juicy peach, wild strawberry and raspberry.
Tart but slightly sweet cranberries. Looking at the scent notes, I don't smell peach or strawberry. Raspberry, maybe just a little.
Holiday Fruit Basket
An exotic blend of strawberry, peach, apple and coconut enhanced by almonds, French vanilla and cinnamon
I smell creamy strawberry and cherry with a hint of vanilla. This smells more like a summer scent to me, and it's quite nice. Looking at the scent notes, I don't smell peach, almonds, cinnamon, apple or coconut.
Leather
Leather smells just like when you purchase a new car with leather seats or sit on a plush leather chair, or conjure visions of motorcycle jacket fringe or a cowboy saddle.
This smells like leather and dirt, like potting soil, but not in a bad way. It's an interesting, unique scent.
Lemon Drop
Cheerful and sunny, the lemon and sugar mixture is sure to bring a smile to your face
A nice sweet lemon scent, somewhere between a kitchen lemon and a bakery lemon.
Spa Treatment
Unwind with this relaxing fragrance that mixes sage and hints of lemon-lime and talc. The soft clean scent will take you away to a day at the spa.
I've smelled this scent before, and it's usually called "Sage & Citrus", although it doesn't smell like sage or citrus to me. It's a sweet almost baby powder scent with a bit of a sweet lime note (without the citrus) and maybe a slight herbal note which I guess is sage (although sage is a savory herb and this is not a savory scent). There may also be a hint of vanilla. It's a spa scent but could also have a little bit of an industrial cleaner scent if it were less sweet.
Spring Breeze
This scent is like a soft breeze carrying a perfect combination of light florals, sandalwood and a touch of citrus.
A lovely sweet floral that smells like Coppertone Suntan oil mixed with spring flowers and a green grassy note. I really like it!
Welcome Home
A welcoming blend of cinnamon and light florals
This smells like cinnamon with maybe a hint of clove. It's a sweet cinnamon with a bit of a Red Hot cinnamon candy quality. Looking at the scent notes, I don't smell any floral notes.
Winter Wonderland
A magical blend of cool peppermint and cinnamon with hints of crisp apple and creamy nutmeg
A nice slightly sweet peppermint scent with a slight apple note and a hint of cinnamon. Looking at the description, the notes are spot on.