Candleberry Company Wax Melt Reviews
July 7, 2016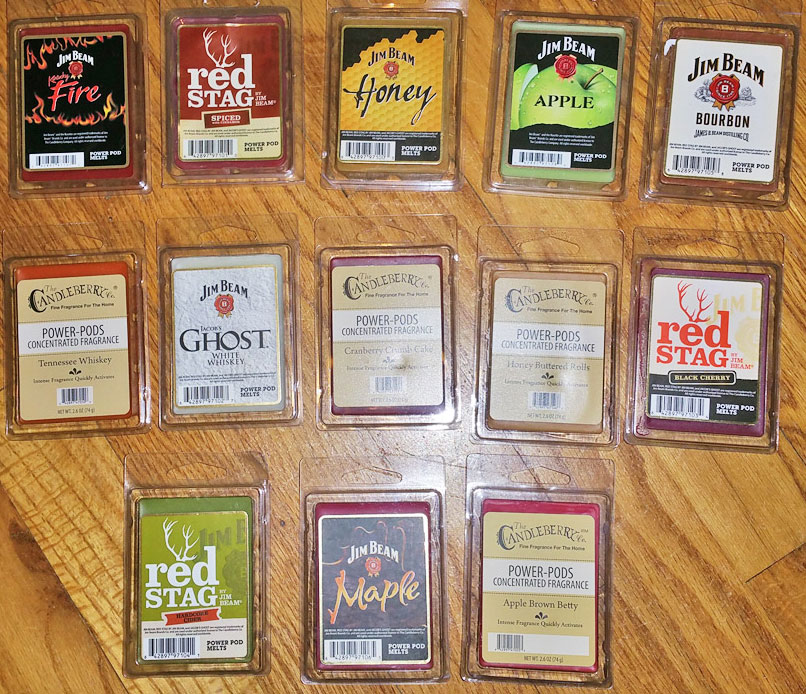 This is a review of wax melts by The Candleberry Company ("Power Pods"). They can be found on the Candleberry website. They're $4.99 for a 2.5 oz. clamshell. But they had a sale two weeks ago, and most of their wax melts were reduced to $2 each.
Candleberry wax melts used to be hard paraffin, but they switched to a soy blend. This wax was soft, greasy and messy, and most of them were duds in terms of both throw and scent quality. However, in 2018 they switched to a "proprietary blend of vegetable and paraffin wax", and their "melts" are now in the form of an 8-slice cake rather than a clamshell. But now they cost $7.99, although I don't know how large the new wax melts are.
On July 8 I called The Candleberry Co. to return the wax melts and get a refund. The girl I talked to was very pleasant and said it was not necessary to return them, that she would refund me for the entire order! Five minutes later I got the refund email. Kudos to The Candleberry Co. for their excellent customer service!
Apple Brown Betty
A typical apple cinnamon scent with a slightly fake note. Melted, it was a fake apple scent with a hint of cinnamon.
Cranberry Crumb Cake
A very light, sweet, fake cranberry scent, like cranberry scented bubblegum, but not in a good way. It was weak when it started melting, and then the scent was gone within about 20 minutes.
Honey Buttered Rolls
Wow, this is a rich scent, almost too rich. It smells like butter being melted in a pan, with maybe a hint of bread. This one would probably be a good scent to mix with another scent to give it a richer, buttery note. But alone, it's just too nauseatingly buttery.
Jim Beam Apple
A nice fresh apple scent with a sweet almost candy note, which I guess is supposed to be the Jim Beam.
Jim Beam Bourbon
I can't figure out what this smells like. It's sweet, maybe vanilla or brown sugar, with a smidgen of kind of a "dirt" note but not in a bad way. I guess it's supposed to smell like bourbon. It had a slight nauseating quality that the Tennessee Whiskey scent has, but it really has more of a vanilla or brown sugar note. Doesn't smell like bourbon at all.
Jim Beam Fire
Plain cinnamon with a fake note, like Big Red chewing gum.
Jim Beam Ghost
I barely smell anything on cold sniff, maybe a slight vanilla note with a rich slightly nutty or smoky note. What I can smell smells really good. Melted, it just smells like vanilla.
Jim Beam Honey
Ooh I love this one! It smells like sweet buttery rich caramel apples but with a note of something else, probably the Jim Beam.
Jim Beam Maple
This smells like yummy maple syrup with a buttery note and that hint of something else, the Jim Beam I guess. Like many of the other scents, this one fizzled within about a half hour.
Red Stag Black Cherry
Ooh I like this one. I smell the black cherry, but it's not really fruity. I can smell that other note in the background, probably the whiskey, that makes it smell really rich. It doesn't smell like whiskey though; in fact, none of these melts smell like liquor. Melted, this one is cherry with an earthy quality, like a smidgen of a "dirt" note, but in a good way, and maybe also a hint of vanilla. Very nice scent.
Red Stag Hardcore Cider
This smells like fresh apples with a sweet caramel note in the background. It's different from Jim Beam Apple, with a stronger apple note. And it's not as caramely as Jim Beam Honey. Melted, this is really nice scent, and it doesn't have that nasty fake bourbon note in the background. It just smells like sweet apple with a slight caramel note, similar to a lot of other apple scents from other companies, but still very nice.
Red Stag Spiced
This is very similar to the Fire scent, but more of a red hot cinnamon candy note. This one uses hard wax (rather than soft) for some reason. It seems like the "Fire" scent should smell like this one instead. I'm not a fan of straight cinnamon scents, so I don't care for this or the Fire scent.
Tennessee Whiskey
Similar to Jim Beam Bourbon, this is kind of a vanilla and light cinnamon scent, but with a nauseating note that was too rich or something. Someone else said it smells like sweet puke. I don't think it smelled nearly that bad, but it's not something I'll melt again.