Comfort Candle Company Wax Melt Reviews
November 10, 2017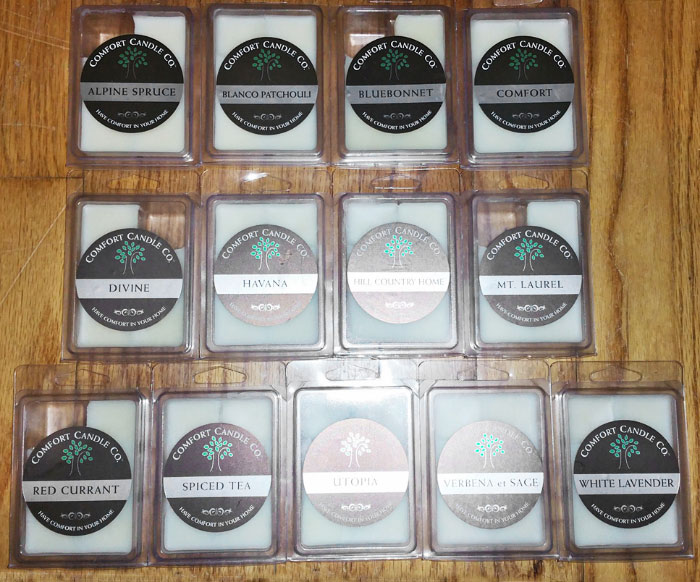 This is a review of Comfort Candle Company wax melts. Comfort Candle is a small company in Comfort, Texas that makes candles, wax melts, fragrance oils and related items in 40 scents. Their candles and wax melts are handcrafted using a proprietary soy blend, and they use the latest in candle making technology. Their products are made with American made ingredients and materials.
Comfort Candle Company's website is https://comfortcandlecompany.com, and they can also be found on Facebook, Twitter and Instagram.
I really REALLY enjoyed these melts! They smell fantastic, authentic, and unique, and most of the scents I've never smelled anywhere before. I review a lot of wax melts, and I often come across a lot of the same scents, so I'm always hoping to find scents that are unique. Comfort Candle Company definitely delivers! I can also tell that they use very high quality oils. They don't have the generic feel that a lot of wax melts have. I even like the scent names, and the labels are simple and classy.
Alpine Spruce
Wonderful organic blend of spruce, redwood, and moss
A lovely spruce scent (not a biting pine) with a slightly smoky note, and maybe a smidgen of sweet vanilla. It almost has a smidgen of a patchouli note.
Blanco Patchouli
A uniquely tantalizing sweet and earthly exotic scent
Fantastic rich earthy patchouli, just a little sweet and a little woodsy. A high quality patchouli scent.
Bluebonnet
Bountiful fragrant Texas wildflowers during the height of a springtime blooming season
A lovely authentic high quality spring floral scent. It's sweet but not perfumey, with a fresh dewy and a hint of sweet green grass.
Comfort
Ecstasy of salvation and spiritual joy
I've never smelled anything like this, and I love it! It smells like a blend of baby powder and incense like nag champa, and maybe a hint of honeysuckle and warm cashmere. It's a rich, sweet, warm scent, like an expensive perfume. I wish I knew what the notes were.
Divine
Strawberry, pomegranate, and extra vanilla create this luscious delight
Strawberry with sweet rich vanilla marshmallow. Very nice!
Havana
Enticing notes of bergamot and patchouli highlights
A nice cherry tobacco scent with a bit of an incense note and maybe of smidgen of baby powder. Very nice!
Hill Country Home
Maple and walnut high notes create a cozy and comforting home
Fantastic cinnamon roll scent with a glaze of sweet vanilla icing. This is slightly different from other cinnamon roll scents I've smelled in that it's more authentic and a higher quality. And it's not overly cinnamony. Looking at the scent notes, yes I think I do smell maple, but not really any nutty notes although it may be very subtle.
Mt. Laurel
Beautiful purple flowers with grape smelling blooms
This is a floral scent with a perfumey note, a hint of strawberry, and a little bit of coffee! It's an unusual but very nice scent! Looking at the description, no coffee, and I guess the strawberry is the grape note although I don't actually smell grape.
Red Currant
Savory blend of tart red currants and golden fruit glaze
Red currant is one of my favorite scents, and this is a fantastic version. Red currant is a classy, upscale scent of a fruit with a distinct soapy note and a smidgen of light wood. It's very slightly sweet and just a tiny bit tart (but not like cranberry).
Spiced Tea
Warm, flavorful holiday tea with a pinch of cinnamon
This smells a lot like the Hill Country Home scent, like a cinnamon roll. But it's a little less sweet, and slightly more cinnamony. I don't smell any tea notes.
Utopia
The irresistible scent of valley fresh grapefruit
I can't figure out what I'm smelling, but it's nice. Some kind of fruit with a hint of pine, maybe grapefruit and something else? When melted, I think the pine is eucalyptus because it has a sinus clearing effect. Looking at the scent notes, yep it's grapefruit, but it doesn't mention the eucalyptus/mint note. And I think there might also be another fruit in there. Or maybe a hint of a floral? Melted, it smells like pine and grapefruit, but with something else, and a creamy note but not vanilla. It's not a sweet scent, just a tiny bit of sweetness.
Verbena et Sage
Herbal delight sure to soothe your soul
A nice verbena spa scent with a lemony note. I don't know if I smell sage per se, although there is a very slight savory herbal note. Melted, it has a bit of zestiness.
White Lavender
Clean, light aroma with soothing and relaxing elements
This smells like authentic lavender right from the plant. It's not sweet nor is it too medicinal.