Coquette Bath Nuggets Wax Melts Reviews
November 8, 2020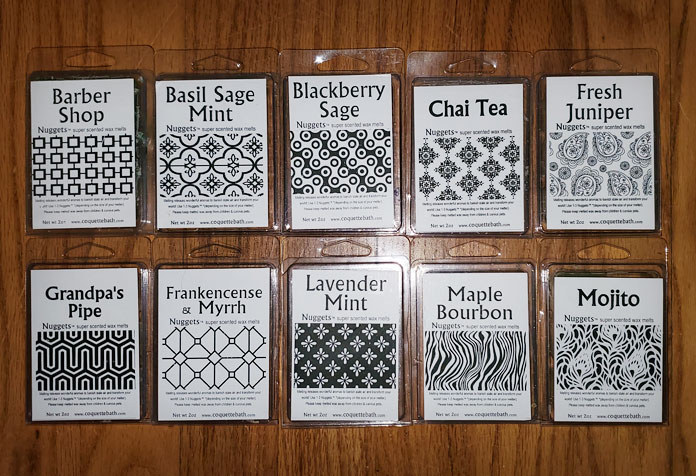 This is a review of Coquette Bath & Home Nuggets (wax melts). In general, these scents were quite nice, with a wide range of throw scores. I also like the simple, yet professional, labels.
Each of their 2 oz. clamshells is $4.25, which is a bit pricey. Although the type of wax they use is not listed on their website, based on the better, harder texture I believe it's paraffin (which I find tends to throws better than soy). Coquette Bath & Home's website is www.coquettebath.com.
Barber Shop
Bay Rum plus Amber & Musk
This is an incensey scent with Nag Champa and frankincense. It smells fantastic, but not at all like a barber shop. Looking at the notes, I don't detect any bay rum in this scent at all (bay rum is a scent you never forget), but I do smell the musk.
Basil Sage Mint
A fresh, sweet watery scent with an herbal note and a smidgen of lemon. It's refreshing and clean.
Blackberry Sage
Rich blackberry mixed with sage
I smell the blackberry, along with a savory herbal note. I don't like this scent but that's just a personal preference; it's a weird, nauseating combination.
Chai Tea
Warm creamy spicy tea
This is a pumpkin pie scent. It doesn't smell like tea at all, although it could have a smidgen of chai way in the background (but I may just think it's in there because it's "supposed" to be there). It's a great scent though, brighter, a little sweeter, and with more nutmeg than most pumpkin pie scents, and without the pie crust note.
Fresh Juniper
A nice fresh, watery scent with a grassy note and a slight herbal note. It also has a hint of a soapy note that makes it smell a little bit like a bubble bath. Very nice, and perfect for a bathroom.
Grandpa's Pipe
Cherry, Tobacco, and Smoke
A fantastic super sweet scent that smells like a combination of cedar and cherry tobacco. It's much sweeter than most tobacco-ey scents.
Frankincense & Myrrh
This smells like Nag Champa (sweet incensey scent with a baby powder note) with just a hint of the slightly woodsy frankincense note. It's a fantastic scent.
Lavender Mint
Peppermint and Herbal Lavender
I smell a nice nasal-clearing mint (peppermint and spearmint garden mint), with maybe a smidgen of lavender although I might not notice the lavender if I didn't know it was supposed to be in there.
Maple Bourbon
A blending of warm sweet maple and bourbon whiskey
A great scent that smells like maple syrup with a really smoky note, almost like bacon. But it's not a breakfast maple bacon type scent, as it also has a hint of a slightly bitter fermentation note of the bourbon. However, that bitter note is very subtle and doesn't detract from the scent. It's fantastic!
Mojito
Classic Minty Cocktails of Rum and Mint
This smells nothing like a mojito. It's an authentic, straight-from-the-garden basil scent. It's totally natural, with no sweetness, and no mint or rum notes at all. It doesn't even have the nasal-clearing effect that mint scents have. I'm wondering if this is actually another scent with the wrong label. It smells more like basil sage and garden mint than their actual Basil Sage Mint scent.