Creekside Candles & Scents Wax Melt Reviews
March 24, 2018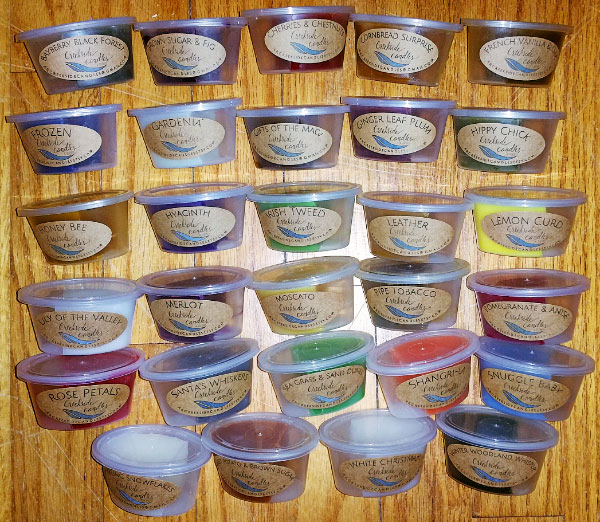 This is a review of Creekside Candles & Scents wax melts. Creekside Candles & Scents, based in Arkansas, makes candles, wax melts, votives and tealights, room sprays and more. They can be found on Etsy and Facebook.
Terry, the owner, was wonderful to work with. She answered all of my questions and was friendly and helpful. The wax melts come in 1.5 oz. oval tubs. The wax is a paraffin blend. It's soft and easy to cut, but not messy. I enjoyed these melts and in general, the scents were fantastic!
Bayberry Black Forest
The musky, rich fragrance has a base of outdoorsy fir, cedar wood and moss followed by middle notes of spicy cloves, black currants, and sweet plums and finished with a hint of herbaceous bergamot and green musk.
Very nice pine scent with a slightly sweet, slightly tart note of cranberry I think. Looking at the scent notes, the fruit is currants and plums. I think I do smell just a hint of cloves, but no musk. It has a little bit of a sour note when melted that I don't care for.
Brown Sugar & Fig
Caramelized brown sugar paired with ripened figs, smooth coconut, and a touch of amber.
I love fig scents! It smells like plum but classier, and the sweetness of the plum is tempered by a very slight light woodsy note, the warmth of amber, and a hint of coconut. Looking at the scent notes, they're spot on! One of my favorite scents! This one is slightly sweeter due to the brown sugar, although I don't smell brown sugar per se, just a slightly more sugary note.
Cherries & Chestnuts
A perfect blend of ripe, juicy cherries and aromatic, nutty chestnuts.
A rich, yummy combination of almond with a cherry note (the cherry is a combination of black cherry and maraschino cherry), but the almond is slightly nuttier, more like pecan. Even though it's supposed to be chestnut, it does smell more like almond. This is not a Serendipity scent, as there's no coconut, and the cherry is richer and the almond is nuttier. Fantastic scent. Unfortunately as soon as the wax melted in the warmer, the scent was pretty much gone, even from an inch away.
Cornbread Surprise
Southern style cornbread at its finest, but with a surprise hint of maple bacon! It smells way better than it sounds!
Fantastic yummy scent! I smell salty smoky bacon with a little buttery cornbread, plus a hint of sweet maple in the background. It's making me hungry!
French Vanilla & Oak
Reminiscent of a classic, sophisticated vanilla liqueur, this version is infused with undertones of rich, earthy oak.
This smells like patchouli with a little bit of a cedar note and a very sweet slightly perfumey note, and maybe a smidgen of baby powder. I love it! Looking at the scent notes, I'm surprised I don't see patchouli. It doesn't smell like vanilla or any kind of liqueur.
Frozen
Delicate snow crocuses dancing in the ozone with a backdrop of spicy juniper berry and the richness of the forest woods.
Based on the scent name I expected a minty scent, but this just smells like bubble bath. It's relaxing and I like it. Looking at the scent notes, I don't smell juniper, berries or woody notes at all. Maybe a hint of sweet cedar, but no, this is a soapy bubble bath scent.
Gardenia
Smells just like a heady shower of rain-kissed, creamy tropical gardenia blossoms.
A beautiful sweet rich gardenia perfume scent. It may have a hint of orange blossom/neroli in it (one of my favorite scents).
Gifts of the Magi
Woody myrrh fragrance adorned with a touch of lavender, clove leaf, and patchouli set upon a bed of sweet musk. Very earthy and masculine.
A sweet incensey scent with patchouli and a raw wood note. I like it.
Ginger Leaf Plum
Sweet notes of plum and black currant are pressed into the heart of exotic gingerleaf and cinnamon bark to create this lovely, haunting scent with just a note of spicy herbs.
This smells like black cherry with that slightly tart note and I little bit of a medicinal cough syrup note, but in a good way. It also has a tiny bit of a grape note. Looking at the scent notes, I guess I do smell plum and a little bit of currant, but it really does smell more like black cherry to me. I don't smell cinnamon or any spicy herbs, and it's not overly sweet.
Hippy Chick
Notes of fresh lavender buds infused with patchouli, sandalwood, ylang, amber, violet, cedar wood, and powdery tonka
I adore this scent! It's sweet and perfumey and smells like baby powder with nag champa and patchouli notes. Looking at the scent notes, I don't really smell lavender, but I think I smell a hint of cedar.
Honey Bee
A beautiful and complex fragrance of sweet honey balanced & rounded by hints of powdery wildflowers, vanilla and sandalwood
This smells like honey and a little bit of coconut with a smidgen of a perfumey note and perhaps a hint of sweet cedar. It's different from any scent I've smelled, and I like it.
Hyacinth
Soft and sensual. Smells just like hyacinth flowers.
This is an authentic hyacinth scent! Hyacinths smell like lilacs but slightly less sweet and with a slightly greener, more earthy note. It smells great! But when melted, it lost a lot of its sweetness.
Irish Tweed
An elegant, rich, sporty scent with notes of sandalwood, Florentine iris, herbaceous clover, French verbena, violet leaves and ambergris. It's what a well-dressed man ought to smell like.
A fresh herbal men's body wash scent, similar to Cool Water cologne.
Leather
The familiar scent of fresh leather. Clean and nostalgic.
A true, authentic leather scent. This is a great mixer and smells fantastic mixed with woodsy, cologne, and patchouli type scents.
Lemon Curd
A customer favorite, the best lemon fragrance! Our rendition of this classic combines fresh, zesty lemons, warm vanilla extract and a hint of sugar blended with fresh cream. It's a refreshing and mouthwatering blend of tart and creaminess.
A perfect lemon scent! It's zesty and sweet with a hint of a bakery note, like a creamy buttercream frosting with a load of lemon juice added.
Lily of the Valley
The classic scent of delicate lily of the valley blooms in a Victorian setting. Light as air with a hint of powder.
A fantastic gardenia/jasmine soap scent. It definitely smells soapy and it's not overly sweet, almost like a bubble bath. Melted, it's not very sweet at all, so although it does smell like soap, it's not like a sweet bubble bath type of soap. It does smell a little authentic because it's not perfumey, but it almost has a "salty" note that's a bit odd. I still like this scent though.
Merlot
Sweet, fruit, and sophisticated. Plums, strawberries, and pears float above a light layer of fresh green leaf, gardenia and Neroli. Middle notes are anchored with a soft and delicate musk.
This smells like a rich concord grape scent with a little bit of a black cherry note and maybe plum. Thankfully it doesn't have that sour fermentation note that a lot of wine scented wax melts have. I really like this one. Looking at the scent notes, I guess it does have a tiny bit of a perfumey or floral note way in the background, but it's not a perfumey or floral scent.
Moscado
Fragrant red grapefruit and pomegranate are laid atop a bed of green apple and fruit blossoms with a delicate finish of smoky musk and the barest hints of rose and geranium.
Moscado is a sweet dessert wine. I usually don't like champagne or wine type scents because they often have a weird sour fermentation note that I don't care for. But this scent is different, and I like it. I smell grape and peach and maybe even banana, and a very slightly sour note but not enough to be annoying. It smells a bit like champagne, but sweeter. Looking at the scent notes, I'm surprised there's no grape since moscado is made with grapes.
Pipe Tobacco
Smoky tobacco leaf having notes of herbaceous tobacco leaf followed by a touch of sweet honey and finishing with a smoky, leathery cedar wood, fresh cherry wood, and vanilla bean. Masculine, refreshing, and soothing.
Sweet tobacco with a patchouli note, and maybe a smidgen of caramel. Looking at the scent notes, I think the caramel I'm smelling is the honey. I love this scent!
Pomegranate & Anise
The sweet, fruity scent of pomegranate blended with the spicy scent of star anise
This smells like soapy ginger with an anise note (that gives it a licorice vibe) and a barely detectable smidgen of fruit. I'm not a fan of the scent.
Rose Petals
A floral bouquet reminiscent of fresh picked red rose petals, jasmine blossom, and bitter geranium, calmed down with vanilla
A lovely slightly bitter rose scent mixed with sweet vanilla buttercream and maybe a smidgen of baby powder. I like it!
Santa's Whiskers
Notes of balsam fir needles and sweet sugar cookies.
I love this scent! It smells like super sweet vanilla buttercream with a clove note and a hint of smokiness. Looking at the scent notes, okay I do smell the fir/pine but it's way in the background.
Sea Grass & Sand Dunes
A splash of citron along with notes of a flower garden filled with the happy blooms of geranium, roses, jasmine, and mint. The breeze finishes over the sea grasses and brings with it a base of spicy, sunbaked boardwalk
A fresh green grass scent with a hint of floral like gardenia. Although I've never found a grass scent that smells like real grass, this one is pretty close. I really like it!
Shangri-La
This is a lovely blend of fresh lavender petals infused with soft coconut milk
A combination of lavender, and coconut I think. It smells a lot like Yankee Candle Lavender Vanilla (or is it Bath & Body Works?). I like it.
Snuggle Baby
This scent is pure baby! Not a powder and not a straight lotion, it's one of the best baby scents we have ever smelled.
A fantastic, strong baby powder scent.
Sparkling Snowflakes
Notes of light and airy white musk mingle with fruity citrus and succulent sweet raspberries, with just the smallest tease of bergamot and a whisper of jasmine. To round it out we have sweet and creamy peppermint with a touch of dark chocolate.
A lovely grassy floral scent with a hint of peppermint and vanilla. It's not an overly sweet scent. Looking at the scent notes, I guess the musk and jasmine are the floral notes. I don't smell raspberry, citrus, or chocolate at all. Melted, it just smells like a nice soapy scent, or even bubble bath, with just a smidgen of sweet mint. I love it!
Sweet Potato & Brown Sugar
Notes of mashed sweet potato, creamy milk, squash puree, brown sugar, freshly ground nutmeg, cinnamon sticks, vanilla extract, melted butter, rum, and a hint of maple sugar
This is one of the most incredibly yummy scents I've ever smelled. It smells like a sweet yam with brown sugar and lots of rich butter, and perhaps just a smidgen of cinnamon. It's super sweet and rich!
White Christmas
A floral bouquet with citrus and almond top notes with a sweet musky background
This smells like almonds and a little bit of cherry with vanilla marshmallow. It's sweeter than other scents I've smelled with these notes. I really like it! Looking at the scent notes, I don't smell musk or floral, but maybe that's where the extra sweetness is coming from.
Winter Woodland Whisper
An evergreen forest in the depths of winter, with pine, spruce and fir
A nice slightly smoky spruce scent. It's not a harsh pine scent. It also has a slight "softness" to it with just a smidgen of sweetness.