Frostbeard Studio Book Lovers' Soy Tart Wax Melts Reviews
November 3, 2020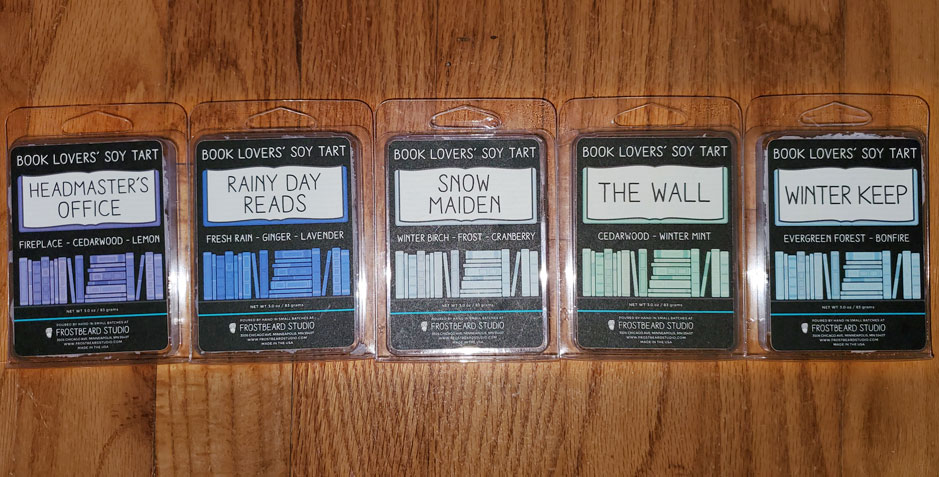 This is a review of Frostbeard Studio Book Lovers' Soy Tart Wax Melts. Frostbeard Studio is a Minneapolis company that makes book lovers' library and literature-inspired soy candles, soy wax melts, t-shirts and mugs.
On the plus side, the concept is clever, the scents are very nice, the labels are beautiful and very professional looking, and the notes are listed right on the label.
However, unfortunately we feel that the negatives outweigh the positives:
Most of the scents had weak or no throw (using a standard 20W warmer), despite that the website shows that each of them has a medium to strong throw. This company gets excellent reviews, however, so it's quite possible that their candles throw better than their wax melts, or that it's just these particular scents that didn't throw well.
$7 each, which is extremely expensive, especially considering the poor throw (Scentsy wax melts are $6, and luxury Trapp melts are $8 but are worth every penny.)
Messy, crumbly soy wax texture.
Frostbeard Studio's website is https://www.frostbeardstudio.com, and they are also on Facebook.
Headmaster's Office
Fireplace, Cedarwood, Lemon
I smell cedar, a little bit of lemon, and a tiny bit of tobacco, along with another woodsy note and a smidgen of smokiness. It's a fantastic scent, and the notes are spot on.
Rainy Day Reads
Fresh Rain, Ginger, Lavender
On cold sniff it's a fresh watery scent with a hint of lemon, and maybe ginger, and possibly a smidgen of lavender and fruit. Melted, I smell more of the ginger, along with the fresh note, but no lemon, lavender or fruit.
Snow Maiden
Winter Birch, Frost, Cranberry
I smell pine, eucalyptus, and a hint of tart but slightly sweet fruit (cranberry, I think). Very nice wintry scent!
The Wall
Cedarwood, Winter Mint
I smell mint (peppermint with a hint of spearmint), cedar, a hint of smokiness, and a musty "dirt" type note that actually smells kind of good. It smells like a cold basement on a winter day, but not in a bad way. I like it!
Winter Keep
Evergreen Forest, Bonfire
A fantastic smoky scent with a bit of mesquite, a hint of black pepper, and a smidgen of pine. Very nice!