Goose Creek Holiday/Christmas 2022 Wax Melts Reviews - Part 2
November 22, 2022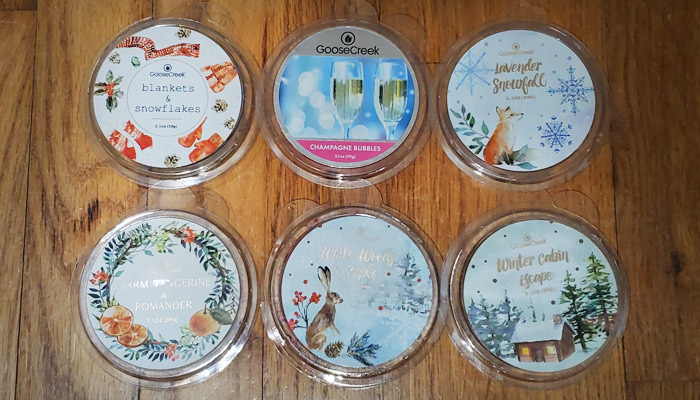 This is a review of 6 MORE Goose Creek Candle Holiday/Christmas 2022 wax melts, which can be found at goosecreekcandle.com.
Goose Creek came out 7 more new winter scents in early November, which we reviewed HERE.
Blankets & Snowflakes
Wrap yourself in a cozy blanket while watching snowflakes fall on a cold winter night. Cozy Blankets, Falling Snow, Warm Spices & Sparkling Vanilla.
Very nice scent of lavender, sandalwood, milky vanilla, a tiny bit of a laundry note, and possibly a smidgen of fruit (not sure about the fruit). It's sweet but not overly sweet. I like it. Looking at the notes, I'm assuming "cozy blankets" is the laundry and/or lavender note. "Falling snow" would be more like a mint note, but I'm not getting any mint in this scent. Nor am I getting cinnamon, cloves, or any other spices.
Champagne Bubbles
The fizziness of a champagne toast kicks off the perfect celebration! Cheers! Top: Sugared Blood Orange, Pink Grapefruit; Mid: Pink Lady Apple, Jasmine; Base: Sweet Amber, White Musk, Sugared Woods
This is not a champagne scent, which is a good thing, as there are no bitter or weird "fermentation" notes that alcohol scented candles and wax melts sometimes have, and no fizziness either. It's strawberry lemonade (but not as lemony as lemonade, more like strawberry with a little "kick"), with blackberry, a bit of raspberry, and I think a hint of orange. Possibly also a floral way, way in the background, although it's not a floral scent at all. It's rich, sweet, and a tiny bit salty. I adore this scent!! None of the notes I'm smelling are in the official scent notes. And looking at those notes, I'm not getting apple or woodsy notes, but they probably way in the background. And I do detect a tiny bit of grapefruit from close up when melting (but not in the room), which I think helps to temper a bit of the sweetness (although there's no bitterness in this scent).
Lavender Snowfall
sdf
Notes: Snow flurries drift in the wind on a cozy Saturday evening. Lavender, Fallen Snow, Peppermint & Woods. This is peppermint with a bit of lavender. It's not a sweet, creamy vanilla type peppermint, but it's also not that "lavender-y". There's a tiny bit of a woodsy note that could possibly also include pine, so it actually smells like some kind of ammonia based industrial cleaner with a Pine Sol note, but not really in a bad way, because it smells like someone has been cleaning!
Warm Tangerine & Pomander
Explore the Christmas festival while sipping this warm winter drink. Tangerine, Grapefruit, Orange & Winter Spice.
This is pretty much just orange and grapefruit, but there's a smidgen of something else way in the background that I can't figure out, almost like a woodsy note or even a smidgen of apple cider (but without the apples). It's much different from other pomander scents, which has much more spice, like cloves. I'm not getting cloves, and even though I don't smell the spice, I'm sure it's in there. Fantastic, strong orange and grapefruit scent.
White Woods & Apple
The smell of snow-covered apples fills the winter white woods. Mahogany Woods, Crisp Apple, Fir Needles & Bergamot.
This does smell like apple and wood. The wood is like a dark mahogany, and it's only a tiny bit sweet. It's also slightly bitter, so it's just "okay" to me. Looking at the notes, I'm not getting pine.
Winter Cabin Escape
Escape to a snowy winter cabin to celebrate Christmas with the family! Woodland Cabin, Bergamot, Pine, Lavender & Eucalyptus.
This smells like lavender, wood (with maybe a tiny bit of oud), chocolate (although it's probably patchouli, but it's not incensey), and possibly a barely detectable smidgen of pine or eucalyptus. It's a nice, cozy scent, and not overly sweet.