Hanna's Candle (Candlemart) Fall 2019 Wax Melt Reviews
August 30, 2019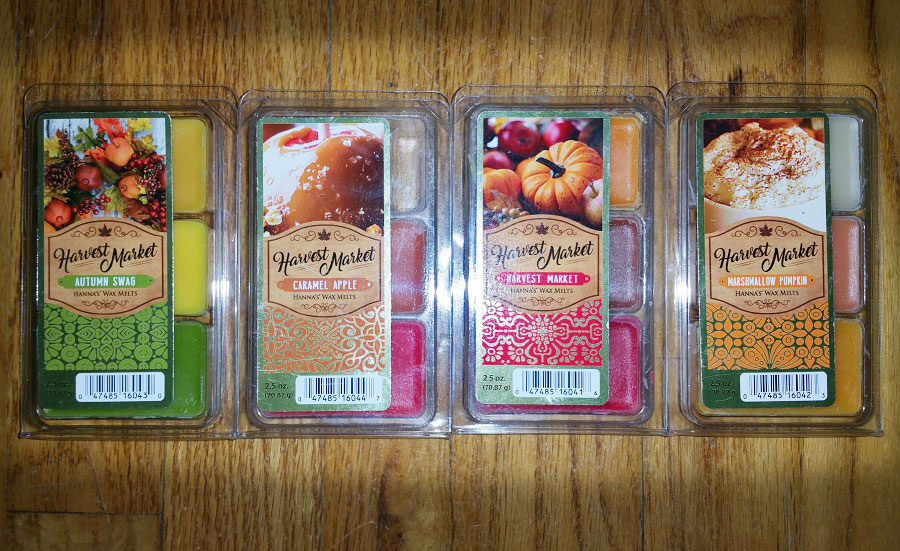 This is a review of the Hanna's Candle (Candlemart) Fall 2019 Harvest Market Collection Wax Melts: Autumn Swag, Caramel Apple, Harvest Market, and Marshmallow Pumpkin.
As of the date of this review, these scents are not yet available on the CandleMart website (they say "Sold Out"), but they should be available any day now. They can be seen on the Hanna's Candle (CandleMart) website.
Autumn Swag
Pear, roasted peach, creamy apple, warm spices of cinnamon, clove, nutmeg, and ginger; with a sugary vanilla butter pie crust finish
This is an interesting scent that I've never smelled before. It smells like grilled peach or peach syrup, but it's not overly sweet. And there's another fruit in there, pear I think. It's kind of like peach cider, if there were such a thing, although I don't really smell spices. Looking at the notes, I'm surprised to see all those spices. And I don't detect a butter pie crust note. I like this; it's different!
Caramel Apple
Delicious notes of sweet caramel, English toffee, and a touch of maple embrace notes of ripe, tart green apple and succulent pears dusted with brown sugar.
This is the same scent as
Warm Caramel Apples
and
Aldi Salted Caramel
, and it smells fantastic. It smells like pears and caramel, with a hint of apple and a little bit of a candy note. And it doesn't have any salty notes (no salted caramel). I think I detect a hint of maple as well. Yep, there it is in the scent notes. Yummy!
Harvest Market
Marshmallow Pumpkin
Cinnamon and clove spiced pumpkin stirred with the creamy vanilla sweetness of puffy, toasted marshmallows
The name describes this scent perfectly. It smells like vanilla marshmallow with a subtle hint of pumpkin. Looking at the notes, I'm surprised I don't see nutmeg, since that's the spice I smell (pumpkin spice). I think I detect cinnamon and clove, but it's barely detectable. It's a delicious scent!