Hillbilly Wax Company Wax Melt Reviews
May 1, 2018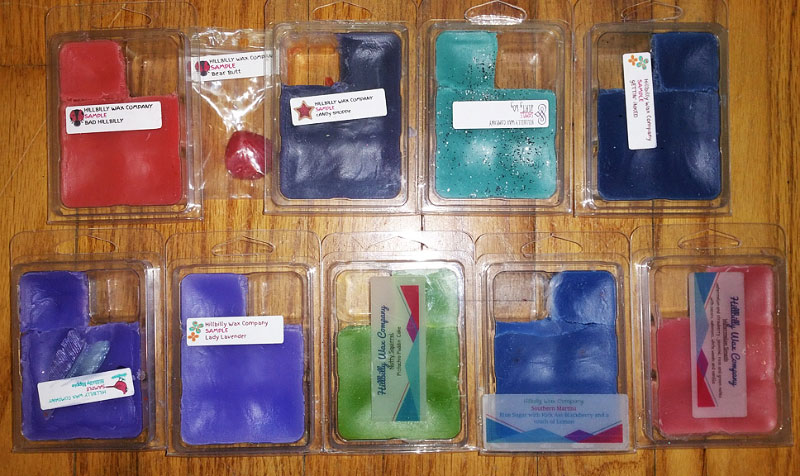 As of 2019 their website and Facebook page are gone, so I assume the company is closed.
This is a review of wax melts by Hillbilly Wax Company, a brand new independent wax melt vendor in North Carolina. Stacy Green started this business a few months ago and already she has quite a following due to her unique theme and scent blends. Unlike most wax vendors, Stacy's wax melts are made with paraffin wax rather than soy (paraffin tends to have a stronger throw).
In general these wax melts performed quite well. Hillbilly Wax Company's website is https://hillbillywaxco.com, and they're also on Facebook.
Bad Hillbilly
Lord of Misrule by Lush Dupe, a mysterious blend of rich patchouli and warm sandalwood. Citrus, vetiver and kisses of black pepper round out this fragrance.
I smell patchouli and a little bit of a raw woodsy note, and maybe a smidgen of cologne. I like it. Looking at the scent notes, the vetiver is the cologne note, and I think I do detect a hint of pepper, but no citrus.
Bear Butt
Butt Naked type. Granny Smith apples blended with honeydew melon and cherry on a bed of creamy vanilla taffy.
I smell sweet watermelon and strawberry with maybe a note of pear. It's rich and creamy. Looking at the scent notes, okay kind of close! Yes, now I do realize it's honeydew rather than watermelon, but with the combination of the apple and cherry it was hard to tell. I'm not a fan of melon scents, but I kind of like this one.
Candy Shoppe
Raspberry, strawberry and banana blend with sweet sugar, wild berry and cherry on a bed of creamy vanilla taffy
A nice fruity scent with a little bit of a sweet creamy note. I smell strawberry, banana and watermelon, with a little bit of cherry.
Dirty Boy
Dirty Lush Dupe. The fresh scent of spearmint blended with sandalwood and thyme. This is a clean fresh and sexy scent.
This is a strong spearmint/wintergreen scent. It's a little sweet, but herbal. Looking at the notes, the thyme is probably the herbal note. I don't smell sandalwood. Melted, it has a smidgen of a candyish note, in a good way.
Gettin' Inked
Green floral freesia type with top notes of cyclamen, hawthorn and lilac, middle notes of jasmine, lily, rose, and violet with a musk and tonka bean base note.
This one is interesting and very hard to describe! It's a sweet floral like sweet pea or gardenia, but I also smell a little bit of oriental spice and soapiness, and even a smidgen of tobacco way in the background. Looking at the scent notes, this is not the scent I would expect based on the notes, but it's different and I like it.
Hillbilly Hippie
Cannabis Blossom (green fern and cannabis notes open up to a floral accord of gardenia and violet. White musk and golden amber round out this fragrance) and a touch of patchouli (an earthy, musky, woodsy favorite)
This smells like pure marijuana! There might be something else way in the background, but all I'm smelling is pot. Looking at the scent notes, there's the cannabis blossom. I was told that the blossom doesn't smell like pot, but nope, it does.
Lady Lavender
Sweet buttercream and lavender
This smells like a combination of lavender, vanilla, and maybe also slight bakery and perfumey notes, although it's not overly sweet.
Nutty Squirrel
Pistachio Puddin' Cake, which is creamy vanilla custard mixed with pistachio nuts, honey, almond and heliotrope.
Oh this smells fantastic!! It's a super rich creamy sweet pistachio scent.
Southern Martini
Blue Sugar type with Kick Ass blackberry and a hint of lemon for balance
This smells like Blue Sugar (a popular wax melt fragrance) but with a plum/blackberry note. I like it. Blue Sugar is actually a men's cologne with top notes of mandarin orange and bergamot; middle notes of coriander, patchouli, lavender, licorice and cotton candy; and base notes of tonka bean, star anise and cedar. I'm not a fan of Blue Sugar because I can smell the anise and licorice a bit, but I like this version because of the blackberry note.
Watermelon Smash
Fresh crisp watermelon that starts with top notes of watermelon and strawberry followed by middle notes of jasmine, rose and green notes all on a base of cassis, oakmoss, white woods and vanilla
I smell mostly watermelon, with a hint of some other notes I can't identify. Maybe another fruit?