JewelScent/Gemstra Wax Melt Reviews
January 18, 2018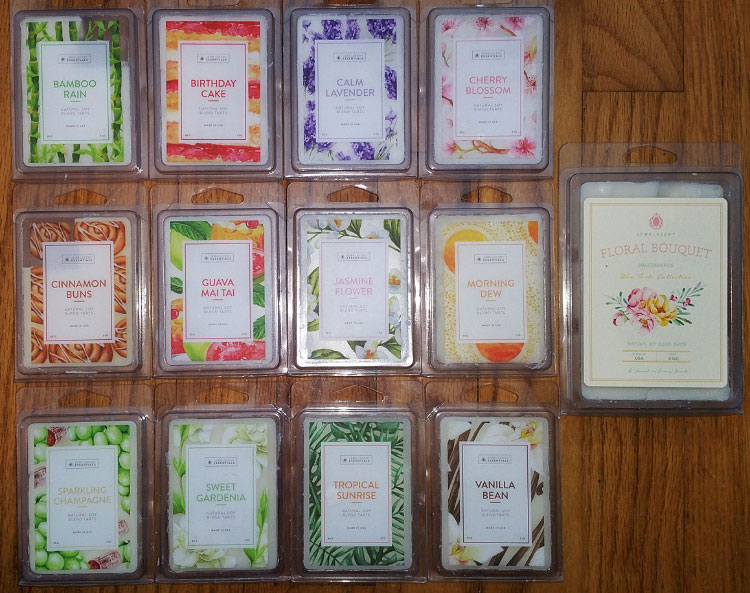 This is a review of wax melts by JewelScent/Gemstra, which makes candles and wax melts using a natural soy wax blend. None of their fragrances are tested on animals and are all made in the USA.
JewelScent and Gemstra sell many of the same products, but the Gemstra site also sells home decor items, cosmetics and apparel. You can buy wax melts with or without jewelry inside (the ones without the jewelry are called "essentials" wax melts, which are the ones I reviewed).
Sandy Neustein is the JewelScent/Gemstra rep I worked with. She really knows her products and she provided fantastic customer service. You can order JewelScent/Gemstra products from JewelScent website and Sandy's Gemstra web page at https://www.gemstra.com/sandyn/c/wax-tarts. (As of 2019, Sandy's Gemstra page is gone, but the main JewelScent website is still active.)
I enjoyed these scents, even though most of them smelled different than what I expected based on the scent names and notes. In general they threw quite well, but most of them didn't last long, around 1 to 2 hours, although there were several that lasted much longer.
Bamboo Rain
A fresh fragrance with a watery floral complex intertwined with a modern, clean bamboo heart and a smooth musky hyacinth background
This is not a bamboo scent at all. It's an orange scent with maybe a rich berry note, and possibly a hint of grapefruit. It's not a citrusy orange. I really like it. The scent lasted for about 5 hours.
Birthday Cake
This sweet cake scent has a bold vanilla presence with hints of fresh butter, creamy anisic notes and warm sugar vanilla.
A vanilla cake scent. It's different from the vanilla bean scent; this one is sweeter with a slight bakery note. I also detect a hint of nuttiness. Looking at the scent notes, I don't detect any anise at all, which is good because anise smells a bit like licorice, which I don't care for.
Calm Lavender
Lavender with hints of geranium and some sheer woods notes
This smells fantastic and very strong on cold sniff. It's a very authentic lavender scent. It has just a hint of sweetness, but it's not a floral or powdery lavender scent. It has that a slight sinus-clearing eucalyptus note, but it's not an overly medicinal lavender. I really like this one.
Cherry Blossom
Ripe berries and maraschino cherries blend boldly together for an aroma reminiscent of spring's first blossom! White musk adds a touch of daintiness to this blooming bouquet.
This is not a cherry blossom scent at all. It's black cherry mixed with a bit of a floral note. It's very strong on cold sniff. I'm not usually a fan of black cherry scents because they tend to be a bit harsh, but I like it mixed with the sweet floral. There may also be a smidgen of vanilla.
Cinnamon Buns
Warm ground cinnamon melds with freshly baked bread and is accentuated by sweet notes of piping hot icing.
This is the only scent so far that's true to its name. It's a fantastic cinnamon bun scent with a sweet rich vanilla buttercream frosting. It's very cinnamony, but not annoyingly so. I love this one. The scent lasted for about 5 hours.
Floral Bouquet
Sweet pea petals, violet and cassis. Fresh cut stems, strawberry and musk tones add an earthy aroma.
This smells like fake sweet banana with a bit of a floral note. It's a nice scent. Looking at the scent notes, it's probably the combination of violet, cassis and strawberry that smells like banana to me.
Guava Mai Tai
Guava enhanced by lemon and orange meld with hints of sweet apple blossom, tropical pineapple and ripe melon.
This smells like orange with a hint of a tropical fruit note. It smells almost exactly like Bamboo Rain, but slightly sweeter and with that hint of tropical fruit. It's a nice scent.
Jasmine Flower
White floral notes of jasmine flower mixed with some fresh, green notes and a hint of sheer musk
I love this scent! It's not an authentic floral scent, but more of a jasmine scented body lotion. And it's not overly sweet or perfumey either.
Morning Dew
Watery tones of watermelon, mandarin peel, green apple and juicy passion fruit with fresh floral notes of wild rose, water lily, hyacinth and tuberose. Warm caramel, vanilla and patchouli blend together to form a sweet scent.
I've smelled this scent before, and I really like it. It smells like an expensive perfume, but it's not overly sweet or perfumey. It's not a fresh, watery scent either, which I would expect based on the scent name. It has a little bit of warmth and floral, and maybe a smidgen of apple.
Sparkling Champagne
A crisp blend of sweet muscat grapes, bergamot and soft white florals
This doesn't smell like champagne at all, but it's a very nice scent. It smells fresh, like rain, but there's also a smidgen of both a fruity (maybe orange?) and possibly a floral note. It's not an overly sweet scent, nor is it an actual fruity or floral scent. It's very difficult to describe, but I like it. Looking at the scent notes, the fruit I'm smelling is probably grape, but it really doesn't smell like grape.
Sweet Gardenia
Spring gardenia blooms blended with orange flower accord and subtle hints of rose blossom
This doesn't smell like gardenia at all, and it's an artificial scent, but I like it. It smells like air freshener with a fresh but slightly floral note, and maybe even a vanilla note.
Tropical Sunrise
Fresh notes of orange, pineapple and grapefruit come together in this exotic citrus aroma. Armoise oil, soft red fruit and vanilla notes add warmth.
This smells like grapefruit with an orange note. There may be a smidgen of coconut way in the background, if it's there at all. This is not really a tropical scent, and it's not overly sweet. I like it though.
Vanilla Bean
Sweet vanilla with creamy tonka bean accents and soft powdery notes from the heliotrope flower
Vanilla with a slight nutty note.