Jolly Rancher Wax Melt Reviews (Hanna's Candle)
March 21, 2018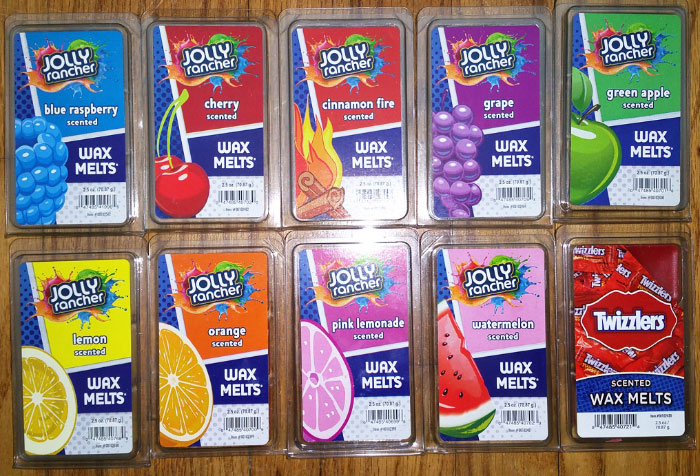 This is a review of Jolly Rancher wax melts by Hanna's Candle. These are fruity candy wax melts in your favorite Jolly Rancher scents!
These used to be made by Hanna's Candle, along with Jolly Rancher candles and AromaBeads Singles; however, as of 2019 the Jolly Rancher line has been discontinued.
Jolly Rancher Blue Raspberry
Wild raspberry with tangy fruit accent this candy treat
A fake raspberry and blueberry scent (in a good way) with a very slightly tangy note, like it has a smidgen of lemon. I like this one.
Jolly Rancher Cherry
Luscious red cherry and a sweet vanilla base
This smells like vinyl with a hint of a fake cherry note. I know it's supposed to be a fake cherry, but although it's kind of sweet, it's not sweet or candyish enough. It's not even authentic or sweet enough to smell like cherry cough syrup, as a lot of fake cherry scents do. This is the only one out of the Jolly Rancher collection that I don't care for.
Jolly Rancher Cinnamon Fire
Cassia, cinnamon bark, wood & amber - the ultimate spice scent
A sweet red hot cinnamon candy scent. There may be a smidgen of cloves for extra warmth. If you like cinnamon, you'll love this scent!
Jolly Rancher Grape
A bold, sweet and tart grape fruit fragrance that will wake up your sleeping taste buds
This is the perfect grape candy scent, or even grape soda. It's definitely not an authentic grape, just like you would expect grape flavored candy to smell like: sweet grape candy with a slight sour candy note (like maybe a hint of lemon).
Jolly Rancher Green Apple
Fruity notes highlight this crisp apple scent, creating a mouth watering candy delight.
A very pleasant sweet apple scent. It's not completely authentic (nor should it be, since it's supposed to be apple candy), but it's not a fake apple candy scent either. I don't think it's a dupe of any of their other apple scents. I really like it.
Jolly Rancher Lemon
Tart, zesty lemon and sweet candied sugar
A nice lemon scent with a slightly soapy note. It smells a little like kitchen lemon, but it barely has any sweetness. It's almost the exact same scent as Jolly Rancher Pink Lemonade, but not as sweet. I like it! Looking at the scent notes, there's really no sugar (or maybe a hint of sugar) in this one.
Jolly Rancher Orange
Citrus, orange, pineapple, fruity, violet, strawberry, and gardenia
A strong bright very slightly tart orange scent, like orange Tang. Very nice. Looking at the scent notes, actually I think I do detect some pineapple, but none of the other notes except orange.
Jolly Rancher Pink Lemonade
Tangy lemon with a splash of sunny citrus
This smells almost exactly like the regular Jolly Rancher Lemon scent, but just a smidgen sweeter and maybe very slightly more soapy. Looking at the scent notes, it doesn't smell very citrusy. I like it though!
Jolly Rancher Watermelon
Juicy watermelon, zests of lemon, orange, and fresh floral undertones, on a sweet candy-like accord of sugar cane and malt notes
I'm not a fan of watermelon scents, but I really like this one because it's a sweet watermelon candy scent (although it's not overly sweet). It's not authentic watermelon, nor should it be. It's summery and thirst quenching and almost has a tiny bit of a floral note. Looking at the scent notes, there's the floral. I don't smell lemon or orange though, but there may be just a tinge of zestiness.
Twizzlers
A yummy rendition of classic strawberry Twizzlers twisted with tropical nuances of golden pineapple, island papaya, and tantalizing coconut
I know Twizzlers are not Jolly Ranchers, but I didn't know where else to put this review! This smells like pineapple and fake strawberry (in a good way), and maybe a hint of raspberry. It's rich like there's a bit of vanilla in the background, and maybe a smidgen of coconut. Looking at the scent notes, they're spot on. I've never smelled Twizzlers candy, so I don't know if this actually smells like Twizzlers or not. But I really like this scent. It's fun and summery!