Luminessence Wax Melts Reviews from Dollar Tree
December 29, 2019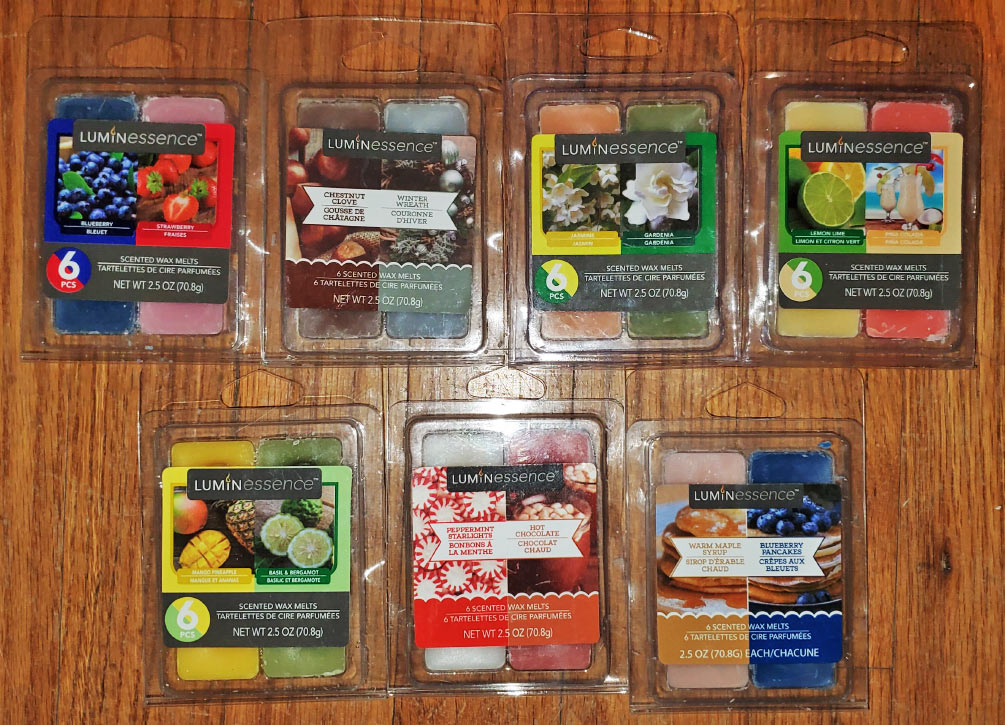 This is a review of Luminessence Wax Melts from Dollar Tree stores.
Maybe I'm biased against dollar store wax melts, but I hoped that these melts would at least be fairly good. Each wax melt is 2.5 oz. and consists of 2 scents of 3 cubes each. The wax is hard paraffin, not soft like soy wax, so I thought they might throw fairly well. These are only available at Dollar Tree stores, and they cost $1 each. You can also buy them in lots of 24 from the Dollar Tree website.
Blueberry + Strawberry
Blueberry
A very sweet fake berry scent that smells like berry scented cleaner. It's actually not that bad.
---
Strawberry
A very sweet fake strawberry scent with a little bit of that weird sour urine type note that I describe more in the Jasmine + Gardenia review. Thankfully since this is a strong thrower, I don't smell that sour note in the room, and I just get the fake chemical strawberry scent. But if I sniff it up close, it's vile!
Chestnut Clove + Winter Wreath
Chestnut Clove
A nice smoky marshmallowy cedary woodsy tobacco-ey type scent. Actually smells quite nice.
---
Winter Wreath
I smell mint (spearmint?) with a little bit of cinnamon and a smidgen of apple. It smells slightly like Better Homes & Gardens A Wonderful Winter. Very nice scent.
Jasmine + Gardenia
Jasmine
This smells like a perfumey jasmine with a fake note, but still kind of nice. It's an "intense" jasmine scent, very sweet and rich and with a bit of a warm ambery note. But it also has an odd note that kind of smells like old urine, not cat pee like some peach scents smell like, but like a dirty bathroom or something. It's a really nice scent until you get a whiff of that urine note, especially from up close, even though that note is very subtle. Three other people smelled this scent: One said it's just a super sweet floral but didn't detect any vile notes, one said it has a slight note of rotted meat, and one said it smells like a sweet floral bathroom cleaner that does indeed have a urine note that makes it smell like a dirty bathroom!
---
Gardenia
This smells almost exactly like the Jasmine scent, but I think it's slightly less sweet. Has that same odd urine note but I think it's more apparent in this scent.
Lemon Lime + Pina Colada
Lemon Lime
This smells like a lemon scented cleaner or dish detergent, but more lemony and slightly less sweet. It's actually a nice scent.
---
Pina Colada
Smells like a cheap coconut car air freshener with a little bit of a tropical fruit note, maybe pineapple, but I'm not sure. It's not awful, just smells cheap.
Mango Pineapple + Basil & Bergamot
Mango Pineapple
This smells like some kind of fruit that I can't identify, or maybe iced tea with a hint of lemon? I can't be sure. It smells a little off though.
---
Basil & Bergamot
An odd pineapple type scent with a savory, slightly peppery note that actually does smell a little like basil. It's not really sweet. I don't care for it. It has the same hint of urine note that the Jasmine and Gardenia scents have.
Peppermint Starlights + Hot Chocolate
Peppermint Starlights
This is a great scent. It's peppermint, with a little bit of that sinus clearing effect. It's sweet, but not candy cane type sweet. And I think there's a smidgen of cedar wood way in the background that makes this different from other peppermint scents. I just wish it threw well.
---
Hot Chocolate
Fake chocolate scent, surprisingly not bad, not a bitter or stinky chocolate. Just not entirely authentic.
Warm Maple Syrup + Blueberry Pancakes
Warm Maple Syrup
This actually smells quite nice, not like maple syrup, but like pancakes.
---
Blueberry Pancakes
I can't really smell anything even on cold sniff, maybe a fake blueberry bakery scent?