Mable Lee's (Cheeky Unicorn) Wax Melts Reviews
September 7, 2020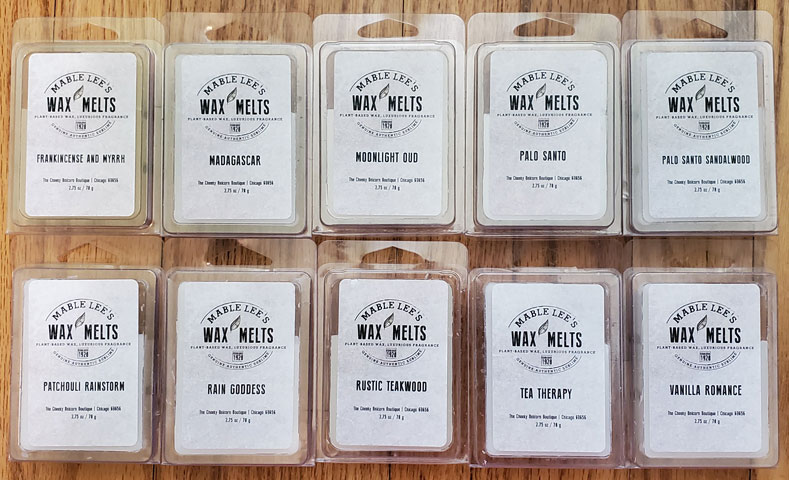 This is a review of Mable Lee's wax melts which are made by The Cheeky Unicorn Boutique at https://thecheekyunicorn.com. They are soy-based wax melts with no dyes, but they're hard like paraffin.
They have over 500 scents to choose from! Wow!! Their wax melts come in 2.75 oz clamshells for $5 each and "Lil' Bits" (a 1 oz sample size for $2.00). I like the fact that they advertise the throw for each scent on their website, and for the most part they were accurate. The scents were very nice and the average throw was medium to strong. The only complain I would have, and it's very very minor, is that the clamshells were hard to open. I really liked these wax melts!
Since many of the scents I got (all of which were from a destash) were the 1 oz. size, I finished them so they're not included in the image or video.
Banana Nut Bread
Sweet, ultra-ripe bananas blended with comforting spices, brown sugar, walnuts, and a dash of vanilla
A yummy banana scent that smells more like 'Nilla Wafers with a strong (but not authentic) banana flavor rather than banana nut bread. But it smells great, so no complaints here!
Advertised Throw: Strong
Black Cherry Amaretto
Rich almond and Italian liqueur mingles with delectable, sweet black cherries
This scent smells just like it sounds: It's sweet black cherry with a hint of almond and vanilla in the background. The harshness of the black cherry is tempered by the other notes. Truly scrumptious scent! When melted though, the harshness of the black cherry takes over and I don't detect the almond and vanilla as much, and it takes on a little bit of a weird soapy note. About a half hour later, it started taking on a harsh chemical note so I had to remove it from the warmer.
Advertised Throw: Strong
Citrus Rain
Fresh accords of floral rain among notes of juicy, sweet lemon
A super thirst quenching scent of water, lemon and lime, with a tiny bit of a soapy note, and smidgen of a bland aloe note that helps to keep the lime from being too tart. It's just a tiny bit sweet. Great scent!
Advertised Throw: Strong
Frankincense and Myrrh
The warmth and earthiness of frankincense with the therapeutic accords of sweet myrrh
I can't figure out what I'm smelling. It smells like vanilla plus an incensey note, but it also has a bland, slightly sour note that tempers the sweetness. The scent is just "meh" for me.
Advertised Throw: Medium
Ice Cream Parlor
Sweet, summer strawberries slow-churned with heavy cream and a hint of vanilla
I can't figure out this scent. It does have kind of a berry vanilla note, but it's super fake with a strong chemical note. Just doesn't smell very good.
Advertised Throw: Mild
Kentish Tweed
Sandalwood, iris, verbena, and bergamot
This smells like a combination of laundry, sweet orange blossom/neroli, and a fresh men's body wash. I love it! Melted, however, it's just a really nice sweet fresh men's cologne or body wash scent. Looking at the notes, the men's body wash note is the bergamot and the fresh note is the verbena (although I don't detect verbena or any lemony notes per se). I don't smell sandalwood or any woodsy notes.
Advertised Throw: Medium
Lemon Cupcakes
Cherry, sweet lemon buttercream with notes of velvety, vanilla cupcake
This smells like lemon and sweet vanilla with a little bit of a yellow cake note. It's very sweet, and what makes this scent different from other lemony bakery scents is that it's super lemony. Which I love! Fantastic scent!
Advertised Throw: Medium/ Strong
Madagascar
Bright notes of floral, Mediterranean citrus, and rich vanilla
A very sweet scent with lime, maybe a bit of lemon verbena, a little bit of a light woodsy note, and a slight musty or mildewy note (but strangely, in a good way). It's not like anything I've smelled before, but I really like it!
Advertised Throw: Medium
Moonlight Oud
Oriental oud, enhanced by notes of cedarwood, deep musk, and a touch of liqueur
At first this was a lovely, super sweet musky perfume scent that smells like real perfume, not just a floral or body wash scent. With notes of musk that makes it smell a little old-fashioned, as well as maybe a sweet floral like gardenia (which gives this a little bit of a baby powder note), and a hint of woods. I actually did smell a smidgen of the oud, which is most likely the woodsy note. Oud is a deep, resinous woodsy scent, so it was very subtle in this scent at first, just giving the scent an air of sophistication. After about an hour or so, however, the oud note really started coming out, and the scent was not as super sweet, or perfumey, smelling more like incense. I love it both as the musky perfume and as the oud'y incense! Looking at the notes, yes, I do smell sweet cedar, but no liqueur or any foodie notes.
Advertised Throw: Medium
Palo Santo
Holy wood, white sage, vanilla, and golden amber
A fantastic raw wood scent with a bit of a mesquite note (but not smoky or a campfire or embers type of scent), and maybe a smidgen of cloves in the background. It might have a barely detectable smidgen of sweetness, but it's not a sweet scent at all. Looking at the notes, that teensy bit of sweetness is probably the vanilla, although I don't detect vanilla per se. I love this scent, and it's so unique!
Advertised Throw: Strong
Palo Santo Sandalwood
Sacred Palo Santo, golden musk, velvety sandalwood, and amber resin
I thought this would smell like the Palo Santo scent, subdued a bit with milky sandalwood. But it's really not that. It smells great though! I do get the sandalwood, but with a little bit of sweetness (a floral like lily of the valley that gives it a tiny bit of a baby powder vibe, or it could be a smidgen of nag champa which does have a baby powder like note).
Advertised Throw: Medium/ Strong
Patchouli Rainstorm
Earthy patchouli, spring rain, soft notes of berry and vanilla
This is a lovely earthy, herbal, "natural" type scent with a mossy, slightly woodsy note, and a hint of citrus like lemon verbena. It's very weak on cold sniff though. Looking at the notes, I don't detect any berry or vanilla.
Advertised Throw: Medium
Rain Goddess
Herbal greens, floral raindrops, and rosewood
An incredible, fresh, super herbal scent that would smell like really herbal shampoo if it were sweeter. It has just a little bit of sweetness, but it's more savory, but not a zesty salad savoriness, more like fresh green grassy garden herbs, some of which might be a little sweet. It also has a very soapy note that gives it a clean, almost aquatic vibe. And maybe a smidgen of aloe, which I normally don't like, but in this scent it adds to the aquatic vibe. I adore this scent!
Advertised Throw: Strong
Rambling Rose
Lovely roses are combined with lily of the valley, vanilla, and musk
Great scent that smells just like roses with a little bitterness for authenticity. It might also have another floral note in there. The scent dissipated within 2 hours though.
Advertised Throw: Mild
Rustic Teakwood
Aged teakwood, green moss, and patchouli
This herbal scent smells almost exactly like Rain Goddess, but with just a tiny bit less sweetness, very slightly zestier, and with maybe a smidgen of wood. Like Rain Goddess, I love this scent! Looking at the notes, they're totally different from Rain Goddess, yet this is basically almost the same scent.
Advertised Throw: Medium/Strong
Sweet Slumber
Our soothing blend of lavender, cedar, and a hint of floral
This smells like lavender and baby powder. It's fantastic! Looking at the notes, I guess the floral note is the really sweet baby powder I think I'm smelling. And I think I do detect a teensy bit of a woodsy note, although if I didn't know it was cedar I probably wouldn't notice.
Advertised Throw: Mild/Medium
Tea Therapy
Fragrant, British tea with bright lemon and sugar cubes
This smells like real, thirst quenching iced tea! It has a hint of lemon, but not as much as some other tea scents. Great scent!
Advertised Throw: Medium
Tropical Spring
Spring rain, tropical citrus, bright florals, and oakmoss
A fresh watery scent with a bit of a bland aloe type note, but it actually smells good in this scent. It's just a little bit sweet, but not a body wash type scent at all.
Advertised Throw: Medium/Strong
Vanilla Romance
Vanilla accords, with notes of sweet amber, golden florals and cashmere
This smells incredible, and it's not what I expected based on the name and scent notes. I thought it would be a sweet, warm, ambery perfumey scent with a hint of vanilla. But no, it's an incensey scent and it's one of the best scents I've ever smelled! It's an exotic, incensey spice, but it's not nag champa, patchouli, frankincense or myrrh. It's sweet but not overly sweet, with a very soapy note, and possibly a smidgen of rose. Looking at the notes, I do detect a smidgen of vanilla in the background, but it's barely noticeable. The golden florals might be the smidgen of rose I detect. I'm surprised I don't see any incensey or exotic spice notes. I ADORE this scent!
Advertised Throw: Mild