McCall's Candle Bars Wax Melts Reviews
November 3, 2020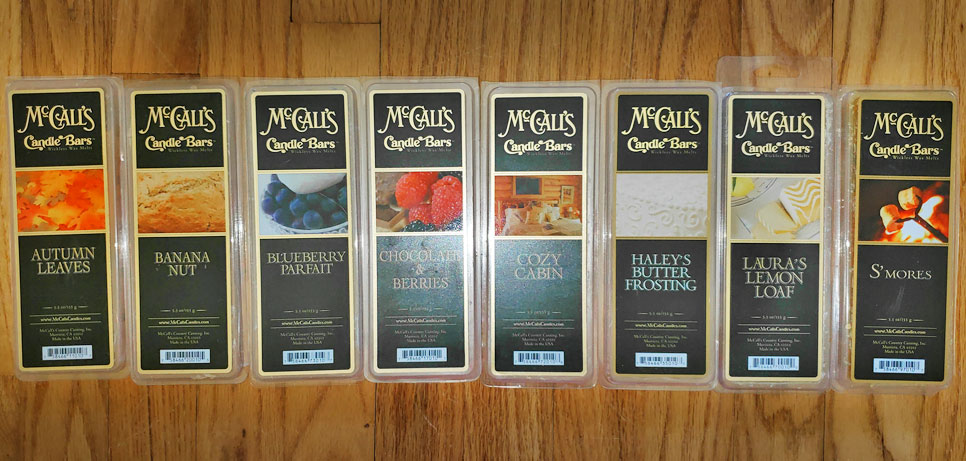 This is a review of McCall's Candles candle bars (wax melts).
McCall's candle bars weigh 5.5 oz. and cost $7.99. This is equivalent to $3.63 for a standard 2.5 oz. clamshell, which is a bit high, especially considering that both the scents and the throw were mediocre. Of course, if you normally use one cube of a standard 2.5 oz. wax melt, you can break each of the 6 cubes in these 5.5 oz. packages in half.
I found most of the scents to be fake, generic, and a bit odd, with a strange chemical undertone, like candles or wax melts I would find at a dollar or discount store. These were destashed to me by someone who also was unhappy with the scents and throw.
McCall's Candles' candles, candle bars (wax melts), buttons and diffusers and other fragranced items can be found on their website at https://mccallscandles.com, as well as some gift shops across the country.
Autumn Leaves
Hazelnut, Cinnamon Bark, Cinnamon Leaves, Spun Sugar Strands, Vermont Maple and White Ginger
A nice fall scent that smells like patchouli and pumpkin pie. I smell patchouli first, then nutmeg, cloves, cinnamon and ginger. It's a fantastic warm, cozy fall scent! When melted, I smell very little of the patchouli, and it smells more like a pumpkin pie scent. Looking at the notes, I don't smell hazelnut or maple.
Banana Nut
Cream cheese-filled banana nut bread
This is the same as their Banana Nut Bread scent. It smells like super sweet vanilla syrup with just a hint of banana. It's not a bakery or even buttercream frosting type scent; it's just "sweet". It's an okay scent, probably best used for other scents that you want to make sweeter because it's kind of one dimensional, and when melted I barely smell the banana.
Blueberry Parfait
Fresh blueberries layered with fluffy whipped cream, with subtle notes of raspberry and vanilla
A typical fake, super sugary sweet, candy-like blueberry scent with a hint of raspberry. Great scent!
Chocolate & Berries
Soft raspberries accompanied by a hint of velvety white chocolate
I smell the chocolate and fruit (raspberries, I think), but it has a weird sour undertone, or maybe it has a tart fruit mixed in, like cranberry. Chocolate and berries should be a fantastic combination, but this one smells a bit nauseating.
Cozy Cabin
Cedar, Cinnamon, Nutmeg and Vanilla
A fantastic scent of cedar, tobacco, patchouli, nutmeg, caramel, and a warm, slightly perfumey amber. Looking at the notes, I don't detect cinnamon at all. I adore this scent!
Haley's Butter Frosting
Pure vanilla and creamy butter coat the top, while silky white vanilla shavings and warm cake batter warm the heart. With a pinch of white sprinkled sugar.
A super sweet vanilla syrup scent with a little bit of a chemical note. It's not buttery or cakey, just sweet. But since it's just basically vanilla sugar without any other notes, it might be good to mix with other scents that you want to sweeten.
Laura's Lemon Loaf
Tart lemon with a touch of poundcake
This smells like a sweet lemon bakery scent with a hint of lemon scented dish detergent. Even though it's generic and fake, like a lemon scented candle I'd find at a discount store, it smells very nice.
S'mores
Marshmallow, Chocolate and Graham Cracker
I do smell the chocolate and marshmallow, and maybe a hint of the graham cracker, although what I think is a graham cracker note smells more like toffee. But all of the notes are a bit "off", which seems to be the case with most of the McCall's scents I've tried. By "off", I mean they're not exactly what they should smell like. That's not necessarily a bad thing, because this is a nice scent. But it doesn't really smell like s'mores.