New Bern Candle & Soap Wax Melts Reviews
November 16, 2020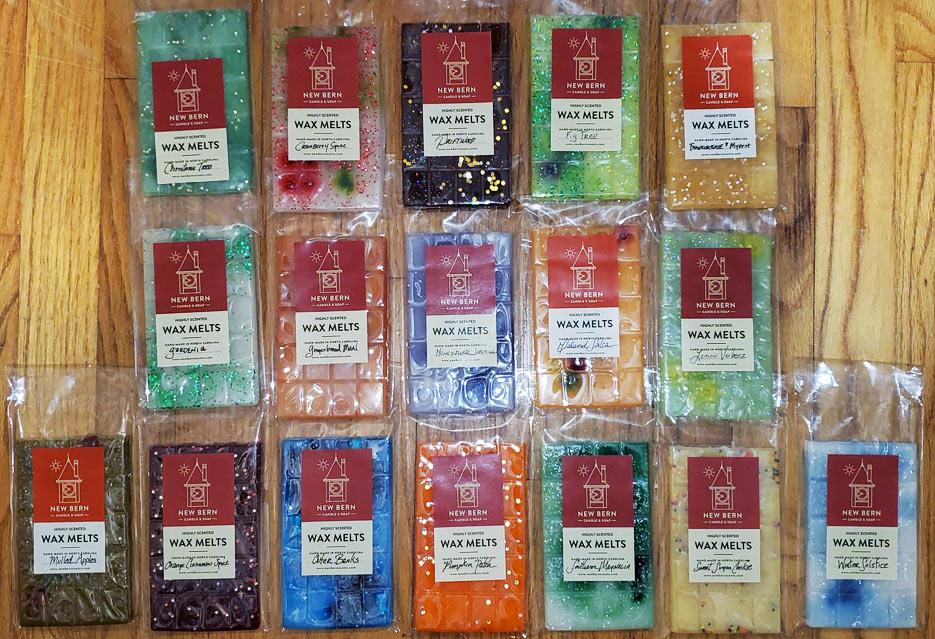 This is a review of New Bern Candle & Soap wax melts. They are an independent candle, wax melt and soap maker in New Bern, North Carolina. Their website is www.newberncandleandsoap.com, and they're also on Facebook.
We enjoyed these wax melts. They use paraffin wax, and in general, the scents and throw were very good, and some of the scents were a bit different than the same types of scents from other companies (in a good way). Their "snap bar" format is unusual, and different from the typical 6-cube clamshell. It's very flat, with 24 scored squares that make it look like a candy bar. If you normally use one cube of a 2.5 oz. clamshell, then you would use 4 of these snap bar squares. They're $4 for a snap bar which is around 2 or 3 oz., so a bit pricey but not overly so. They also make wax melts in 11 oz. jumbo clamshells, bon bon shapes, and bags. And because their wax melts contain a lot of glitter, they also offer a "no frills" snap bar without the glitter.
Christmas Tree
Cyprus and moss deliver you to a magical forest of spruce, cedar and pine.
A soft pine scent with a smoky note, and a barely detectable smidgen of black pepper. I love pine scents and this one is quite nice. I also received another Christmas Tree scent that looks exactly the same, but the scent is very slightly different, with a hint of a sour note and a barely detectable smidgen of sweetness.
Cranberry Spice
Top: Cranberry, red currant, cinnamon; Mid: Green leaves, black currant; Base: Vanilla and patchouli
A combination of cranberry and pine, with a slightly sour note that I don't care for.
Driftwood
An earthy and warm scent with top notes of airy ozone and a hint of citrus with a woody, musky heart of sandalwood and cedarwood. Resinous amber and cedar blend with dark musk and a touch of powder for a rich woodsiness in the base softened with subtle notes of violet and jasmine.
A nice earthy incensey scent with tobacco, patchouli, and cedarwood notes, and possibly a smidgen of oud. It's sweet but not as sweet and incensey as most similar scents tend to be. It's very nice. Looking at the notes, I guess the sweetness is from the floral notes, but I don't smell any florals per se. It smells sweeter in the room, with a hint of vanilla, but not as sweet and no vanilla up close.
Fig Tree
Hints of sweet freesia and ozone open up to sun-ripened fig surrounded by light jasmine, cherry blossom, and geranium. Notes of green leaves, bamboo, and moss add a lush, green quality balanced by nuances of patchouli and saffron.
Figs are very sweet, so I don't know why fig scents made for wax melts and candles are savory rather than sweet. And this scent is no exception. It's a savory scent that smells like bamboo with a hint of sour lemon (but not a citrusy, bright lemon). It has just a smidgen of grassy sweetness. It's not a bad scent, but not something I want my house to smell like. Might work as a mixer to tone down florals that are too sweet.
Frankincense & Myrrh
This smells like Nag Champa (sweet incensey scent with a baby powder note) with just a hint of the slightly woodsy frankincense note. It's a fantastic scent.
Gardenia
Top: Gardenia and Lemon Peel; Mid: Tuberose, Jasmine, Green Florals; Base: Soft Powder
Nice scent of jasmine with a bit of a gardenia note. It's not as "heady" and rich as true gardenia (probably due to the green floral in the scent notes), and smells a bit like jasmine and gardenia scented soap. Looking at the notes, I don't detect lemon at all.
Gingerbread Man
A heart of cinnamon, nutmeg, and clove enhance the ginger, while a dash of almond adds a little something extra. Molasses and sugar base notes envelop the array of spices with a yummy delightful sweetness.
A yummy scent of warm gingerbread cookies straight out of the oven, with lots of sweet vanilla glaze. It's not a ginger "bread" type scent, as there are no bready notes. It's fantastic and smells delicious!
Honeysuckle & Jasmine
Night Blooming Jasmine and Honeysuckle Flowers combine for a sweet southern treat. This is a deep and sweet blend of honeysuckle, orchid, and jasmine with a hint of vanilla, sandalwood and a light musk.
I smell gardenia, then jasmine, and then honeysuckle. It's a fantastic, rich, sweet floral scent. Looking at the scent notes, musk plus the combination of the other notes is probably what I think is gardenia. I love this scent!
Island Salsa
An uplifting top of ripe, tangy grapefruit, with a heart of sun-kissed mango, passion fruit and papaya and a sweet hint of peach at finish.
I just smell peach with no other notes, and it's that typical slightly cat pee type peach that I don't care for.
Lemon Verbena
Spunky lemon & floral verbena combines in this uplifting delight. The scent begins with tangy lime, grapefruit & lemon. The heart combines lavender, geranium rose & lemongrass. The base is a soft woody musk.
A fantastic spa lemongrass scent with an extra citrusy, zesty punch of lemon and possibly lime. It's not sweet, and it has that slightly soapy note from the lemongrass. Fantastic scent! Looking at the notes, I don't detect any floral, wood or musk notes.
Mulled Apples
Fresh ripe apples and bright fruits mulled and spiced, with top notes of orange peel, cinnamon and nutmeg and a rich base of clove and vanilla.
This smells like apple butter, and it smells great! It smells like authentic apples with cinnamon and lots of sugar. It might also have a hint of some other fruit, a red berry maybe, perhaps cranberry (but without the tartness). It doesn't have that sour "mulling spices" note that a lot of similar scents tend to have. Fantastic scent, better than other similar scents.
Orange Cinnamon Spice
Cinnamon and nutmeg with notes of bergamot and grapefruit. With a heart of clove and orange, and a sweet base of sugar and wood
A very nice cinnamon scent with an apple note, a hint of tart cranberry, and possibly a smidgen of orange. But it's not a pomander scent (I don't like pomander scents because they tend to have a weird sour note). This scent, rather, is very sweet and yummy on cold sniff, but when melted it does have a little bit of tartness. Looking at the notes, no cranberry, so the tartness is probably from the grapefruit (which I don't actually detect).
Outer Banks
A fresh morning walk by the sea. A gentle breeze brings you top notes of citrus, sea salt, and ozone with a floral heart of jasmine, lilac, and orange blossom. Base notes of amber and tonka ground the airy quality of this oceanic scent.
This is a fresh, watery, oceany scent with a hint of a waxy, peppery floral. It's not actually a floral or perfumey scent, and although it's a bit sweet, it's not overly so. It's not a soapy or body wash or cologney type scent either. It's nice, especially for a bathroom, although it's a bit too "oceany" or something, so I do like it but it's not my favorite. Looking at the notes, I don't really detect those specific florals.
Pumpkin Patch
Delicious and warm and bursting with fresh pumpkin. Top notes of ginger, allspice and cinnamon give way to a heart of pumpkin, brown sugar and nutmeg. Base notes of clove, molasses, and vanilla complete this irresistible bakery fragrance.
This is a pumpkin pie scent that has a hint of a slightly salty note that makes it smell like pumpkin pie with popcorn. It has more of the pie crust note than other pumpkin pie scents I've smelled. It's quite nice!
Southern Magnolia
Magnolia, peony, and freesia, with base notes of powder and wood
I can't place this scent, but it's familiar, although I don't think I've smelled it in a wax melt. Maybe a body cream or shampoo? It's floral (but definitely not magnolia, which is more of a slightly lemony peony type scent), and it's sweet but not perfumey or florally sweet, and also has maybe an herbal note, or possibly a hint of fruit like apricot, and a hint of a chemical note (but not in a bad way). I really can't figure out the notes, but I like it. Looking at the actual notes, I don't think I smell wood, and definitely not baby powder.
Sweet Sugar Cookie
Freshly baked sugar cookies with a touch of butter and sweet vanilla. This scent begins with a sweet sugary top note. It warms up with heart notes of fresh baked dough and butter cream, and finishes with a deep and earthy vanilla base.
This is not a cookie scent at all. It's a super toothachingly sweet vanilla buttercream scent, and it's fantastic! It's sweeter than any other super sweet buttercream scent I've smelled. I love it! After melting for about 2 hours it did turn into more of a vanilla birthday cake scent, but still smells great.
Winter Solstice
Sweet peppermint and evergreen notes with eucalyptus combined with fresh green florals and rosemary, and hints of earthy sage and cedarwood
I smell nasal-clearing peppermint with a bit of eucalyptus and just a smidgen of woodsiness, and possibly a barely detectable smidgen of pine (although that might be the eucalyptus). It's a little sweet, but not that creamy vanilla sweetness like a candy cane would have. It's a fantastic chilly winter scent! When melted, I smell more of the eucalyptus. And after a few hours, it turns into more of a woodsy scent with a smoky note. A nice chameleon scent! Looking at the notes, I don't detect any floral.