PS101 Candles Soy Wax Melt Crumblezz Review
June 1, 2019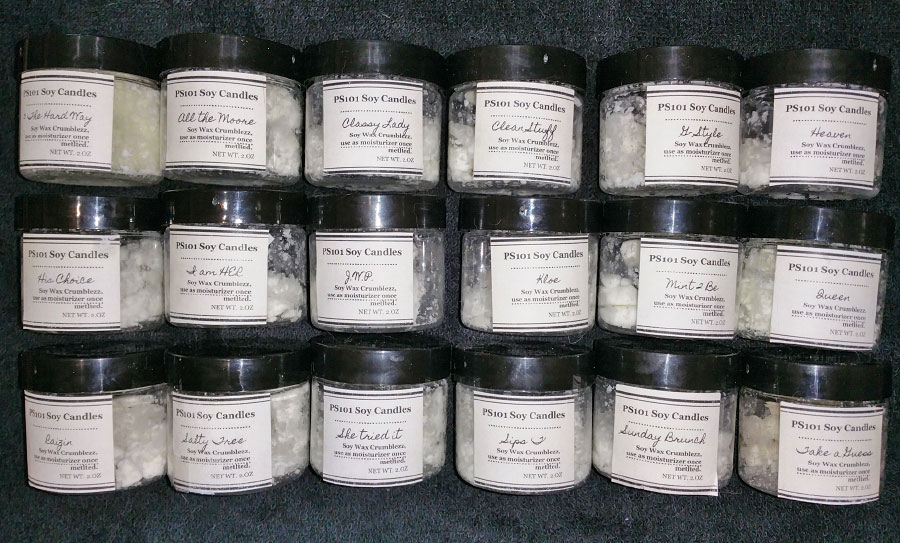 PS101 Candles is a small business in Maryland that makes natural soy candles and soy "Crumblezz" wax melts, and also sells room, body and linen spray. Kara Young started PS101 in 2017. You can buy PS101 products on her website at https://www.pscandles.com. She's also on Facebook, Twitter, and Instagram.
The PS101 soy "Crumblezz" wax melts come in jars, and all you do is shake out the wax into the warmer, or use the provided scoop. You never have to touch the wax, so cleanup is much easier. The Crumblezz are available in 8 oz. jars for $8 per jar, which is very reasonable for that amount of wax (the 2 oz. jars I used in my review are not available for sale).
I love the idea of not having to touch the soft, messy soy wax. Plus the plastic jar protects the scent from dissipating. And I really enjoyed these fragrances. They're not the usual "standard" scents you find everywhere else. She comes up with interesting, creative blends that smell fantastic. I found that most of her wax melts lean towards the perfumey, floral or fruity side, which I really like! The only negative I could find is that in general (with a couple of exceptions), the scents last 2 to 3 hours. Although that's often typical of soft crumbly soy wax. This doesn't bother me though, as I often get tired of a scent within a few hours anyway.
If you're wondering what "PS101" stands for, it's the 101st Psalm, the principles with which Kara's grandmother raised her. Kara thought it would be fitting since her grandmother was the reason the business was started, but her grandmother passed before she saw it come to fruition.
3 The Hard Way
Lemon, Lemongrass, apple, kiwi
A wonderful scent of sweet grass and wildflowers. It's not a perfumey scent, and it smells a bit authentic. There may be a hint of lilac. Looking at the notes, on cold sniff I do smell a hint of lemongrass, but I don't smell any lemon, lemongrass or fruity notes when melting.
All the Moore
Kumquat and Lemon
This smells like orange with a little bit of a floral note, although it's not an orange blossom scent. It may also have a hint of vanilla in the background. Looking at the notes, I'm not sure if I smell lemon per se.
Classy Lady
Passion Flower, orange, fiery chili pepper, acai berries
A lovely soapy slightly perfumey shampoo type scent. On cold sniff I smelled a hint of orange, but I don't smell that when melted. I think I detect a smidgen of apple way in the background. This one lasted several hours, which is longer than most of the other scents lasted
Clean Stuff
Powder, musk, jasmine, cotton blossom, cedar
A very sweet scent that smells a bit like bubble bath or bath oil. It's perfumey, but not really a perfume scent. It has a sugary note, and may have a hint of gardenia or jasmine in the background. I love it, and the scent notes are right on point!
G Style
Grapefruit and ripe peaches
This is a sour, savory grapefruit scent with a lip-puckeringly zesty, but creamy, lemon note. I think there's also some type of garden herb in the background. It's not sweet at all. I want to eat this, it smells so good! Looking at the notes, I don't smell peach.
Heaven
Sugar, musk, peach, cinnamon, and white musk
On cold sniff I couldn't smell anything, but when melted, it's a lovely perfumey scent with baby powder and sweet candy notes. Looking at the scent notes, I don't smell peach or cinnamon (but if I sniff it from a few inches away, I think I do detect peach, although I don't smell it in the room at all), although there may be a smidgen of a fruity note way in the background which is probably the candy note I detect.
His Choice
Pineapple, banana, mango and paprika
I can't tell what I'm smelling. It's a pleasant fruity scent, maybe tropical, with perhaps a hint of floral, but it's not overly sweet, or even overly fruity. It has a little bit of a creamy, slightly milky note. I like it!
I am HER
Lemongrass, ginger, and spices
A perfect soapy lemongrass scent. This one is just slightly sweeter and doesn't have as much of that citronella type note that a lot of lemongrass scents have.
J.W.P.
Bergamot, patchouli, grapefruit, vanilla
This smells like toasted marshmallow with maybe a hint of sweet tobacco and possibly a smidgen of a floral note. Looking at the scent notes, I don't smell grapefruit at all.
Kloe
Lemon zest, lavender, bergamot, rosewood, sweet vanilla
A nice warm ambery scent with a marshmallow buttercream note and maybe a smidgen of some kind of fruit in the background (blackberry or plum). It's not really perfumey, but more like a yummy skin cream. Looking at the notes, I don't smell lemon.
Mint 2 Be
Eucalyptus, spearmint, amber, lemon, rose, and Italian Bergamot
I can barely smell anything on cold sniff. When melting, from maybe 4 inches away I can smell the sinus clearing effects of the mint, and possibly a smidgen of garden mint, but not much else.
Queen
Black Cherry and Jasmine
I love this scent. It smells like black cherry mixed with jasmine or gardenia. Looking at the scent notes, wow, spot on! Melted, the jasmine note is much stronger and I can barely smell the cherry. It's still a fantastic scent!
Raizin
Raspberry, musk and brown sugar
This smells like a super sweet, decadent raspberry vanilla with a hint of marshmallow, and maybe also a smidgen of a perfumey or floral note. It's a fantastic scent, and the scent notes are spot on.
Salty Tree
Green tea, jasmine, muguet, lemongrass and musk
I'm not sure why this scent is called Salty Tree, because it's neither salty nor smells like a tree. It's a sweet, fruity, candy like scent with a hint of a perfumey note and a tiny bit of a bitter note. I smell plum or quince, black tea, and a smidgen of a sweet floral like jasmine. Looking at the notes, there's the tea and jasmine. I don't smell lemongrass at all.
She Tried It
Kaffir Lime, mango, basil, orange blossom, and coffee
I smell a combination of coffee with a floral. I like it. Looking at the scent notes, I don't smell lime, mango, or basil at all.
Sips 'T'
Vanilla Bean, musk, sandalwood, jasmine
This smells like marshmallow vanilla with a smidgen of a perfumey note. It's similar to the J.W.P. scent but less "toasted" and without the hint of sweet tobacco. It actually smells very similar to Bath & Body Works Vanilla Noel. Very nice! This is one of the few scents that actually matches the scent notes!
Sunday Brunch
Orchard pears, apples, lemon, sandalwood
I think this is supposed to be a champagne type scent. I smell pear and maybe a hint of orange with a slightly fizzy champagney note. Looking at the scent notes, I guess the combination of pear and lemon smells like orange?
Take a Guess
Honeydew, strawberries, peaches, cranberries and granny smith apples
This is very weak, so I can't tell what I'm smelling. Some kind of fruit, peach I think, and maybe another fruit note mixed in? Well, the name IS "Take a Guess", lol!