Root Candles Wax Melt Reviews
November 2, 2017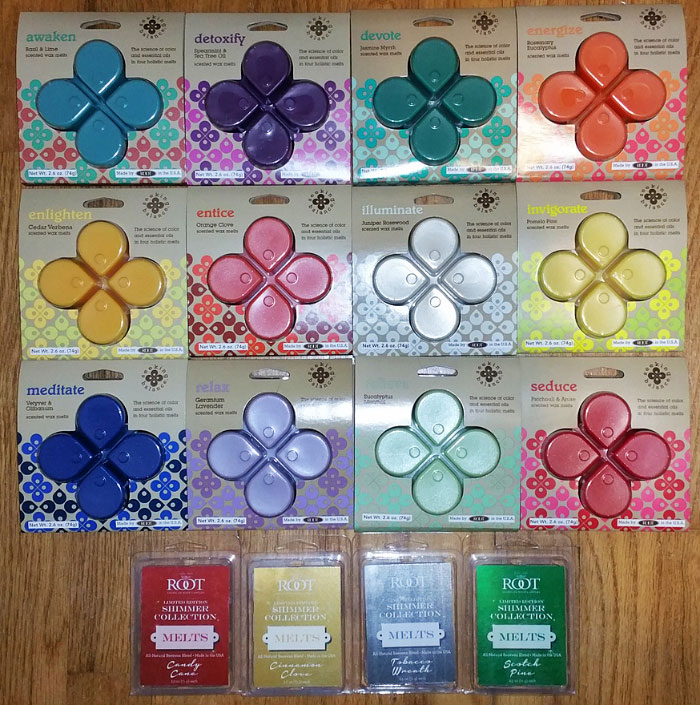 NOTE: Root Candles discontinued their short-lived wax melt line in 2018. Many of these scents, however, are still available as candles.
This is a review of Root Candles new wax melts. Root Candles has been making candles since 1869. These new melts are an all-natural blend of beeswax, soy, and other vegetable waxes and colored with all-natural vegetable based dyes.
The Root Candles website is http://rootcandles.com. They are also on Facebook, Twitter, Pinterest, YouTube and Instagram.
Awaken - Basil & Lime
Sparkling zesty lime, orange and grapefruit flourish with cool green basil, cilantro and thyme. Nature comes alive at the base with fresh tones of fir, musk and rosewood.
Fantastic scent! I smell lime with a slightly savory, tangy note of some kind of herb, and maybe a hint of pine, and even a smidgen of orange. Looking at the scent notes, they're spot on. Although this is not as savory of a scent as the notes sound, really more zesty, with only a barely noticeable tinge of sweetness.
Detoxify - Spearmint & Tea Tree Oil
Complementing fragrances of bergamot, geranium and jasmine mingle with the richness of spearmint and tea tree oil.
I smell spearmint and catnip, with the slight sinus clearing effect of garden mint. It's a very natural, herbal scent with just a tinge of sweetness, but it's not a sweet scent. I don't smell tea tree oil at all, which is good because I like the scent of tea tree oil, but not as a house scent. Looking at the scent notes, I don't smell jasmine, but maybe a little bit of geranium which has a bit of an Ivory soap note. It's an okay scent. It smells like an herb garden.
Devote - Jasmine Myrrh
The sanctity of myrrh and the elegance of jasmine calms the mind and focuses your energy. These fragrances are elevated by clover, amber, and the champaca flower.
I smell jasmine with a weird herbal note in the background that smells like bitter Ivory soap note, which is probably the myrrh. There's also a light grassy note which is probably the clover. I don't care for this scent.
Energize - Rosemary Eucalyptus
Energizing essential oils of rosemary and eucalyptus give an immediate lift, touch of rejuvenation, energy and invigoration.
I smell a strong minty sinus clearing eucalyptus with a very slightly sweet and savory herbal note. Maybe also a smidgen of orange? This is not a sweet scent at all, and it's not as savory or zesty as eucalyptus by itself. I like it.
Enlighten - Cedar Verbena
Stimulate your creativity and create an environment for learning using the essential oils of cedar and verbena along with the stimulating color of yellow to create intellectual strength.
I think I smell a light woodsy note, but more like a sandalwood than cedar. And there's also a hint of lemongrass, and maybe a smidgen of floral. This is not a sweet scent at all, and it doesn't really have much of a scent. Not my favorite.
Entice - Orange Clove
The spicy scent of clove stimulates the mood and the juicy orange adds refreshment. The combination is completely seductive.
This smells the same as their Cinnamon Clove holiday scent, even though the notes are slightly different. Very nice clove and orange scent.
Illuminate - Juniper Rosewood
Free your mind of clutter and confusion by mixing the simplicity of the color white with the clarifying power of juniper and rosewood essential oils for cleanliness and clarity.
This is very difficult to describe. Juniper is kind of a pine scent, but I don't smell pine, although maybe there's a bit of a balsam type note. There's also a rich creamy note, like milk, but not sweet at all. And maybe a hint of light wood. I've never smelled anything like this, and I'm not sure if I like it or if it's appropriate as a scent for your house.
Invigorate - Pomelo Pine
Effervescent blend of pomelo and pine revitalize your spirit and elevates your mood. This refreshing combination is complemented by the richness of clove, cedar, and sandalwood.
I love my pine scents, especially if it's mixed with something else, and great pine mixers are citrus scents like lemon and orange. Pomelo is a grapefruit scent without the bitterness. This is mostly a pine scent, with a hint of pomelo and a smidgen of warmth from clove. My favorite scent of this collection!
Meditate - Vetyver & Olibanum
Citrus, Myrhh and Olibanum combine to create focus, relaxation and clarity essential for the journey of meditation. The green, fresh notes of Vetyver and Fir Needles increases the power of the clarifying essential oils.
This smells almost exactly like the Devote scent, but without the jasmine or grassy note. It has that same bitter Ivory soap note, which, like the Devote scent, is probably the myrrh. Looking at the scent notes, olibanum is another name for frankincense, which has an earthy sweet warm note, which this scent kind of has. I don't smell citrus at all. Like the Devote scent, I don't care for this one either, although between this scent and Devote, I like this one slightly better.
Relax - Geranium Lavender
Pure essential oils of lavender and the geranium bud combine with the tranquil color of lavender to provide an atmosphere of comfort, calm and relaxation.
I love lavender scents, and this is a very nice lavender scent with the slightly bitter floral note of geranium. The geranium gives it a slight Ivory soap note, but it works well with the lavender. There may also be a smidgen of citronella, but that might just be the geranium.
Relieve - Eucalyptus Menthol
The scent of eucalyptus increases overall brain activity and relieves congestion. When mixed with subtle menthol, expect comfort from colds and headaches
A nice pure patchouli scent, no eucalyptus or menthol at all, and not even a little bit of sinus clearing effect.
Seduce - Patchouli & Anise
The energizing scent of Lemon Zest combined with the warmth and sensuality of Anise envelopes the room in a seductive atmosphere. Combined with Violet, Jasmine, and Patchouli, this fragrance will leave you relaxed and comfortable.
This smells like men's cologne with a note of something I can't figure out, apple maybe? I don't smell anise at all, which would have a licorice type note. Looking at the scent notes, I don't smell lemon or jasmine, but I think I do smell violet, and there's a bit of warmth and a hint of woodsiness from the patchouli. I like it.
HOLIDAY SCENTS: Candy Cane
Peppermint, sweet vanilla, soft notes of caramelized sugar and a touch of balsam
A true candy cane scent, with a strong icy peppermint and a sweet vanilla note. Looking at the scent notes, I don't smell balsam at all.
HOLIDAY SCENTS: Cinnamon Clove
Warm, spicy aroma of cinnamon and clove combine with sweet orange and sparkling mandarin
This smells like orange pomander, which I don't normally like, but I really like this version because the orange is brighter and a bit more "orangey" than what I usually find in pomander scents. And I definitely smell the clove, which smells authentic.
HOLIDAY SCENTS: Scotch Pine
Spruce, scotch pine and sage mix with notes of musk, patchouli and labdanum
I smell pine with maybe a hint of eucalyptus and smidgen of cloves and a slight smoky note. But there's something else in here I can't put my finger on that I'm not sure I like, a savory note perhaps. Looking at the scent notes, it might be the sage that has that savory note. The clove note is probably the patchouli. Labdanum is the Rose of Sharon plant, and the scent is a "balsam-like, woodsy, earthy, smoky, leathery, oakmoss scent". I'm not a fan of this scent because of the slightly savory smoky note.
HOLIDAY SCENTS: Tobacco Wreath
An earthy combination of tobacco, pine, patchouli, and oakmoss with notes of caramel, sugar, and marshmallow.
Fantastic scent that smells like vanilla marshmallow with a hint of sweet tobacco and patchouli, and maybe a smidgen of caramel. There may also be a smidgen of pine way in the background. Looking at the scent notes, they're spot on.