Sass a Frass Candle Wax Melt Reviews
May 8, 2020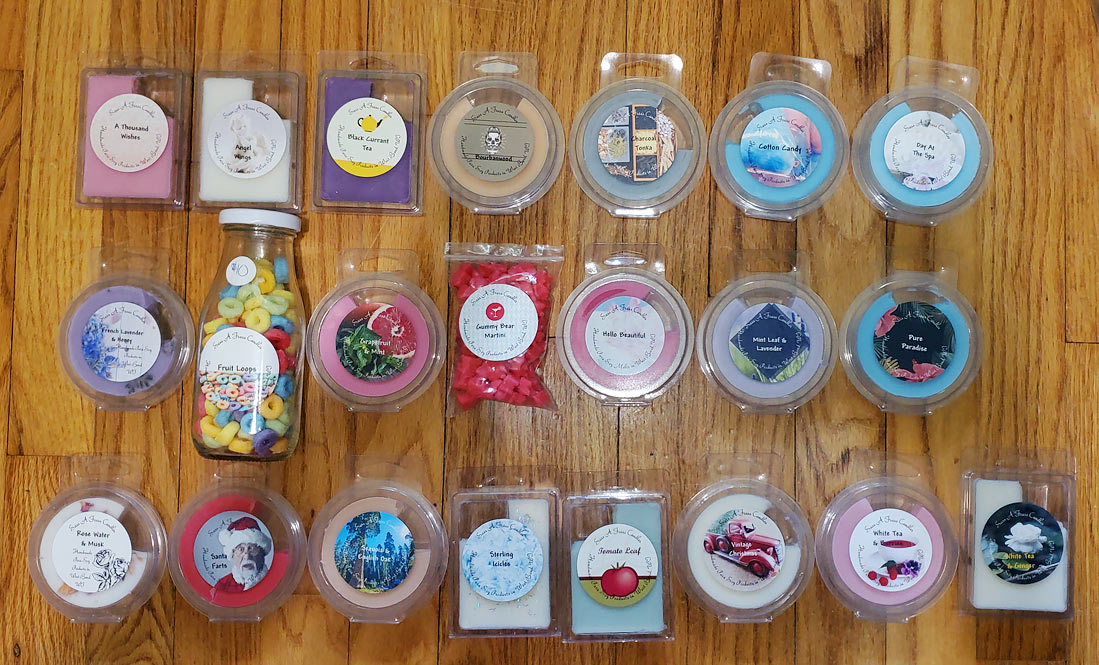 This is a review of Sass A Frass Candles wax melts. We enjoyed reviewing these wax melts! The scents are fantastic, with a wide range of throws, from faint (perfect for smaller rooms) to very strong.
Sass A Frass Candles is a mother-daughter business from West Bend, Wisconsin that has been making candles and wax melts since 2017. Their wax melts come in several shapes, including clamshells and some dessert shapes! Their wax is a soy/paraffin blend, and they offer a lot of different scents.
Sass A Frass Candles wax melts can be found on their website at https://www.safcandles.com. They also have a Facebook page.
A Thousand Wishes
A romantic blend of sparkling champagne, crystal peonies and almond crème
This scent is too weak to determine the scent notes. It's fruity (cherry?) with a hint of a floral note, but I can't figure out the specifics.
Angel Wings
Sweet musk, light floral nuances of jasmine, white flowers and lilacs
I smell baby powder with a little bit of a milky vanilla note. Fantastic scent!
Black Currant Tea
A complex tincture of currant, black tea, and enchanting floral overtones
Fantastic scent that smells like super sweet Pink Sugar (that sweet spun sugar scent with raspberry and musk notes) mixed with rich, deep, sweet blackberries, and maybe a hint of amber for warmth. I don't detect currant or tea at all, but that's okay because this scent smells incredible. It's similar to Scentsy Luna, Goose Creek Moonlit Bloom, and ScentSationals Midnight Summer.
Bourbanwood
A spiced fragrance with notes of coconut, cardamom, blushed wine, green cognac, cassis, whipped vanilla, ginger, whiskey shot, molasses, sheer musk, patchouli and mulled spice. An excellent masculine fragrance.
Just like the name, this smells like bourbon (with a sweet, warm, caramely amber and vanilla note) with a light woodsy note (sandalwood or cedar, perhaps). It's a very nice scent.
Charcoal Tonka
An aroma of sweet tonka bean and smoked woods - a great masculine fragrance
This smells like sweet gooey campfire marshmallows mixed with the smoky ashes from the campfire, with just a hint of a rubbery note like the one in DD Black Tourmaline (but much more subtle, and in a really good way). It's an unusual scent and I love it!
Cotton Candy
Just like fresh cotton candy from a county fair!
If I sniffed this scent without knowing the scent name, I would say, "cotton candy". Because that's exactly what this smells like, that super sweet combination of spun sugar and fake fruity candy (in a good way) with notes of raspberry and strawberry. I love this fun, summery scent!
Day at the Spa
A calming and balanced fragrance that combines notes of lemongrass and black currant with hints of patchouli and sugarcane
A perfect lemongrass scent. It has a slight soapy note like most lemongrass scents do, but it doesn't have that citronella note that some of them do. This one also has a little bit of a lemon soda type note, but without the fizziness, even though it's not really a sweet scent, although it's sweeter than most lemongrass scents. I really like this one! Looking at the notes, I don't detect currant or patchouli.
French Lavender & Honey
French lavender, nectarine de Provence & sun-kissed honey
This scent is quite weak on cold sniff, but it smells like a sweet floral with a honey note. I don't detect the lavender, but then again it's a bit too weak to tell. I think it would be a great scent if it were stronger.
Fruit Loops
Just like the cereal!
The ones I melted came in a glass bottle and they're shaped like Fruit Loops cereal! Keep them away from the kids!! It's a fantastic scent that smells like, well, Fruit Loops, that sweet, fake (in a good way) orange and berry scent with a cereal note. It's a very common type of scent and it smells a lot like Better Homes & Gardens Orange Buttercream Cupcake (but not the same scent... this scent is richer and with more of the berry note, and OBC has more of an orange note and smells more fake; I like this scent more).
Grapefruit & Mint
A super refreshing fragrance with notes of ripe, tangy grapefruit, garden-fresh mint, lavender and rhubarb
I adore this scent! On cold sniff I smell grapefruit first, then a berry note (strawberry?), and maybe a floral, and it's more sweet than savory. But when melted, I only smell the grapefruit, and it's a rich, slightly savory, zesty grapefruit with a tiny bit of a lemony note. I don't detect any mint at all. I like it even more when melted. Fantastic scent! Looking at the notes, I don't smell lavender, and the rhubarb is probably the strawberry I detect on cold sniff.
Gummy Bear Martini
The sweet fragrance of gummy bears mixed with just a little bit of martini fragrance to give it a fun and adult edge!
This is a very sour scent with just a smidgen of a fake fruity note (but not sweet at all). It has a chemical note that smells like an industrial cleaner. None of our reviewers cared for this one.
Hello Beautiful
A shimmering white floral bouquet showered with dewdrops that add freshness. Hints of cassis brighten with fruity tones that blend with fresh greens and warm woods, unfolding to reveal creamed musk and golden amber
This scent is weak on cold sniff, but what I'm able to smell is a nice fruity floral, perhaps strawberry and/or watermelon.
Mint Leaf & Lavender
Top notes of lavender, mint, saffron, and marine. The heart combines floral, apple, violet, and coconut, finishing off with amber, tonka, and musk
A very nice relaxing spa type scent of garden mint with a hint of spearmint and lavender. The lavender is stronger on cold sniff than when melting. I like this one! I don't smell apple or coconut.
Pure Paradise
A sparkling blend of fresh star fruit, frangipani and water lily drenched in sun-kissed coconut and white musk
A super sweet beachy scent with coconut, fruit (pear I think), a hint of floral (jasmine?) and a smidgen of a perfumey note. It's rich and has a yummy quality. I like it!
Rose Water & Musk
A modern & delicate medley of airy rose water blended with jasmine petals & creamy musk
A lovely tea rose scent with a smidgen of baby powder and honey. Very nice!
Santa Farts
Buttery, creamy sweet chocolate with a nutty top note, sitting on a base of rich vanilla and cotton candy bottom notes
This is a creamy, milky, super sweet milk chocolate with maybe a hint of coconut. Very nice! It smells just like a Hershey's milk chocolate bar, and Hershey's specifically, actually maybe Mr. Goodbar which has peanuts, as I think I detect a smidgen of peanut but it's barely noticeable. Hershey's milk chocolate has an odd note that almost smells like fake coconut, but in this scent it smells really good. When melted, it smells like rich butter with some Hershey's milk chocolate mixed in, and a smidgen of peanuts, and it's sweet and rich but not as sweet as it is on cold sniff. Fantastic, yummy scent! The scent dissipated within 2 hours.
Sequoia & English Oak
Notes of cypress, fir balsam, mandarin, pine, floral, cedarwood, sandalwood, tonka bean and vanilla
A fantastic sweet warm ambery scent that smells a lot like Thierry Mugler Angel Perfume, but not nearly as sweet, and with a bit of a cedar note and a smidgen of Ivory soap. I love it! Looking at the notes, I don't smell pine at all, or mandarin (orange), although mandarin is one of the notes for Angel perfume.
Sterling Icicles
Like the smell of the first frost of the season with notes of citron zest, mint leaf, white amaryllis, amber lace, blue sage, peppermint shavings and winter musk
A nice scent that combines baby powder and peppermint! I smell more of the baby powder on cold sniff, but when melted I smell mostly peppermint. Looking at the notes, I don't detect anything citrusy.
Tomato Leaf
The aroma of just-plucked, green tomato leaves blends with hints of lemon peel and fresh summer herbs
What a fantastic scent! It smells like a combination of tomato leaves and Ivory soap, with maybe a smidgen of Irish Spring soap (with that green, herbal note). It definitely does have a soapy note, but it's not really sweet. I like the soapy note though, as it keeps the tomato-ey scent from being too savory. I'm also not sure if I would want my house to smell like pure tomato leaves, as nice as they do smell! This scent lasted all day, around 10 hours!
Vintage Christmas
A woodland wonder with hints of citrus, shimmering pine needles blended with crisp greens, cedar and fir
A pine scent with a sour note and maybe a smidgen of eucalyptus. I've smelled this particular sour pine scent many times before, and it's not my favorite.
White Tea & Berries
Herbal white tea, ripe raspberries, blackberries, and a hint of citrus
This scent is a bit similar to their Black Currant Tea scent, but much more fruity. I smell raspberries, blackberries, and maybe strawberry rhubarb which gives it a richness. But I also smell a little bit of the tea, and a hint of milky creaminess. I think this is my favorite scent out of all of these. It's incredible!
White Tea & Ginger
An oriental scent with a blend of citrus notes, exotic spices, and beautiful jasmine. Soft tea notes round out this fragrance.
A fantastic lemony scent with a green tea note, as well as a milky and soapy note. It's a nice, relaxing spa type scent that smells like lemon and tea scented body cream. It's only a little bit sweet, which makes it different from other similar scents. I love this scent!