SEMO Wax Melt Reviews
February 7, 2018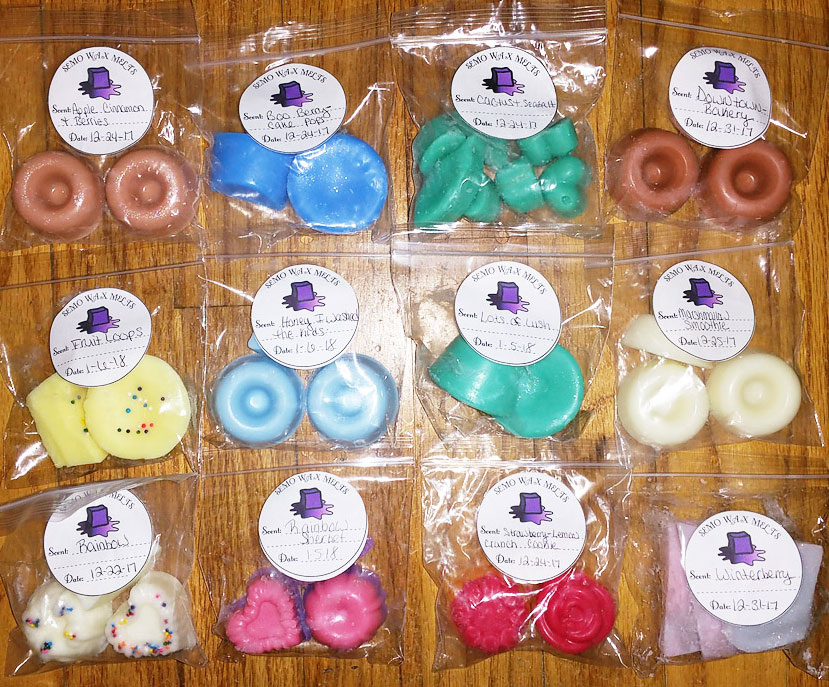 This is a review of SEMO Wax Melts, a wax melt vendor in Southeast Missouri. Their website was just launched at http://www.semowaxmelts.com, and they're also on Facebook. Their wax comes in 2 oz. bags and is very affordable.
I enjoyed these wax melts. The scents were fantastic and in general, the throw was quite good. Traci Woodall, the company owner, was a pleasure to work with. This is a new company, but I think it has all the ingredients necessary to be successful: Great smelling wax with very good throw, affordable prices, and fantastic customer service.
Apple Cinnamon & Berries
All three scents come alive when mixed together to make a sweet scent with just a hint of kick.
It's a bit light on cold sniff, but I do smell apples with a berry note, and maybe a barely detectable smidgen of cinnamon. It has a very slight perfumey note but that's what makes this scent different. I like it.
Boo Berry Cane Pops
Great year round scent of Blueberry, Strawberry and Vanilla with just a hint of sweet sugar. Cake and frosting all balled up in one!
I smell fake blueberry and banana (but not in a bad way) with a smidgen of a bakery note. It smells great!
Cactus & Sea Salt
The new botanical twist of an oceanic accord has dramatic tones of cactus with fresh green elements and unexpected texture. This vibrant green quality creates a shimmering top note that accents the fragrance signature of fresh sea spray. Unexpected salty accents add newness to the blend while elements of sea moss and warm driftwood create rich undertones that support the fragrance from within. Top notes - shimmering green cactus, ocean air; Middle notes - sea spray, sea salt; Bottom notes - driftwood, sea moss.
A fresh pleasant oceany water scent. It smells like a fresh body wash with a slight cologne note.
Downtown Bakery
House blend of bread, donuts, butter brickle and Vanilla Bean Noel
I smell maple and sweet vanilla with maybe a hint of marshmallow, and a smidgen of cinnamon and a hint of bacon! Not sure why I smell bacon, but I do smell it, although it's faint. Fantastic yummy scent, although no bacon in the scent notes!
Fruit Loops
This one starts off with strong notes of lemon followed by lime, grapefruit and sugar. All this is set on notes of lemongrass, verbena and lily.
A sweet tangy lemon orange scent that smells just like Fruit Loops cereal. Fantastic!
Honey I Washed The Kids
Golden honey, soft white musk, sparkling bergamot, bits of toffee, crisp apple and sweet orange
This is a popular vendor wax scent and it smells fantastic, like a slightly honey scented soap or luxurious body cream, with just a smidgen of caramel. It's not really perfumey or overly sweet. Very nice.
Lots of Lush
A blend of 3 Lush types: Avo Bath (lemongrass, citrus and sage blend beautifully with notes of violet, cinnamon, vanilla and white musk), Calacazz (a beautiful complex fragrance features lime, neroli and olibanum), and So White (notes of orange, citrus, apple, rose, bergamot and neroli).
Oh I like this one! It's a sweet slightly soapy lime scent. Clean and very nice!
Marshmallow Smoothie
House blend of Marshmallow, Vanilla, and Sugar
I love this scent. It's vanilla and marshmallow with a buttery note. Yummy!!
Rainbow
Beginning with top notes of pear, green grapes, kiwi, raspberry and peach; followed by middle notes of jasmine and lily of the valley; and well rounded with a base note of white musk.
This smells like pear and banana with a sweet vanilla note. It's a fake fruity scent, but it's fantastic. When melted, I think it's more pear and much less banana, if any. Looking at the notes, the banana I think I smell is probably the combination of the grape and other fruits. Looking at the scent notes, I don't smell floral or perfumey notes, but they may be why this smells like a fake fruity scent (but not in a bad way at all).
Rainbow Sherbert
Creamy vanilla with notes of juicy pineapple, honeydew melon and sweet raspberry
A nice orange candy scent with a little bit of a berry note. Looking at the scent notes, no orange, although it does smell like orange to me.
Strawberry-Lemon Crunch Cookie
House blend - Buttery Sugar cookie combined with Strawberry and Lemon
Yummy strawberry with a sweet vanilla bakery note, and a little bit of lemon.
Winterberry
Unique blend of the cool crisp scent of peppermint and an assortment of sweet delicious berries
This smells like peppermint, marshmallow, and a little bit of cranberry. Very nice!