Village Candle Wax Melt Reviews
2015 and 2018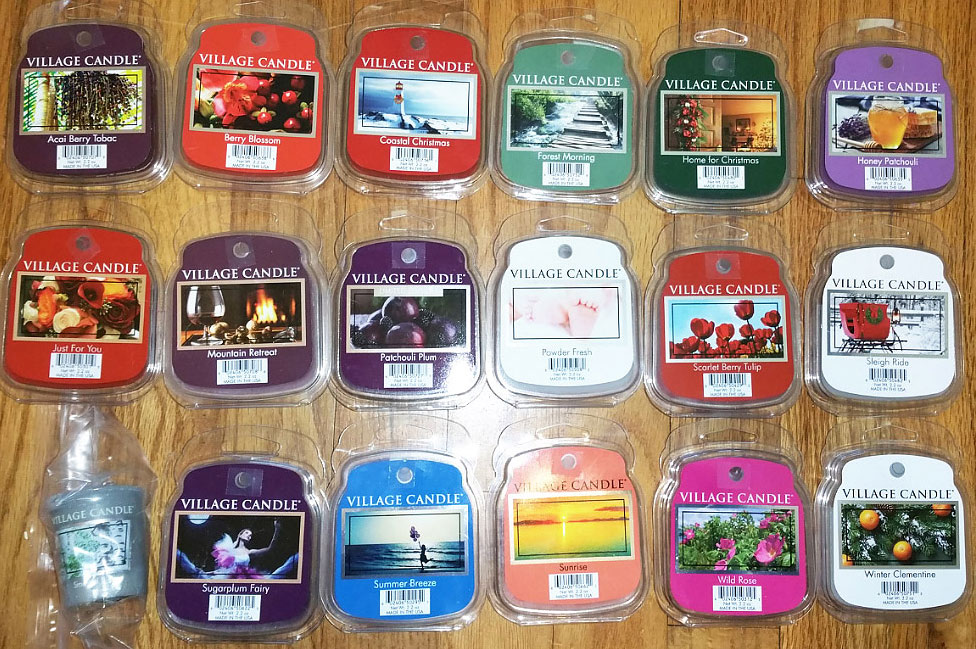 This is a review of Village Candle wax melts. These wax melts can be found on the Village Candle website, as well as some stores and gift shops. To find them on the Village Candle website, you have to search for the scent, and then select the wax melt format from that page (you can't search specifically for wax melts).
Although the scent blends, quality and throw on many of these were quite good (and many were not, as is the case with any brand), I don't think they were good enough to justify the $4 price. I got them on sale for $3, so if you want to try out Village Candle wax melts, it's best to wait for a sale.
I reviewed 8 of these in 2015 (when they were called "Simmerblends") and the rest in 2018.
Acai Berry Tobac
Acai berries blended with sheer musk and light tobacco
This is a raw wood patchouli tobacco scent with a cologney note. I think I also smell a barely detectable smidgen of fruit on cold sniff, but not at all when melted (I expected a more fruity scent based on the name and notes). It smells fantastic though.
African Safari
Complex blends of sweet Orange, fresh sage, lemon, cinnamon, creamy vanilla, austere and somber cedarwood, smoky frankincense, tonka bean and musk
Fantastic soapy spicy perfume scent. The sweet orange, cinnamon, cedarwood, frankincense and musk notes stand out, as well as a slight baby powder note. I don't smell sage or lemon, and I don't know what austere is.
Berry Blossom
Passionflower, raspberry, lush greens and a light creamy musk
A lovely floral scent with a fruity note that smells like red currant (a fig-like soapy scent with a very slight berry note and only a smidgen of sweetness) mixed with a slightly sweeter fruit, perhaps peach or even cranberry. It's a great scent and it's not overly sweet because of the tartness of the fruits, but it's also not a tart, bitter scent. Very nice!
Black Bamboo
Bamboo, lotus flower, and fern with hints of cedar wood and vetiver
Fresh slightly leathery masculine scent with a very slight herbal note. Like men's body wash but not as sweet. Very similar to
ScentSationals Black Tux
. This one lasted a long time.
Brownie Delight
Butter, brown sugar, dark chocolate and vanilla combine for a delectable and delicious treat.
Sweet chocolate and vanilla, a little generic but nice.
Caramel Kettle Corn
Butter, popcorn, sugary caramel
Smells like salty butter popcorn with a slightly burnt quality. I don't smell any sweetness or caramel.
Caramelized Pear
Perfectly blended, succulent, delectable juicy pear, sweet caramel and brown sugar
Caramel and pear on cold sniff, with a slight chemical note.
Cherry Blossom
Sweet Powder, Fresh-picked Cherries and Cherry Blossom petals
Smells just like the scent notes... a powdery cherry blossom scent. Very nice.
Coastal Christmas
Ocean salt air, sea kelp, balsam
This smells a little like
Better Homes and Gardens Fragrant Woodland Walk
. It's definitely pine, but I also smell a clean, ozoney note in the background. It's not a sweet or perfumey scent at all. It has a bit of a slightly sour Play-Doh note though, and if it weren't for that note I would love this scent.
Eternal
Vanilla bean, Spanish sage, black patchouli, golden Sandalwood, herbal watery essence
I can't figure out the notes, maybe slightly herbal and I swear I detect a slight citrus note even though that's not in the description. Patchouli, vanilla and sandalwood, okay maybe, But no sage. It's a complex scent but kind of boring, and very light on cold sniff.
Forest Morning
Crisp air, fresh water, forest moss, timber
On cold sniff this smells like pine mixed with peppery, slightly zesty herbs that smell very authentic. But it's not a typical zesty lemony herbal scent that smells like a salad. It smells like someone just cut the grass, and there were some zesty weeds mixed in and you can smell them in the air. Very natural! Melted, I still smell those notes, but it loses some of the zesty authenticity and has more of a musty quality that I don't care for as much. The scent notes are definitely leaving a few notes out!
Home for Christmas
Sweet rum and butter blend with a medley of fruit scents
This is one of best holiday scents I've ever smelled! There are so many notes in here, I don't know where to begin. I smell apple (or pear), cinnamon, vanilla, and maybe a smidgen of ginger. Which sound like pretty standard notes. But it's rich and sugary sweet, with powdered sugar type notes, so it may also contain caramel, a hint of cloves, and maybe a molasses or rum type note. But what makes this different is a barely detectable smidgen of pine, and a very subtle nutty note way in the background. A very complex and wonderful holiday scent!
Honey Patchouli
Golden honey with essence of patchouli oil
I smell patchouli with a tobacco note, and a little bit of the honey, even though this scent is not overly sweet.
Just For You
The sweet, perfumed air of a flower shop, with rose, fresh-cut stems, lush greens, and baby's breath
A nice floral scent that smells like a combination of rose and peony. The peony is slightly bitter, but not enough to be annoying. It does smell like a flower shop, with freshly cut, dewy flowers! I don't think it's quite as authentic as the Wild Rose scent, but I still really like it. Unfortunately, the scent dissipated within an hour or so!
Maple Butter
Maine maple and vanilla butter with notes of honey and brown sugar
This smells like pancakes with just a small amount of maple syrup. Yummy!
Mountain Retreat
Deep red berries, warm amber and crushed peppercorns
This scent is fantastic. I smell plum and possibly cranberries (although it's not a tart scent), along with cinnamon, a light woodsy note, and a sweet floral like honeysuckle or orange blossom. An unusual combination of notes that work perfectly together (although it's not a "mountain" type of scent). Looking at the notes, I guess the amber is the floral I think I smell. I do detect a smidgen of a peppery note, but I'm surprised I don't see cinnamon in the scent notes because I do smell a hint of that. Melted, I smell mostly an orange blossom type scent, and the rest of the notes are in the background. I love it!
Patchouli Plum
Dark fruit and woody notes, plum and musky patchouli, with a splash of raspberry
I didn't know what to expect based on cold sniff, as I couldn't really tell what I was smelling. But melted, it's fabulous! It's a combination of plum with a rich cherry tobacco note and a little bit of light woods and rich warm amber. It's nothing like Sugarplum Fairy, which is sweet and more "plummy". This scent has just a hint of sweetness, and the tobacco note is in the forefront. I think I do smell patchouli, but it's not as strong as the name would suggest. It's very rich and warm, and my description doesn't do it justice.
Powder Fresh
Lily of the valley, muguet, baby powder and vanilla
It's baby powder, and maybe slightly sweeter and a tiny bit more flowery. Fantastic!
Scarlet Berry Tulip
Jasmine, violet, raspberry, blonde woods
I can't figure out what I'm smelling, but it's very complex with a lot of different notes, and it smells great! I definitely smell a floral (jasmine?) and berries (raspberry or blackberry), and a warm note like amber, maybe a hint of citrus (it has a tiny bit of zest in the background), and possibly tobacco or patchouli. Absolutely fantastic!!
Sleigh Ride
Notes of fresh outdoors, cedar, and pine
This is not the scent I expected based on the name. It's a fresh but soapy men's body wash type scent with a hint of light wood and a smidgen of pine. I don't smell nearly as much pine as I expected based on the notes. It's not sweet at all like cologne. It's a pleasant scent, but similar to a lot of other fresh body wash type scents I've had.
Smoked Birch
Amber, birch bark, and musk with a tough of fresh cologne
This is a super rich smoky scent that's so authentic it smells like burning mesquite. There's no other scent like it. I don't detect any cologne notes at all, and it's not sweet. It just smells like a campfire with rich, aromatic mesquite wood. Incredible! It smells almost exactly like
AmbiEscents Aspen Birch
and ScentSationals Smoked Birch (same scents). But it's nothing like
Yankee Candle Silver Birch
(a completely different scent). Only the votive was available and it was on sale for $1.
Sugarplum Fairy
Damask plum is blended with pomegranate, wrapped with golden amber and raspberry, and dusted with white cedarwood
This is a fantastic scent that smells like a lot of other plum and blackberry based scents out there, like Scentsy Luna, Goose Creek Moonlit Bloom, and ScentSationals Midnight Summer. It has a deep plum or blackberry base, with a perfumey note and a rich amber note for warmth. This version is much richer and more intense than other similar scents, so much that it almost has a slightly salty note (although it's a sweet scent). I adore this scent!
Summer Breeze
Crystal waters, driftwood, honeysuckle
A watery fresh air scent with a little bit of floral (honeysuckle or orange blossom), and it might have a bit of a vanilla note. It's a pleasant scent, although it has a hint of bitterness that I don't care for. Looking at the notes, I do smell a little bit of light wood.
Sunrise
Pineapple, dahlia, and sheer musk
A sweet powdery perfumey floral with a honeysuckle note and a smidgen of fruit, apricot and strawberry perhaps? It also has a tiny bit of a tropical note, so the fruit might be pineapple. It's a very nice scent.
Wild Rose
Rose paired with peonies, mandarin and sandalwood
A nice old-fashioned tea rose scent. This smells more authentic than most rose scents I've smelled, and it doesn't have that "rose-scented soap" or perfumey note that I usually detect. I love this perfect rose scent! Looking at the notes, I do detect a smidgen of light wood that gives this scent some of its authenticity. But I don't smell mandarin (orange) at all.
Winter Clementine
Clementine, balsam and tart citrus
Pine and citrus has always been one of my favorite combinations, and this scent blends them perfectly. It's an authentic pine needle scent (probably the most authentic pine scent I've ever smelled) blended with a mix of orange and grapefruit. Fabulous!