Abboo Candle Co. Wax Tart Melt Reviews
October 28, 2017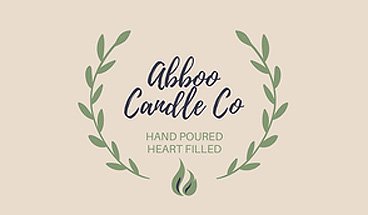 This is a review of Abboo Candle Co. wax tarts (melts). Abboo candle is a small candle and wax melt company based in Fortville, Indiana. Michelle, the owner, uses premium wax, wicks and fragrance oils from reputable candle suppliers to ensure quality and consistency. And their 100% soy wax is derived from domestically sourced soybeans.
Abboo Candle Co.'s website is https://abboocandleco.com. They're also on Facebook, Twitter, Pinterest and Instagram. She even has a Facebook Group for Abboo Candle Co. wholesalers.
Abboo Candle Co. has around 25 scents on their website. I tested only 6 scents, which is not a fair representation of the overall quality of their products. And each scent was 1 oz., so I was not able to test them properly (in different rooms and warmers, for instance). I was also not able to do a video because I used up the 1 oz. scent shots during the review. For the most part I did like the scents I tested and I thought they were good quality.
Eucalyptus & Mint
Invigorating blend of mint and eucalyptus and a touch of patchouli.
This smells like
ScentSationals Zen
, a relaxing spa mint scent with a slight sweet laundry type note. It's not a eucalyptus scent, which would be savory and have a pine note, which this scent does not have. Very nice scent.
Everything is Irie
This fruity scent is accented with soft floral and vanilla undertones and lives up to its name.
A nice fresh coconut scent with a hint of wood and maybe a smidgen of fruit. The scent lasted about 2 hours.
Lavender & Lemon
Lavender and lemon
This smells like lemon and a little bit of orange and hint of lavender and a smidgen of orange blossom/neroli with a soapy note. Melted, it smells like a cross between a spa scent and a sweet lemon kitchen cleaner. I really like this one!
Mahogany Coconut
Coconut and rich mahogany with notes of sandalwood, vanilla and oakmoss.
This smells like fresh men's cologne with a coconut note. Very nice.
Toasted Marshmallow
Graham cracker, melted chocolate and toasted marshmallow
A nice scent, but it smells like cinnamon rolls, not toasted marshmallow. I smell cinnamon and a very bready note. The scent only lasted for about 1 hour.
Tobacco & Caramel
Tobacco leaf with a hint of orange, oak, patchouli and caramel
I've smelled this scent before, and it's fantastic. It's a patchouli/tobacco scent with a caramel note. Looking at the scent notes, I don't smell orange. The scent lasted for at least 8 hours.