Aldi Fall Wax Melt Reviews 2021 (2nd Collection)
September 29, 2021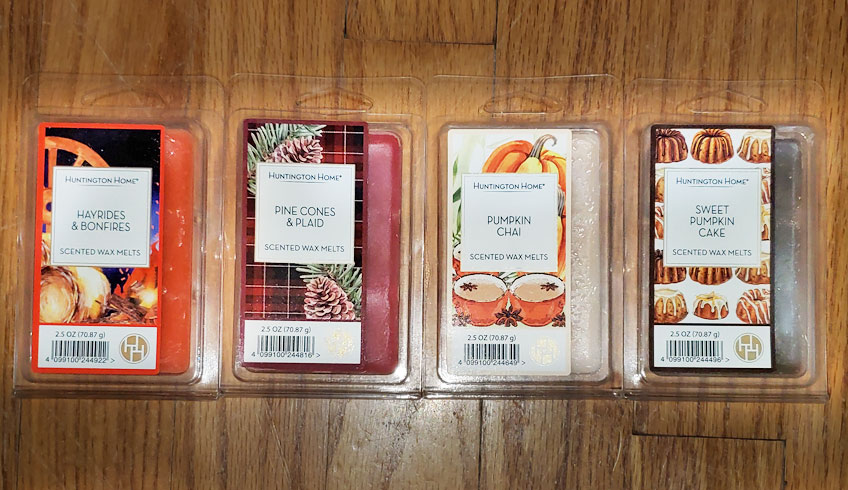 This is a review of the second collection of Aldi Fall 2021 wax melts (Huntington Home brand): Hayrides & Bonfires, Pine Cones & Plaid, Pumpkin Chai, Sweet Pumpkin Cake. They are sold at Aldi for $1.69 each.
This is the first time that Aldi has come out with more than one set of seasonal scents in a season. The first fall 2021 wax melts just came out around the first week of September.
Hayrides & Bonfires
A cozy fall scent of slightly smoky brown leaves with a smidgen of apple, like 90% leaves and 10% apple (the apple is barely noticeable). I like it!
Pine Cones & Plaid
I smell smoke, sour satsuma orange, pine, cranberry, and maybe a smidgen of apple, floral and musk (a smidgen because it's very slightly sweet). The smokiness stands out first, but it's not a woodsy, hickory, or mesquite smoke, and might be a combination of pine and brown leaves. Actually, I think the smoky brown leaves note is the same as that note in Hayrides & Bonfires, but a bit less so because of the other, slightly sweet notes. It's so unique and smells great!
Pumpkin Chai
This smells like gingerbread with a bit of nutmeg (pumpkin) note, although it's brighter and not enough of a bakery scent to be true gingerbread. It's more like pumpkin pie filling with a lot of raw ginger added. I think I also detect a tiny bit of chai, but if I didn't know it was supposed to be in there, I would probably think it's just ginger. I like it!
Sweet Pumpkin Cake
This smells like a combination of gingerbread, sweet cinnamon rolls, and pumpkin pie (in that order). Incredibly rich and yummy! I love this scent!!