Aldi Wax Melt Reviews - Spring 2023
January 14, 2023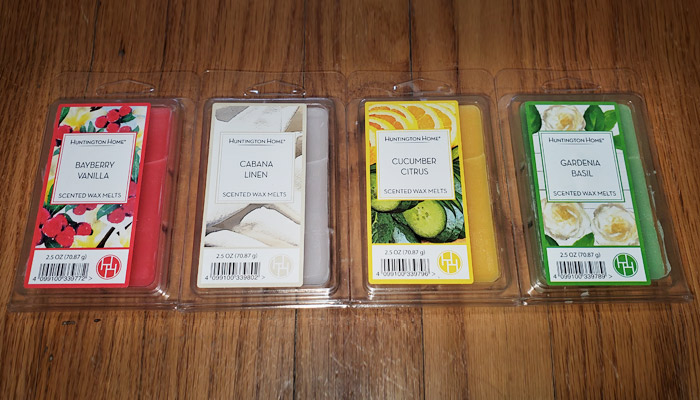 This is a review of Aldi Wax Melt Reviews from Spring 2023 (Huntington Home): Bayberry Vanilla, Cabana Linen, Cucumber Citrus, Gardenia Basil.
All of these scents are fantastic! There aren't any that I don't like.
Bayberry Vanilla
I'm getting Eastern spices, a bit of an incensey note, a hint of frankincense (but it's not a cologne type scent at all), and maybe even a smidgen of sweet tobacco and nag champa. It also has a little bit of neroli that gives it a tiny bit of a floral note, and I do smell the bayberry way in the background, even though I'm not getting fruity notes. This smells more like a holiday scent than a spring scent. It's very nice.
Cabana Linen
Incredible, super sweet scent of fabric softener, musk, and a bit of jasmine. It smells a lot like Febreze Downy April Fresh and
Febreze Downy Unstopables Spring
(which are dupes of each other). Both this scent and those are super sweet, but the Febreze scent has more of a floral and flower petal note that isn't that noticeable on its own, but only when compared to this scent, while this scent has a tiny bit more of a fabric softener note. It also smells a bit like
Better Homes & Gardens Wild Lavender Linen
(which didn't actually have a lavender note); that scent is not quite as sweet, and has a tiny bit more of the fabric softener note. So this scent is kind of in-between the Febreze and Better Homes scents.
Cucumber Citrus
I'm normally not a fan of cucumber scents because they tend to be quite bland, but this is cucumber plus a rich, slightly savory lemon with a hint of sweet vanilla in the background. It reminds me a little bit of
Better Homes & Gardens Meyer Lemon Basil
. I love it!
Gardenia Basil
A fantastic scent of gardenia with neroli, and a tiny bit of an earthy, slightly "dirt" note (not in a bad way at all). I swear I'm detecting a barely noticeable smidgen of pine, but that's probably just the basil (although I'm not getting basil, per se). When melting, I just get the gardenia/neroli. This smells a lot like
Goose Creek Candle Night Before Christmas
, another fantastic scent.