Autsy Box Subscription Wax Melts Review
January 31, 2022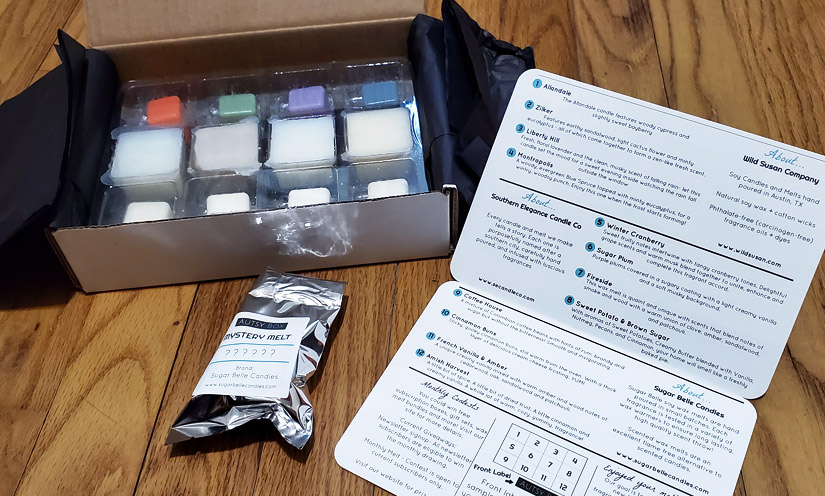 This is another review of Autsy Box Wax Melt Subscription Service, for January 2022. Visit the Autsy Box website at http://www.autsybox.com.
Autsy Box purchases wax melts from various small companies to include in their monthly subscription box. Each month, they send out 12 wax melts, which feature at least 3 brands with 4 wax cubes of different scents from each company. It's a great way to discover new wax melt brands that you may not yet be familiar with! And as always, April, the owner, is wonderful to work with!
Read all about Autsy Box HERE.
Southern Elegance Candle Co - Fireside
Smoke and wood blended with a warm union of clove, amber, sandalwood, and patchouli
A lovely smoky scent with a marshmallow note, although it's not sweet. Although it's smoky, it's not woodsy.
Southern Elegance Candle Co - Sugar Plum
Purple plums covered in a sugary coating with a light creamy vanilla and soft musky background
A lovely scent of rich but soft blackberry, plum, and maybe a hint of white grape, with smooth vanilla. It might have a smidgen of a perfumey note, because it's not overly fruity. I adore this scent!
Southern Elegance Candle Co - Sweet Potato & Brown Sugar
Sweet potatoes and creamy butter blended with vanilla, nutmeg, pecans, and cinnamon
A yummy, sweet scent of vanilla, cinnamon, butter, and nutmeg that gives it a little bit of a pumpkiny note. It doesn't really smell like sweet potatoes. It's a nice, rather standard sweet cinnamon and vanilla scent.
Southern Elegance Candle Co - Winter Cranberry
Sweet fruity notes intertwine with tangy cranberry. Delightful grape and warm musk blend together to complete this fragrance.
This is a woodsy fruity scent, but not a sweet or berry type fruit, more like pomegranate or cranberry (but it's not tart). It's like a mild fruit with cedar and/or sandalwood. But that's up close. In the room, it smells like whiskey! It's an unusual scent and I like it!
Sugar Bell Candles - Amish Harvest
A little bit of spice, a little bit of dried fruit, a little cinnamon and creamy vanilla
A very nice combination of cinnamon and super sweet vanilla, with maybe a tiny bit of a bakery note. Looking at the notes, I don't detect fruit. I like it because it's so sweet and not overly cinnamony
Sugar Bell Candles - Cinnamon Buns
Sticky, gooey cinnamon buns, still warm from the oven, with a thick layer of cream cheese frosting
Rich, sweet cinnamon roll with rich vanilla frosting. A yummy, but rather standard, cinnamon roll type scent.
Sugar Bell Candles - Coffee House
Colombian coffee beans with hints of rum, brandy and sugar, without the bitterness!
This smells just like coffee liquor! It's a super sugary sweet coffee scent, not overly coffee-ish, and not bitter at all. It's fantastic and so different from other coffee type scents I've smelled.
Sugar Bell Candles - French Vanilla & Amber
Creamy vanilla mixed with warm amber and wood notes of cedarwood, oak, sandalwood and patchouli
A lovely scent of old-fashioned perfume with notes of patchouli and cedar. I'm not sure if I smell the vanilla. It's a really nice scent!
Sugar Bell Candles - Hawaiian Jasmine
Pikake, a fresh tropical floral
This is the mystery melt. It's a super, super sweet perfumey floral with gardenia, musk, and baby powder notes. It doesn't have any tropical fruit type notes. I love it!
Wild Susan Company -Allandale
Woody cypress and slightly sweet bayberry
Smoky pine (spruce) with a tiny bit of a peppery note. Looking at the notes, I don't smell fruit, and it's not a sweet scent. It might have a barely detectable smidgen of sweetness that smells more like cedar. I like it!
Wild Susan Company - Liberty Hill
Fresh, floral lavender and the clean, musky scent of falling rain
I smell lavender first, then a fresh note, and a bit of a musty note, and perhaps a hint of eucalyptus. I don't get a nasal clearing effect, and the lavender is a bit medicinal and only a little bit sweet (so it's more like lavandin). Looking at the notes, I'm not getting any musky or perfumey notes. It's quite nice.
Wild Susan Company - Montropolis
A woody, evergreen blue spruce topped with minty eucalyptus, for a wintry, woodsy punch
A woodsy, peppery pine with a sinus-clearing note of eucalyptus. It's a bit similar to their Allandale scent, but that scent is more smoky, has just a smidgen of sweetness (this scent has no sweetness at all), and doesn't have the eucalyptus note. I like it!
Wild Susan Company - Zilker
Earthy sandalwood, light cactus flower and minty eucalyptus to form a zen-like fresh scent
A fantastic scent of spearmint or garden mint (it's not a sweet or toothpastey spearmint) mixed with light wood (like sandalwood, but not milky, so maybe sandalwood and cedar). A relaxing spa type scent!