Autsy Box Subscription Wax Melts Review
April 5, 2021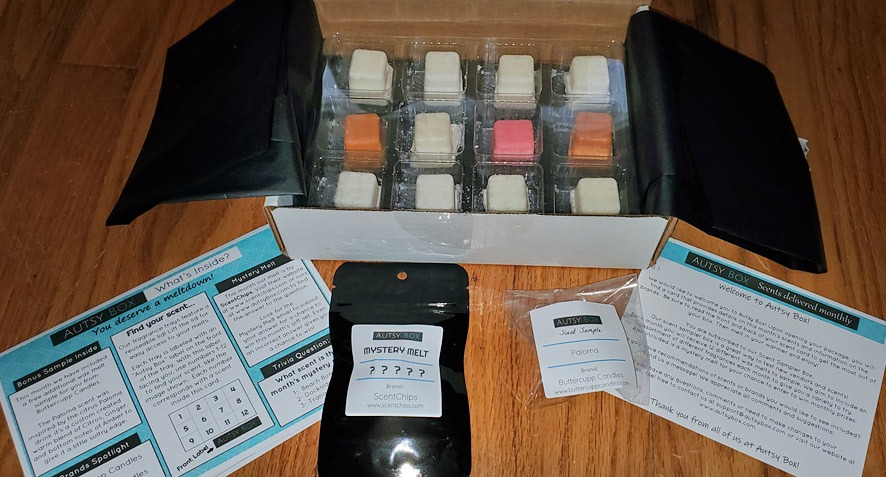 This is a review of Autsy Box Wax Melt Subscription Service, at http://www.autsybox.com.
Autsy Box purchases wax melts from various small companies to include in their monthly subscription box. Each month, they send out 12 wax melts, which feature at least 3 brands with 4 wax cubes of different scents from each company. It's a great way to discover new wax melt brands that you may not yet be familiar with! And as always, April, the owner, is wonderful to work with!
Read all about Autsy Box HERE.
Buttercupp Candles - Cedar & Lavender
French lavender, greens and cedar
On cold sniff I smell lavender and another sweeter floral (although it's not a floral or perfumey scent), with a bit of light wood, and maybe vanilla that gives it a slight foodie note. Melted, it's a men's cologne type scent, and quite nice.
Buttercupp Candles - Cozy Cashmere
Rich cocoa butter, warm spices and a touch of sweet coconut
I can't figure out what I'm smelling, but it's very nice. It's a sweet, warm, slightly perfumey ambery scent with maybe a smidgen of coconut and milk chocolate, and possibly a barely detectable smidgen of fruit (banana?). It's not a girly fruity perfume type scent at all though. What I thought was fruit ended up dissipating after about an hour. Looking at the notes, I don't detect any spices, and there's no fruit.
Buttercupp Candles - Paloma
Inspired by the citrus Paloma drink, this is a custom created warm blend of citrus and ginger, with bottom notes of amber for a sultry edge.
This was included as a scent sample. On cold sniff I barely smelled anything, but melted... Wow! It's a fantastic scent, and super strong! It smells like a combination of ginger with a bit of sweet fruit, like gingerbread with fruit and without the bakery notes, or like ginger ale and fruit but without the fizzy soda note. It also has a smidgen of wood and a barely detectable sweet perfumey note. I love this scent! I love this scent, and it lasted 24 hours, probably would have gone longer if I hadn't turned off the warmer!
Buttercupp Candles - Saturday Morning Cartoons
A delicious bowl of fruity rings cereal
I love this scent! It smells like Fruit Loops cereal, with the sweet, fake (in a good way) lemon and orange notes. But what differentiates this from other similar scents is that it has a strong lemongrass or lemon verbena note that gives it a spa quality. Whether it was accidental or intentional, it's a great combination! When melted, I smell more of the lemongrass.
Buttercupp Candles - Saddle Up
If you love leather then this scent is for you. This is what a sexy cowboy might smell like.
A very nice men's cologne scent with a leather note.
Hawaiian Candles - Hawaiian Shaved Ice
Vanilla ice cream with lilikoi (passionfruit) shaved ice on top
I smell coffee with a hint of fruit (strawberry?) and a bit of vanilla. It's unusual and very nice, but the scent doesn't match the scent name at all. Looking at the notes, no coffee, but I definitely smell coffee first.
Hawaiian Candles - Mango & Papaya
A sweet and fruity mango and papaya scent
A really nice scent that smells like kiwi, melon and strawberry. It's not mango or papaya, although from about an inch away I detect the slightly sour tropical fruit notes, but not in the room. I like it more than I probably would if it were mango and papaya!
Hawaiian Candles - Pikake
The Hawaiian jasmine flower, with its distinctive aroma
A lovely warm jasmine scent with a hint of soapiness and smidgen of perfuminess. I'm not sure if it's different from any other gardenia or jasmine scent, but it's very nice!
Hawaiian Candles - Tuberose
Elegant, decadent, seductive and sensuous Tuberose flower
This is a lovely jasmine type floral with a barely detectable smidgen of fruit. It has a tiny bit of a tropical vibe. But it's not tuberose, which is a very rich, full bodied, very sweet gardenia type scent with a strong note of musk. It's still very nice. From an inch or so away I detect a hint of baby powder, but not really in the room.
Star Valley Candles - Butterscotch Crunch
A tasty smooth creamy caramel delight
A yummy scent of salted caramel, butterscotch and toffee. It's intense and very rich!
Star Valley Candles - Day Spa
Lemongrass and black currant with hints of patchouli and sugar cane
A fantastic scent of lemongrass, but with a rich creaminess that almost gives it a bit of a foodie quality. When melting, I also detect a hint of fruit, and it's a bit sweeter than a regular lemongrass scent. I really like it. Looking at the notes, I guess the fruit is the currant, although currant is generally not a "fruity" scent. I don't detect patchouli.
Star Valley Candles - Hansel & Gretel
Vanilla frosting, cinnamon sticks, toasted graham crackers and juicy raisins
This is a yummy combination of vanilla cookies, gingerbread, and graham crackers. It's very authentic and not overly sweet. I get the cinnamon, nutmeg, ginger and cloves, but the spices are quite subtle. Looking at the notes, I think I do detect a smidgen of raisins, but probably wouldn't notice them otherwise.
Star Valley Candles - Strawberry Shortcake
Fresh strawberries, sweetened shortbread, and lots of whipped cream
A super sweet, rich strawberry scent that smells like real strawberries mixed with super sweet sugar syrup, kind of like a strawberry daiquiri mix but without the lime. It's cavity-inducing sweet. I love it! It doesn't actually smell like strawberry shortcake because I don't get shortbread or any bakery notes. But whipped cream, yes I think I do detect that rich creaminess. After a few hours it loses a tiny bit of the sweetness and takes on a bit of an artificial note, but it's still a great scent.