Autsy Box Subscription Wax Melts Review
May 30, 2021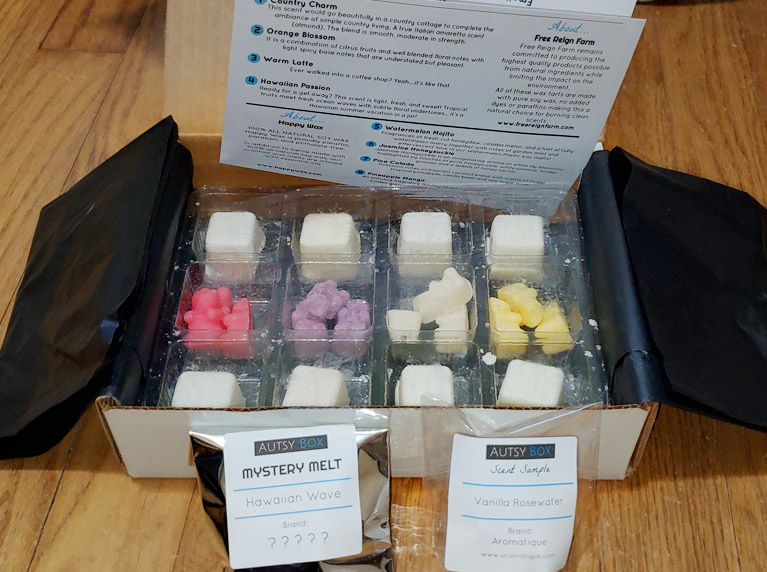 This is my second review of Autsy Box Wax Melt Subscription Service, at http://www.autsybox.com.
Autsy Box purchases wax melts from various small companies to include in their monthly subscription box. Each month, they send out 12 wax melts, which feature at least 3 brands with 4 wax cubes of different scents from each company. It's a great way to discover new wax melt brands that you may not yet be familiar with! And as always, April, the owner, is wonderful to work with!
Read all about Autsy Box HERE.
Farm Fresh Candles - Backwoods
A rich and sultry fragrance with notes of amber, green tobacco leaves, and sweet vanilla.
A beautiful sweet tobacco scent with a strong foodie note of vanilla or caramel. It's very sweet and rich, with a tiny bit of a warm, ambery perfumey note and maybe a smidgen of patchouli. Looking at the notes, they're spot on! This scent lasted 12 straight hours, and could have easily gone much longer if I hadn't turned off the warmer for the night.
Farm Fresh Candles - Down Yonder
Light traces of apple and delicate saffron threads. Luscious black currants and blackberries are at the core. Patchouli and cedarwood essential oils enhance the intensity.
I can't figure out this scent, and I don't know if I like it or not. I have no clue what the notes are or how to describe it. The main note is something almost foodie I think, like a spice, but not cinnamon or pumpkin type spices at all. Maybe cardamom? Patchouli or some other exotic or incensey type note? I think there's also a fruit in there but I don't know which one, maybe apple or currant. It has a weird harshness, almost metallic, but not quite, and this will sound terrible but the harshness reminds me of perspiration, but not in a bad way. Looking at the notes, I'm surprised I was right with a lot of the notes! I don't know what saffron smells like, but that must be the weird harsh note. I'm 50/50 on whether I like this scent or not, but it's growing on me. Yep, I do like it! And it lasted all day, probably would have gone longer if I hadn't turned off the warmer for the night.
Farm Fresh Candles - Gussied Up
Top notes of citrus, sea salt, and ozone add a marine accord that envelops the floral heart of jasmine, lilac, and orange blossom. Base notes of amber and tonka ground the airy quality of this oceanic scent.
A lovely scent with floral notes (maybe jasmine or gardenia), neroli, a fresh oceany note, and a smidgen of a citrusy note like orange, and maybe even a barely detectable smidgen of an oriental spice/perfume note. Looking at the notes, they're spot on. Beautiful scent! When melting for over an hour, it takes on a little bit of a metallic note, but it's still fantastic. And it lasted all day, and even lingered into part of the next day after I had removed it from the warmer!
Farm Fresh Candles - Porch Swing
Sweet ozone combined with fresh citrus, with luscious honeydew melon blended with a trace of violet in the heart of this marine fragrance.
I've smelled this fresh air type scent before, but it doesn't smell "natural" like a "porch swing" type scent would smell. It's a fake, man-made type scent that smells like air freshener. But that doesn't mean it doesn't smell good, because it's fantastic, and very strong! Looking at the notes, "marine" does kind of describe it, but I don't get the citrus, melon or violet.
Free Reign Farm - Country Charm
This scent would go beautifully in a country cottage to complete the ambiance of simple country living. A true Italian amaretto scent (almond).
A fantastic, super sweet, creamy almond confection scent that smells like marzipan. Although I'm not sure what almond candy has to do with country living! Looking at the notes... okay, amaretto, that does describe it better.
Free Reign Farm - Hawaiian Passion
Tropical fruit meets fresh ocean waves with subtle floral undertones
A very nice tropical fruity floral, with peach, watermelon, a tropical fruit (not pineapple, and not a sour tropical fruit), and vanilla. I don't get any fresh oceany notes, which is perfectly okay, as it's a great scent!
Free Reign Farm - Orange Blossom
Citrus fruits and well blended floral notes with light spicy base notes
This is not an orange blossom scent, which would be a floral scent with neroli notes. Rather, it smells like an orange creamsicle with the orange note being very citrusy and sharper than most orange creamsicle scents. I do detect the vanilla in the background though, and no floral notes. It smells fantastic!
Free Reign Farm - Warm Latte
Ever walked into a coffee shop? Yeah... it's like that.
A super sweet scent of coffee, sugary buttercream, and maybe even a bit of brown sugar. It doesn't have any bakery notes and is more like a toothachingly sweet coffee based drink. And it's incredible!!!
Happy Wax - Jasmine Honeysuckle
White lily blossoms highlighted by touches of pure honeysuckle, white jasmine, tender grasses and a splash of honey nectar
A fantastic, super sweet floral perfume scent that smells like a combination of honeysuckle, gardenia, jasmine, and orange blossom. There could be a barely detectable smidgen of strawberry way in the background. I love this scent! Looking at the notes, no gardenia. And orange blossom does tend to have a tiny bit of a honey note. I don't detect any green, grassy type notes.
Happy Wax - Pina Colada
Fragrant coconut blends with sweet tropical pineapple, vanilla bean and raw sugar cane.
A standard pineapple and coconut scent. But unlike most similar scents, this one is mostly coconut, like 70% coconut to 30% pineapple.
Happy Wax - Pineapple Mango
Sun-blushed mango, ripe papaya and golden guava infused with sun-kissed nectarine and juicy pineapple nectar.
A perfect combination of sweet and sour tropical fruits. I mostly get the sour papaya, with a background of sweet pineapple, and a hint of orange. I really like this one.
Happy Wax - Watermelon Mojito
Fresh-cut honeydew, casaba melon, and a hint of ruby watermelon marry together with notes of garden mint and effervescent lime.
It's definitely watermelon, but it's not really sweet. I think it also has coconut in it, and maybe a hint of vanilla. It's just okay for me, but I'm not a fan of watermelon scents in general unless it's very sweet. Looking at the notes, I don't detect mint or lime at all.
Aromatique - Vanilla Rosewater
Our 100th Fragrance. An elegant spring fragrance with notes of wild rosewater, bergamot, ylang-ylang, pink peony, vanilla, patchouli
This was included as a "sample". It's a lovely soft, powdery rose scent with a smidgen of an herbal note. It's sweet, but not overly sweet or perfumey, and has a little bit of a soapy note. I don't smell vanilla. It's quite lovely!