Autsy Box Subscription Wax Melts Review
October 28, 2021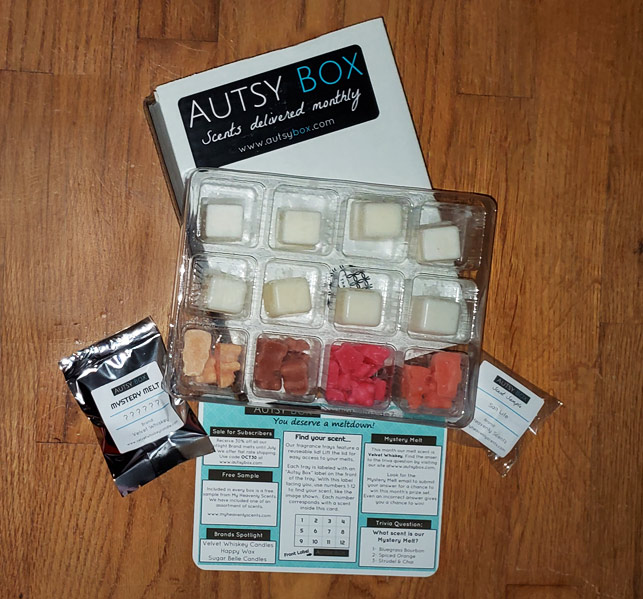 This is another review of Autsy Box Wax Melt Subscription Service, at http://www.autsybox.com.
Autsy Box purchases wax melts from various small companies to include in their monthly subscription box. Each month, they send out 12 wax melts, which feature at least 3 brands with 4 wax cubes of different scents from each company. It's a great way to discover new wax melt brands that you may not yet be familiar with! And as always, April, the owner, is wonderful to work with!
Read all about Autsy Box HERE.
Happy Wax - Apple Harvest
A true, full-bodied apple fragrance combined with bright fruit notes and just a touch of spice
This is like that typical old fall apples combined with brown leaves type scent, but this one is different from any similar scents I've smelled because while the apple is sweet and rich, with a smidgen of caramel and cinnamon, it's also very, very sour! But strangely, the sourness totally works with this scent. I love it, and it lasted all day, at least 12 hours!
Happy Wax - Bonfire
Captivating smoked wood intermingled with cedar and driftwood brushed against hints of warmed leather and salted breezes
This smells like a floral with a bit of a cologne note, a hint of smokiness, and a smidgen of marshmallow, with maybe a smidgen of cinnamon. Looking at the notes, I don't see marshmallow or cinnamon, and I don't detect any leather. It's a nice, albeit slightly nondescript, scent.
Happy Wax - Cinnamon Chai
Slightly sweet, a little spicy, and 100% cozy, Cinnamon Chai will transport you to your favorite coffee shop in the fall.
A fantastic fall scent that smells like gingerbread with maybe a smidgen of apple. I get a lot of cinnamon from close up, but not much in the room. I don't think I smell chai; it really just smells more like gingerbread, and it's yummy!
Happy Wax - Pumpkin Souffle
Hints of ginger, saffron, cinnamon, brown sugar, molasses, nutmeg, clove, and allspice in these buttery, delicious-smelling treats
A typical, generic pumpkin pie scent. But that doesn't mean it doesn't smell good, because it does! I smell a little bit of the pie crust as well.
Sugar Belle Candles - Almond Biscotti
A rich and delicious scent straight out of the bakery
A rich, milky vanilla with a smidgen of almond and cinnamon. It has less almond than I expected based on the name (like 80% vanilla, 10% almond, and 10% cinnamon), but it's still very nice.
Sugar Belle Candles - Cookie Cottage
Nutty, cinnamon yummy-ness! With a little bit of sweet molasses and a touch of vanilla.
A yummy vanilla cookie scent with cinnamon and brown sugar. It's authentic and not overly sweet. Very nice!
Sugar Belle Candles - Kiss & Tell
A sweet and feminine mixture of purple passion fruit, Tuscan grapes, yellow peonies, and orchids
A lovely, delicate perfumey scent with floral notes, vanilla, a tiny bit of a fruity note (I can't tell which kind), and maybe a smidgen of orange. I detect all these notes from close up, but in the room it's just a nice perfumey scent. Looking at the notes, I don't smell grape per se.
Sugar Belle Candles - Sea Salt & Cocoa Bean
Rich cocoa bean blended with buttered caramel and a hint of patchouli. A little bit of sugar and soft musk finishes off the blend.
A fantastic scent that smells like a rich chocolate milkshake with milky whipped cream! Looking at the notes, I do smell a smidgen of a woodsy note from close up (probably the patchouli), but I don't detect it in the room. I love this scent!
Velvet Whiskey - Blackberry Sage
Crushed blackberries, orange, peach, strawberry, jasmine petals and fresh sage
I've never been a fan of the combination of blackberries and sage. Fruit and savory just doesn't seem to mix well, and this scent is no exception. I smell the blackberry along with peach I think, and a savory herbal note that tempers the sweetness of the blackberry to the point that it smells a little bitter or sour.
Velvet Whiskey - Cotton Winds
Warm spring winds blowing through the clothesline, brimming with floral and cotton blossom top notes. Tangy citrus bottom notes add a crisp cleanliness.
A pleasant laundry detergent scent. It's not a harsh laundry, nor is it soapy, nor is it a soft fabric softener scent, nor is it overly sweet or floral. When I walk in the room, I also get a note of lime, but I don't smell that from up close, but "tangy citrus" is in the notes.
Velvet Whiskey - Salted Caramel
Sweet vanilla caramel, sea salt and caramelized sugar
This smells like a combination of rich, sweet, milky caramel and milk chocolate. It's incredible! Looking at the notes, no chocolate. And it's definitely not salted, which is actually a good thing.
Velvet Whiskey - Tobacco Woods
Tonka, honey and spices blend with sweet tobacco for a complex, earthy aroma.
Warm, rich notes of sweet tobacco and caramel, and I do detect a hint of bourbon or whiskey. But unlike a lot of scents that have a liquor note, this one isn't bitter or sour. It's just right, and smells incredible!