Autsy Box Subscription Wax Melts Review
December 26, 2021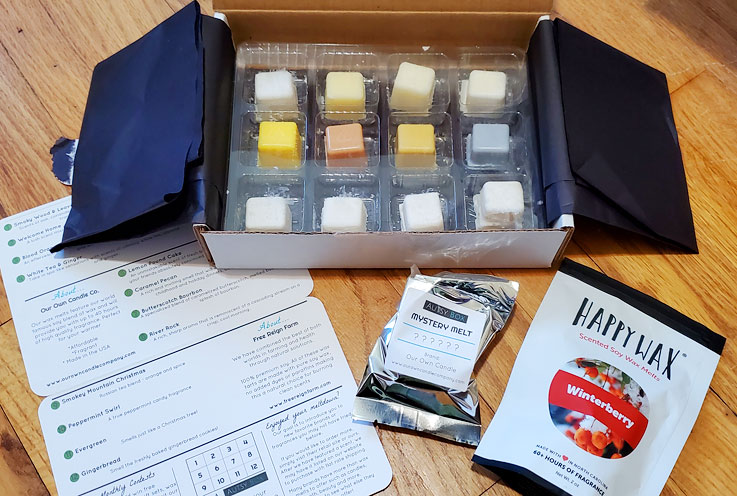 This is another review of Autsy Box Wax Melt Subscription Service (Winter wax melts), at http://www.autsybox.com.
Autsy Box purchases wax melts from various small companies to include in their monthly subscription box. Each month, they send out 12 wax melts, which feature at least 3 brands with 4 wax cubes of different scents from each company. It's a great way to discover new wax melt brands that you may not yet be familiar with! And as always, April, the owner, is wonderful to work with!
Read all about Autsy Box HERE.
Free Reign Farm - Evergreen
Smells just like a Christmas tree. Fresh, woodsy, and lightly sweet.
A fantastic scent of smoky pine and sandalwood. I definitely get a soft, milky woodsy note. It doesn't smell like a Christmas tree because it's not "piney" enough, but that's okay, because it smells great!
Free Reign Farm - Gingerbread
Freshly baked gingerbread cookies
A fantastic gingerbread scent with a nutty note and a hint of nutmeg. It's a bit rich, slightly buttery, and not overly sweet. It smells like real gingerbread (not gingerbread cookies) with nuts that's baking in the oven. Extremely authentic and so yummy! But the scent dissipated within 2 hours.
Free Reign Farm - Peppermint Swirl
A true peppermint candy fragrance
A perfect peppermint scent! It's very pepperminty, with a strong nasal clearing effect. And it's sweet but not overly sweet, so more like breath mints than candy. It might also have just a smidgen of spearmint in it, although not enough to make it a "toothpastey" scent. And it's not creamy and doesn't have vanilla notes that a candy cane scent would have. But it's fantastic and chilly, and would also make a great mixer to add a strong peppermint note to any scent. Try mixing it with vanilla, chocolate, coconut, pine, cinnamon, and more!
Free Reign Farm - Smokey Mountain Christmas
Russian tea blend of orange and spice
This smells like a combination of orange and wood, with a hint of patchouli and a smidgen of lemon verbena. It's like a blend of orange, incense, spa, and pomander (which I usually don't like because it has a sour note, which this scent does not). Fantastic!
Happy Wax - Caramel Macchiato
Salted, buttery-sweet caramel, whole milk, and creamy vanilla bean, stirred with a splash of rich espresso
Autsy Box wax melt boxes always contain a free wax melt related product. This month's Autsy Box contained one 2 oz. resealable bag of Happy Wax melts (scents vary from box to box). This scent is an incredible, rich, sweet combination of coffee, bourbon, vanilla buttercream, caramel, and maybe brown sugar. It's not overly coffee-ish and has no bitter notes, and smells kind of like coffee bourbon buttercream frosting. I adore this scent!
Happy Wax - Evergreen Trees
Subtle wood tones support classic spruce notes.
On cold sniff this is a perfect, authentic Christmas tree scent, slightly peppery pine with a woodsy note. When melting, it takes on a tiny bit of a musty note, but it's still very nice.
Happy Wax - Winterberry
Warm glazed cranberries blended with hints of orange zest, sparkling sugar, and a spicy medley of ground ginger, cinnamon, and clove. Infused with fir, eucalyptus, orange, and cinnamon essential oil
A combination of pine and sour fruit that I guess is supposed to be cranberry. But cranberries are sweet and tart; this scent is just sour, with no sweetness, too sour for my tastes. Maybe mixing in a sweet scent would help, or even go the other direction and add lemon!
Our Own Candle Co - Butterscotch Bourbon
Caramelized butterscotch, melted butter, and splash of bourbon
A fantastic scent of buttery milky caramel, butterscotch, and vanilla, and I do get a bit of the bourbon. Very nice scent!
Our Own Candle Co - Caramel Pecan
A nice scent of caramel with a hint of nuts. It may also have a barely detectable smidgen of cinnamon, although I'm not sure. It's not a salted or buttery or even an overly sweet caramel, and is kind of generic and "fake", but still smells nice.
Our Own Candle Co - Hot Buns
This scent was a "Mystery Melt". It's a yummy scent of maple syrup with cinnamon and a bready note. It's rich and sweet, and not overly cinnamony. It smells like cinnamon buns drenched with maple frosting. Very nice!
Our Own Candle Co - Lemon Pound Cake
Fresh baked lemon pound cake
A standard, kind of generic bakery lemon scent, but it's still very nice. It's a bit less sweet than similar scents I've smelled.
Our Own Candle Co - River Rock
A rich, sharp aroma reminiscent of a cascading stream on a crisp, cool morning
A masculine scent of mahogany with a hint of a fresh air or watery or men's body wash note, and a tiny bit of a vanilla note. It's rich and not overly sweet. I like it!
Pearl Street Lights - Blood Orange & Clove
An effervescent blend of blood orange mixed with bourbon and warm cinnamon
I smell orange, an incensey/woodsy note, ginger, a hint of cloves, and fizziness that makes it smell like soda. It kind of smells like Ginger Ale but sweeter, richer, warmer, and with orange and a hint of wood, and without the lime note. Or maybe slightly like orange pomander (which I normally don't like because it tends to have a sour note), but sweeter and with fizziness. I love it! Looking at the notes, I don't smell bourbon or cinnamon.
Pearl Street Lights - Smoky Wood & Leaves
Oak, coriander and vanilla musk
I smell marshmallow with a bit of tobacco and maybe a hint of patchouli. It's sweet but not overly sweet. Looking at the notes, no marshmallow, so maybe that's the vanilla. I like it!
Pearl Street Lights - Welcome Home
Warm wood, spiced cedar, and musk
This smells like cinnamon apple with a warm woodsy note. Looking at the notes, I'm surprised I don't see apple or cinnamon, because that's mostly what I smell.
Pearl Street Lights - White Tea & Ginger
Calming white tea, jasmine and ginger
A fantastic scent of tea with a hint of lemon verbena and maybe a smidgen of floral. It's a perfect spa scent! Looking at the notes, I don't detect ginger at all. I LOVE this scent!