Barn Candle Barn Bricks Wax Melt Reviews
June 7, 2018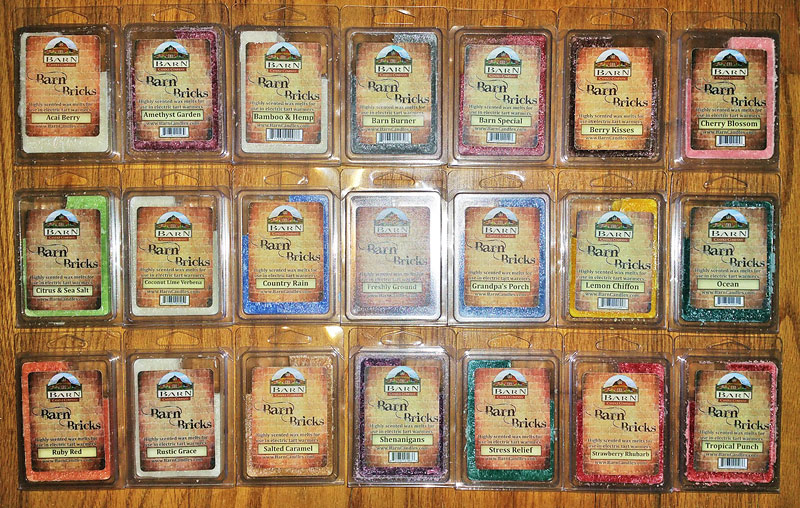 This is a review of Barn Candle Company "Barn Bricks" wax melts. Barn Candle Company is a small company in Nebraska that makes candles, wax melts, room spray, diffusers, and related accessories. Their website is http://www.barncandles.com, and they're also on Facebook, Twitter and Pinterest. Customers can order as retail, wholesale, or as part of a fundraiser. Their products are found in many stores throughout the U.S.
Barn Candle Company's Barn Bricks wax melts are made from pure palm wax. Palm wax is all natural and environmentally friendly. It's a hard wax rather than soft messy soy wax, and the wax has a beautiful iridescent look. Palm wax prefers a higher melting temperature than the standard 20W warmer, so I used a 24W warmer for these melts.
A special coupon code is available to readers of this review. The code is SWR18 and it's good for 10% off fragrance products, excluding their Brick sets and Pantry items for retail customers.
Acai Berry
A tropical medley of pineapple, mango, mandarin and raw coconut from the Brazilian Islands.
This is a fruity scent with a creamy note and a hint of a grapefruit and tropical note. There's also something else I can't put my finger on that makes this smell a tiny bit like Victoria's Secret Love Spell dupe wax melt scents. It's an interesting scent, and I kind of like it.
Amethyst Garden
A sophisticated light floral blend wafting through a spring breeze with the fragrance of satsuma plum, pear, quince apple, lemon blossom, allspice, star jasmine and vanilla orchid.
A lovely scent that smells like oriental spice perfume with a hint of baby powder, and a little bit of an apple note. I love it!
Bamboo & Hemp
Bamboo stalks are complimented with natural vetiver and patchouli with undertones of hemp seed and oakmoss
This might be my favorite scent of the bunch. It smells a little like expensive shampoo, but it's more than that. It's a honeysuckle type floral, but not overly sweet, and with an herbal note. But I think I also detect a rich vanilla note. And it's soapy with maybe a hint of laundry and possibly a barely detectable smidgen of baby powder. It's just amazing! Looking at the scent notes, I don't think I detect bamboo, which has kind of a green raw woodsy coconut note. But vetiver and oakmoss, absolutely. I don't detect patchouli either, but that might be the rich vanilla note (patchouli sometimes has a chocolatey note).
Barn Burner
That feeling when a guy walks by and it's all you can do to not spin on your heels just to see where that divine scent came from.
A fantastic men's cologne scent. It's not the usual men's body wash type scent, but more like good department store men's cologne, a little like Hugo Boss.
Barn Special
Our signature scent is an aromatic blend of freshly cut apples, juicy oranges, spicy and rich cinnamon, orange clove and colorful cranberries.
A very sweet cinnamon apple scent with a clove note. I think I also smell cranberry, and perhaps a barely detectable smidgen of orange, which gives it a tiny bit of a pomander note. I normally don't like pomander (it smells weird to me), but it's very subtle in this scent. I really like this one! Looking at the scent notes, they're spot on. Melted, the orange clove pomander notes come out a little more, but it's still a great warm cozy fall scent.
Berry Kisses
The sweet flavor of chocolate covered raspberries.
A yummy chocolate fudge scent with a hint of raspberry. It's very fudgy and cocoa-ey and not overly sweet. When melting, the raspberry note comes out a bit more.
Cherry Blossom
Citrusy, with fruity green top notes with floral middle notes of Rose, Lily of the Valley and Jasmine enhanced with long lasting sweet, woody and musk bottom notes.
This is weak on cold sniff, but I smell a little bit of cherry with a slight floral note, and maybe a hint of peach. It's definitely not a cherry blossom scent (which doesn't actually smell like cherries).
Citrus & Sea Salt
A tropical aroma, complete with a lime beverage rimmed with coarse sea salt
This is different from other scents I've smelled with this name that are usually spa type scents. This smells like lime soda, or ginger ale with extra lime. It's not fizzy, but it's definitely an intense lime scent, and not overly sweet like a creamy lime beverage. There's no coconut either.
Coconut Lime Verbena
Coconut shavings are enhanced with a blend of lime, verbena, vanilla, and light musk.
Coconut with a little bit of a lime note. A nice refreshing summer scent.
Country Rain
The boom of thunder and the clap of lighting are followed by the splash of clear and beautiful rain. This clean, fresh fragrance captures the aroma after a rain storm.
A fresh very sweet watery scent with a floral note. I've smelled this scent before from other companies, and I really like it.
Freshly Ground
That moment the Barista grinds a freshly roasted batch of coffee beans
This is not really an authentic coffee scent, but it's different and I really like it. It smells like mocha fudge. It's a rich warm chocolatey coffee scent.
Grandpa's Porch
Sweet pipe tobacco
I really like this scent. It smells like cherry tobacco and cedar with a smidgen of baby powder.
Lemon Chiffon
Tarty, sweet, lemon fragrance collides with the perfect velvet smooth texture.
This smells like lemon dish detergent with a hint of bakery, but in a good way. It's fresh and clean, but also yummy! The bakery notes came out a little more as time went on, but it also took on a slightly burnt note. Still a nice scent though.
Ocean
A crisp marine scent blended with delicate water lily, rose and cyclamen in this refreshing ocean aroma
A delicate watery scent with a hint of a floral and maybe a smidgen of a baby powder note. It's not overly sweet and does have a little bit of an "oceany" note. I really like it.
Ruby Red
Dripping with the juicy fragrances of a winter Ruby Red grapefruit, spilling with flavor.
This is a sour, savory, salty, zesty lemony grapefruit note. But it doesn't smell like real grapefruit, as it's too salty and savory. It's interesting though, and I do like it.
Rustic Grace
Pure and white as a bridal bouquet, filled with the sweet smells of hyacinth and citrus
This smells like a popular wax melt scent called Amazing Grace, a classy perfume scent. But there's another a smidgen of another note in there which I guess is the "rustic" part, maybe tobacco and citrus? I don't smell that other note as much when melted though. I really like this scent.
Salted Caramel
The rich, smooth buttery flavors of your favorite childhood caramel, with the final nodes of sea salt that add that final blend of sweet and salty.
This is different from other salted caramel scented wax melts I've smelled. It smells like vanilla buttercream with a caramel note, a little maple... and a hint of bacon! It's a really nice scent.
Shenanigans
It will take you back to Saturday morning cartoons enjoyed with a big bowl of fruity cereal.
On cold sniff this smells like a combination of bakery lemon and kitchen lemon (like lemon-scented dish detergent), with a hint of orange and a smidgen of a soapy spa-type lemongrass. But when melted, it smells like Fruit Loops cereal. I really like it, but it started to smell a little burnt after about 2 hours.
Strawberry Rhubarb
A country patch of hand picked strawberries blended with freshly cut stalks of rhubarb
A fantastic rich sweet juicy succulent strawberry scent, like strawberry jam. I love this one!
Stress Relief
Soothing and relaxing aroma of eucalyptus, fresh mint, sage, and musk
This smells just like
ScentSationals Zen
, a slightly spearminty soapy scent with maybe a hint of a sandalwood note. It's a nice subdued relaxing scent. Looking at the scent notes, eucalyptus has a bit of a pine note, and I don't smell that. I do detect the musk, which gives this just a smidgen of a perfumey note. Very nice scent.
Tropical Punch
Bring on Summer and a cold glass of Kool-Aid! This fragrance smells like cherry, strawberry, and orange with a touch of lemon lime thrown in for good measure.
I don't think I've ever had a wax melt that smells as much like cherry Kool-Aid as this one does on cold sniff, and super strong on cold sniff too. Fantastic! But melted, it lost a lot of that cherry note and took on a very chemical type note.