Be Happy Handcrafted Wax Melt Reviews
January 25, 2020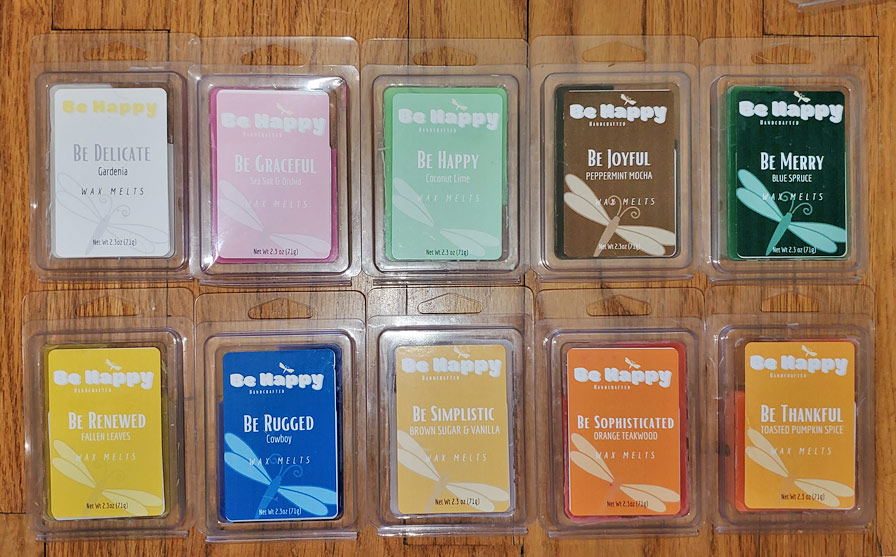 This is a review of Be Happy Handcrafted Wax Melts. I really enjoyed these scents. They have a high quality look and aroma, and in general the throw was strong. They're made with a paraffin and soy blend, and there are only 10 scents available at this time.
The owner, Bianka, started Be Happy Handcrafted in 2016 to inspire and uplift mothers who have experienced post-partum depression. Her mission is to empower mothers to be the navigators of their own emotions and encourage them to take time out for themselves by promoting self-care. 10% of all proceeds are donated to the National Coalition for Maternal Mental Health.
Currently there is no website for Be Happy Handcrafted wax melts, but they have a Facebook page from which you can order via an online ordering form linked from the page.
I love the professional looking labels in different colors for each scent, and the scent names are clever. Also, the scents smell just like the scent notes, which is sometimes not the case with wax melts and candles. Although the scent offerings are rather "standard", they're high quality scents and they don't have that generic, waxy note that some wax melts tend to have when lower quality oils are used. I can't think of anything that I would recommend changing, other than maybe offering more scents and some blends!
Be Delicate
Gardenia
A beautiful gardenia scent, sweeter and more perfumey than the real thing, but it also smells kind of authentic as well.
Be Graceful
Sea Salt & Orchid
A very nice combination of a fresh, watery oceany scent and a sweet peony type flower that has a tiny bit of a rose note. I'm also detecting a little bit of vanilla that gives this a slight foodie note. When melted, there's also that smidgen of a briny note (but in a good way) that definitely gives this an ocean water vibe. I like it.
Be Happy
Coconut Lime
A super sweet blend of lime and coconut in pretty much equal amounts. It smells almost exactly like
Mainstays Coconut Lime
, although that scent has a bit more lime. And it's similar to
Better Homes & Gardens Island Coconut Lime
, although that scent has less lime, is not nearly as sweet, and has a soapy note that I don't care for. Nice refreshing summery scent!
Be Joyful
Peppermint Mocha
Oh this smells so good! It's a dark rich semisweet chocolate with a peppermint note. It's not a burnt stinky chocolate like some chocolate scents can be. I think I detect a smidgen of the coffee (mocha), but maybe that's what makes this scent so deep and rich. I love the taste of chocolate but normally don't care for having the scent in my house, but this scent has changed my mind! And the color is perfect, a deep dark brown that looks just like semisweet chocolate (although after melting for a few hours it changed into a deep swamp like olive color in the warmer!)
Be Merry
Blue Spruce
A nice standard, kind of generic pine scent. It has a smidgen of sweetness. Melted, it has a bit of a musty note that I don't care for, but it's still an okay scent.
Be Renewed
Fall Leaves
Cardamom is the main note here. I also smell that brown leaves fall scent with a hint of that old apples that have fallen to the ground type note. I think I also smell a hint of molasses, which is more of a potent blackstrap molasses than a sweet foodie molasses, although that could be the cardamom. It's still not quite a foodie scent though, because of that woodsy old leaves note that might actually have a hint of pine in the background. It's different, but not my favorite.
Be Rugged
Cowboy
A nice fresh, watery men's cologne or body wash scent. It's not overly sweet, and I think there's a barely detectable smidgen of coconut way in the background.
Be Simplistic
Brown Sugar & Vanilla
I definitely smell the brown sugar, along with a bit of salted buttery caramel, and of course the vanilla. Very nice, yummy scent!
Be Sophisticated
Orange Teakwood
What a fantastic and unique scent! This is definitely a combination of orange and wood. It's not a smoky wood or a milky wood like sandalwood, but more of a tropical wood like, well, teakwood! The orange is not citrusy and bright, but more sour, almost like satsuma, or there may also be a sour tropical fruit note like yellow guava mixed in.
Be Thankful
Toasted Pumpkin Spice
A pumpkiny scent that's sweeter and slightly more cinnamony than most pumpkin scents I've smelled. There's also a bit of a molasses note and maybe even a hint of caramel, which makes this different from typical pumpkin scents. It's yummy and I really like it!