Better Homes and Gardens Fragranced Paper Scent Bursts Review
March 13, 2017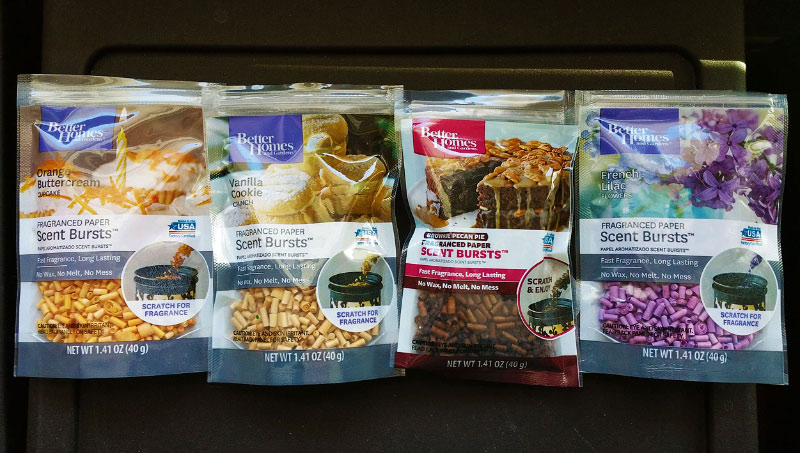 This is a review of Better Homes and Gardens Paper Scent Bursts from Walmart. Paper scent bursts are an alternative to wax melts. They're safe, convenient, and mess-free, and can be used with any electric wax warmer (or even as potpourri without the need for a warmer).
Paper scent bursts have been around for several years, and Walmart has carried them for about that long under their Better Homes and Gardens brand. These are actually manufactured by Enviroscent, Inc. EnviroScent also has their own brand EnviroScent Bursts, which I also reviewed. Those come in round spheres which I actually prefer because they're less messy than the loose rice-like Better Homes & Gardens scent bursts.
Many Walmarts still do not carry scent bursts, although they can be purchased online on the Walmart website. They're available in a lot of other Better Homes and Gardens scents that are also available in their wax melts. Candle-Lite company also makes its own version, and other home fragrance companies may offer them as well.
Here's what's on the Walmart website and the label:
Scent Bursts are fragranced paper warmer refills made of natural, Recyclable Paper infused with pure fragrance. They contain no wax, which means there isn't any wax mess to clean up. With its patented delivery system, Scent Bursts fragrance fast, last long and deliver a higher quality fragrance with even character over time. Enjoy your favorite Better Homes and Gardens fragrance in a whole new way. Scent Bursts can be used with any electric wax melt warmer. They are safe, simple and convenient and they are the mess-free way to fragrance your home. You can mix and match to create your own fragrance.
Instructions: Pour 1/3 of packet into any electric wax warmer. Turn on the unit and enjoy the immediate scent. To refresh or change the scent, simply toss out the Scent Bursts in trash or recycling bin and refill with new. Warmer stays clean and residue free. Do not use in tea light warmers. Do not mix with wax melts or candles. May catch fire if exposed to open flames.
PROS
They're definitely more convenient than wax. Just cut open the bag and pour some into the warming tray. There's no greasy wax to touch.

Cleanup is where these bursts really shine. Wax can be challenging to get out of the warmer. If the wax is still liquid you can get burned, or it can spill and leave a mess. You have to either dump the liquid wax into the trash and wipe out the remaining wax from the warmer, or use a cotton ball or paper towel to soak up the liquid wax. If the wax has already dried, you either have to warm it back up a bit to loosen it, or put the warming tray in the freezer so it pops out more easily, or pry it out with a butter knife. But with these paper scent bursts, when you're done and the scent has dissipated or you want to try a different scent, simply dump the bursts into the trash or recycling container, and that's it. Nothing left to wipe up.

They're better in high traffic areas. If a warmer gets knocked over and it contains melted wax, wax can spill everywhere, and it's very difficult to remove from floors and walls and upholstery and clothing. But if the warmer contains scent bursts, simply sweep or vacuum up.

They're made of paper, with no wax at all, so they only get a little warm to the touch but not warm enough to burn you.

You can start smelling the scent more quickly than wax, pretty much as soon as you turn on the warmer and it starts to warm up, within 5 minutes. With wax, it can take 10 to 20 minutes for the wax to melt after the warmer is turned on (depending on the type of wax and the wattage of the warmer).

You can also use these as potpourri. I poured 1/3 of the bag into a warming tray but did not turn the warmer on. In a small to medium room, I could smell the scent, and it was fairly strong. In the bathroom it was extremely strong, and again, with the warmer not turned on.

Since they can be used as potpourri, they can also be used in your car. I put the warming tray in the console of my car (again, just the tray, nothing plugged in). After 10 minutes I opened the car door and the scent was quite strong. I tried it again on a sunny day, and the scent was so strong that it wafted out to my driveway! It seems like these bursts are very sensitive to heat, so even a small amount of warmth will get the scent going, but even without heat, the scent throws fairly well in a small area. If you're going to use these in the car, you'd want to enclose them somehow so they don't spill out, perhaps in a piece of hosiery or cheesecloth, something that has tiny holes to allow the scent to go through but won't allow the small rice-sized pieces to fall out. And because they contain dye that can stain, you want to put something between the bursts and the surface you're putting them on.
CONS
They're considerably more expensive than scented wax melts. Standard sized scented wax melts are about 2.5 oz. and cost $2.00 at Walmart (which is $0.80 per ounce). You can use 1 cube each time, and there are 6 cubes in a pack. But I paid $2.97 for a 1.41 oz. pack of the paper scent bursts (which works out to $2.11 per ounce, which is $5.27 for 2.5 ounces). Instructions say to use 1/3 of the pack each time (which is sufficient for covering the bottom of the wax tray). So you only get 3 uses out of the pack.

There's also a bit of a safety issue in that, because they're made of paper, they can catch fire if exposed to open flame. So if your warmer shorts out and catches fire (which is not common at all, but it can happen), these scent bursts can go up in flames, whereas wax would not.
I bought 4 scents: Orange Buttercream Cupcake, Vanilla Cookie Crunch, Brownie Pecan Pie, and French Lilac Flowers. These particular scents are typically very strong throwers in the wax melts. I didn't want to buy too many scents, as I've heard from many people in our Facebook group that they don't throw as well as wax melts.
Brownie Pecan Pie
This is a top 10 favorite scent of mine, with chocolate, caramel, nut and coconut notes, like a super rich German chocolate cake. The paper scent bursts in this scent have an alcohol note when you open the bag, but I don't smell that when it's melting. Fantastic!
French Lilac Flowers
This is one of my favorite lilac scents, a strong sweet perfumey lilac.
Orange Buttercream Cupcake
This is a sweet orange confection scent that many have said smells like Fruit Loops cereal. It's a strong super rich sweet orange with a vanilla cake and buttercream note. Fantastic!
Vanilla Cookie Crunch
This is a fantastic rich sweet vanilla cookie scent with a hint of nut. The paper scent bursts in this scent have an alcohol note when you open the bag, but I don't smell that when it's melting.