Candle-Lite Wax Melts Reviews from Big Lots
September 7, 2020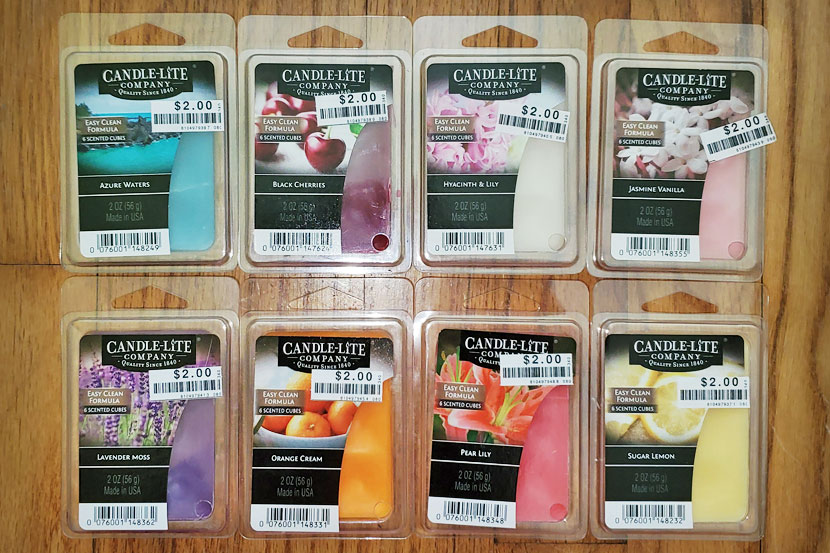 This is a review of Candle-Lite wax melts from Big Lots. I don't care for most of these, as they have a very artificial, chemical note.
Big Lots has started carrying Candle-Lite candles, wax melts and other home fragrance products. Each 2 oz. clamshell is $2 (which would be equivalent to $2.50 if they were 2.5 oz. like Walmart wax melts), and the clamshells have a hole on the right so you can sniff the scent without opening the clamshell. When you buy the wax melts, you need to tape over that hole, as the scent will dissipate in time with exposure to the air.
I don't know if Candle-Lite wax melts are made by MVP Group International, the same company that makes the Big Lots Living Colors wax melts. Some of the scents are the same, but the wax is hard, unlike Living Colors wax which is a bit soft.
Most of these scents smell quite artificial, with a distinct chemical note. I hope that Big Lots is not planning on replacing their Living Colors wax melts with these Candle-Lite wax melts. Living Colors wax melts are certainly not the best wax melts out there, but they're still better than these.
Azure Waters
A sweet floral with a fresh note that gives it a tiny bit of a body wash note when melted. It's nice, but takes on a tiny bit of a chemical note when melted, although not enough to ruin the scent.
Black Cherries
This is indeed a black cherry scent, although not as "biting" as some black cherry scents can be. It's fake and smells like black cherry flavored candy or cough syrup, but in a good way. It's actually a nice scent, the only 2 of this collection that I like in terms of both scent and throw.
Hyacinth & Lily
This is definitely not hyacinth (which would smell like lilac). It's a crisp rose scent with maybe a hint of a fresh air type note and possibly a smidgen of sweet pea. I love it!
Jasmine Vanilla
A lovely, sweet, perfumey cherry blossom scent with rich vanilla and a marshmallowy note. It smells fantastic.
Lavender Moss
I'm not sure what I'm smelling, but I don't think it's lavender. Or maybe it's some kind of fake lavender. It's sweet, with a mossy, mildewy note (they got the "Moss" part of the scent name right!) Maybe something herbal? A little fresh? I can't figure it out, but it's kind of nice, although it does have a bit of a chemical note.
Orange Cream
This is not an orange cream scent, which would be sweet and a little creamy. It's a slightly sour orange, but not a good sour like satsuma, more like an odd, waxy sour. Like orange flavored Flintstone vitamins, but not even that sweet. More like dollar store orange. I've smelled this scent before, and it may have indeed been a wax melt from one of the dollar stores. I don't care for it. I think it might be the same as
Living Colors Sweet Tangerine
, as I described it similarly, but I liked that scent.
Pear Lily
This smells like watermelon punch, like watermelon plus fruit punch. It's not an authentic fruit or juice scent at all, and it's very sweet, like watermelon punch flavored hard candy. It's actually quite nice... on cold sniff. When melted, it takes on the same chemical note as the Sugar Lemon scent, so it ends up smelling like a watermelon version of that scent.
Sugar Lemon
This is the same as Living Colors
Sugared Lemon
and
Sugar Lemon
. This smells like "kitchen lemon", like a fresh sweet lemon scented dish detergent. It's not a bakery or lemonade or spa type lemon scent at all. It's sweet and lemony and clean (but not soapy), and it smells great. After melting for about a half hour, it started taking on a little bit of a chemical note that I didn't care for.