Designer Wax Co. Wax Melt Reviews
October 31, 2017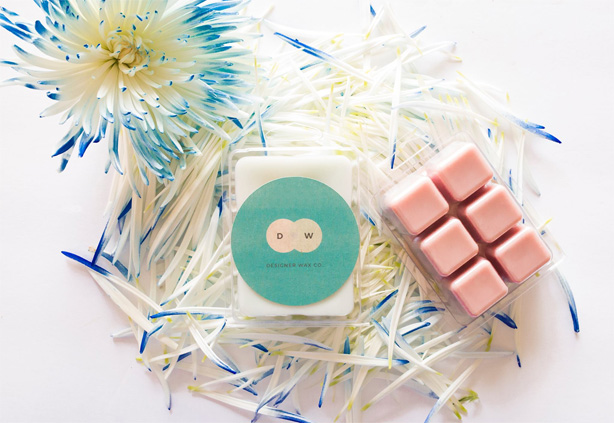 This is a review of Designer Wax Co. wax melts. Designer Wax Co. makes scented wax melts in clamshells, loaves, bags, and rosettes. They have some very nice creative scent blends. Their wax is a parasoy blend (paraffin and soy), and cure time is one month. They take the extra time to write the "cure until" date on the package for each scent, which takes the guess work out of it! They ship anywhere in the U.S., and shipping is $6 flat rate. I got the Mini Mystery Sample. Each scent shot is 1 oz.
Their website and Facebook page are gone, so the company may be out of business.
Designer Wax Co. can be found online at their website at http://www.designerwax.com. They also have a Facebook page and Facebook group.
Aspen Winter
A smoky scent with a pine note.
Blackberry Cotton Candy
A fantastic super sweet marshmallowy blackberry scent. It also has a tiny bit of a rich sweet cherry tobacco note and maybe honey as well. Very nice scent.
Blue Cotton Candy Lemonade & Cherry Slushie
This is a strong cherry soda scent with a lemon note, which makes it smell like a black cherry soda. Very strong!
Buttered Popcorn
This smells like pure butter rather than popcorn. It's very rich and buttery, a bit too much so for me!
Chocolate Chip Cookies & Coffee Ice Cream
A yummy chocolate scent with a hint of coffee. It's not a burnt chocolate, but more a semi-sweet chocolate chip scent. Very nice. Melted, I don't smell the coffee, but it's a very nice chocolate scent.
Chubby Hubby
Sweet milk chocolate, hints of butter, smooth creamy vanilla with a touch of sugary cotton candy
A fantastic marshmallowy caramely vanilla scent with a slight milk chocolate note. Yummy!
Eucalyptus Spearmint
Like most eucalyptus spearmint scents, this one smells like a nice fresh spa scent. The mint smells like a fresh spa mint rather than spearmint (which would smell more like toothpaste, and this doesn't). It also doesn't have the savory note of the eucalyptus. And there are no sinus clearing effects that one would expect from eucalyptus or spearmint. It does have a soapy note, almost like a smidgen of a laundry note, with just a hint of sweetness. It's a nice relaxing scent that smells almost exactly like the very popular
ScentSationals Zen
.
Glinda
Sweet Pumpkin, Snickerdoodle, Cream Cheese Frosting
This is a super yummy sweet rich buttercream scent with pumpkin spices like nutmeg, and I can smell a little bit of the cream cheese. Scrumptious!
Godiva Berry Truffles
A yummy creamy milk chocolate scent with a hint of cherry.
Grape Airhead & Mango
I smell a rich concord grape scent with a little bit of a candy note, and a smidgen of a tropical note from the mango.
Lemon Curd & Vanilla Crunch
A fantastic sweet creamy marshmallowy lemon scent. I love it!
Lemonade & Green Apple
I love this combination! It's a super clean scent that smells like fresh crisp apples and clean kitchen lemon. It smells a little bit like dish detergent, but in a really good way. And it's sweet, but not overly sweet.
Melisandre
Fresh Fallen Leaves & Autumn Rain
This is a very fresh, slightly herbal, slightly soapy body wash scent, more of a men's body wash but not overly cologney. There may also be a hint of icy mint. I like this scent.
Peppermint Candy Canes Shaving Cream
This smells like peppermint with a little bit of a soapy note. It's nice and different, but weak on cold sniff
Pumpkin Spice Latte
A nice milky slightly sweet coffee scent with a hint of nutmeg.
Sanderson Sisters
Sugar Cookie, Toasted Marshmallow, Cinnamon Bun
Another super yummy scent. It smells like a Cinnabon cinnamon roll with sweet marshmallow frosting.
Strawberry Shaving Cream
A very nice, unique scent! It smells like a sweet soapy strawberry with a hint of tartness, raspberry, and a creamy peppery note. It's like a rich milky strawberry ice cream but then there's that very slightly soapy note, although it doesn't smell like shaving cream, more like strawberry ice cream scented body cream. I really like it!
Tomato Vine
Oh this is so different! It smells just like tomato leaves! Not the actually tomato, but you know when you rub a tomato leaf it smells like tomato with a savory green note? That's what this smells like. Fantastic!
Wicked Witch
Kettle Corn, Macintosh Apple
Wild Sea Grass & Mac Apple
A nice sweet green grassy scent with just a hint of fresh apple.