Joann Fabric Wax Melt Reviews (Hudson 43)
September 15, 2015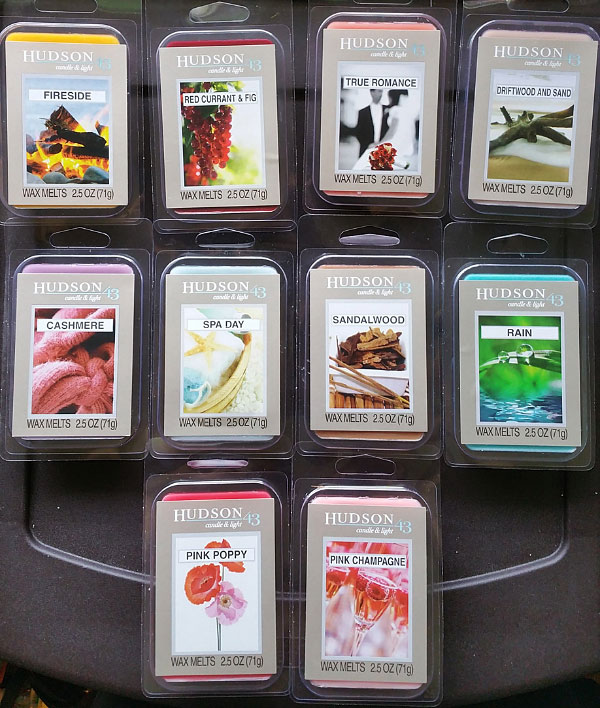 This is a review of Joann Fabric (Joann's) Hudson 43 wax melts made by Tuscany Candle.
There are 45 scents available, many of which are existing Tuscany scents, as well as some new scents. These were priced at $3.99 on the shelves (in 2015), but they're always 40% off, so the final price is $2.39. They can be purchased at JOANN Fabric stores and on the Joann website for shipping or store pickup. The average throw for these scents was mediocre; some with strong throw and some with weak throw.
Cashmere
Nice warm ambery perfumey scent with a very slight coconut note I think.
Driftwood and Sand
Fantastic scent, smells like Coppertone Suntan Oil!
Fireside
Pink Champagne
This doesn't smell at all like champagne. There's not even any fizziness. It does smell like a combination of grapefruit and satsuma (a tangy tart slightly sour lemony orange). It's a bit "too" tart, and might smell better if mixed with something sweet like vanilla, strawberry, or sweet lemon.
Pink Poppy
This smells like jasmine, but with a slight salty note that keeps it from being too sweet.
Rain
Red Currant & Fig
Classy fig mixed with a bright sweet strawberry jam type scent. Fantastic scent.
Spa Day
This just smells like salt, with very slight smoky and spruce notes.
True Romance