La-Tee-Da! Wax Melt Reviews
March 21, 2019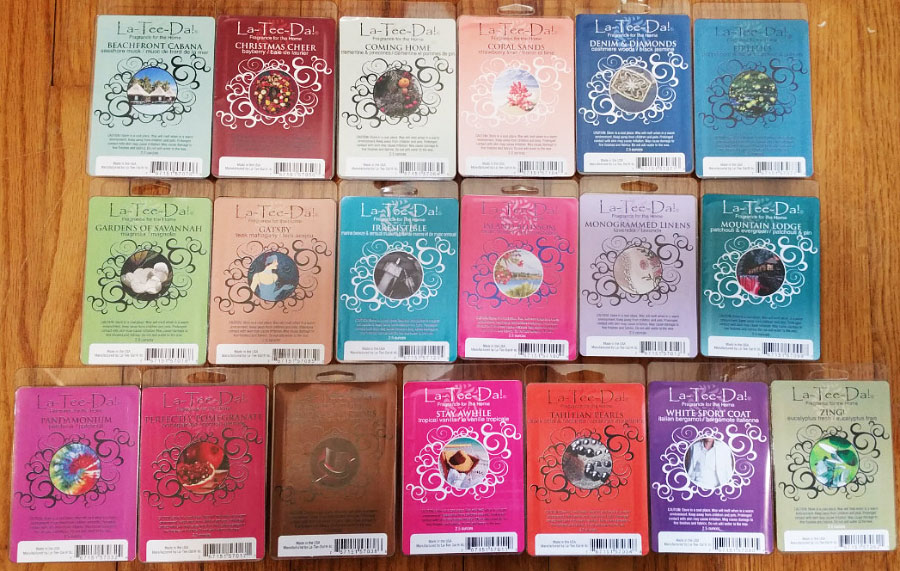 This is a review of La-Tee-Da! Wax Melts. La-Tee-Da! wax melts can be purchased from gift shops across the country, and from various candle and wax melt online stores, such as Courtney's Candles, The Lamp Stand, and PC Fallon.
I bought mine from Courtney's Candles because they had the best selection, and flat fee shipping was only $5. They sell for $2.95 each at Courtney's Candles and PC Fallon, but as of March 2019 they're on sale at The Lamp Stand for $2.59. As of 2021, they have a website where you can purchase products directly (but their wax melts are $4.99 on their website).
La-Tee-Da! Also makes some wax melts for H-E-B stores in Texas, including some scents that are made by ScentSationals exclusively for H-E-B.
The first thing I noticed about these melts it that the clamshell is very difficult to open. The lid separates from the rest of the clamshell and snaps into the top of the clamshell. You have to make sure it snaps in on all corners because it's easy to leave one corner unsnapped, which means the clamshell will basically be open and the scent will dissipate. Removing the lid was difficult, and I broke a nail on one! On the plus side, once that lid is snapped into place, it's very tight, so no chance of air getting in!
Although it's 2.5 oz. of wax, like most wax melts, it has 8 cubes instead of the usual 6. So each cube is slightly smaller than normal. You can melt 1 cube at a time if that's what you're used to, but 2 cubes might be better.
The wax is hard, with a dry, slightly chalky surface, rather than the smooth surface that, say, Walmart wax has. I had no problems getting the wax out of the clamshell once I was able to get the package open.
Beachfront Cabana (Seashore Musk)
Bright scent of fresh seashore, white grapefruit, crisp lemon, bergamot heart, green floral base, sweet tobacco
A nice fresh men's body wash scent with a lemon note. There's a smidgen of something else in the background with kind of a "green" very slightly herbal note, although this is not a spa or lemongrass type scent at all. When melted, there may be a barely detectable smidgen of lavender way in the background. It's a very nice scent, although it's not "beachy". After melting for an hour or so, the scent became less cologney and a bit more perfumey, like a perfumey magnolia scent with a sweet, rich, slightly salty lemony note. Still fantastic! Looking at the notes, I don't smell grapefruit or tobacco.
Christmas Cheer (Bayberry)
Cedar wreaths brightened by fresh sprigs of bayberries, holly, and a kiss of mistletoe
Fantastic scent that smells like cinnamon and pine, with a little bit of a zesty note in the background, and maybe a smidgen of cloves. It has a slightly sour note that I sometimes find with certain pine scents that gives is a Play-Doh vibe, but in this scent that note is very subtle so it doesn't ruin the scent.
Coming Home (Clementine & Pinecones)
Fresh orange citrus, rustic pinecone with evergreen forest woods freshness.
A fantastic combination of pine and orange. It's mostly pine, but the orange gives it a kick of citrus. It's kind of a sour orange (clementine is similar to satsuma, a pungent, sour orange type fruit with a slightly lemon note).
Coral Sands (Strawberry Lime)
I smell coconut and strawberry with maybe a hint of pineapple. It's a nice, pleasant, sweet scent without the sour note that a lot of tropical scents tend to have. I don't smell the lime. There are no notes shown for this one other than the strawberry and lime.
Denim & Diamonds (Cashmere Woods & Black Diamonds)
Glamorous blend of cashmere & black jasmine additional notes: bergamot, patchouli vanilla musk
I can't figure out what I'm smelling. It smells like patchouli, cedar and men's cologne. But although I love those types of scents, this one is kind of bland.
Fireflies (Peppercorn & Balsam)
Top notes of tangerine and pear with mild pink fruity peppercorn and peppery black pepper blended with base wood accords of mossy fir balsam, patchouli and spiced cedar.
This is similar to the Coming Home scent. I think I detect pine, but it's not like a Christmas tree pine; it's a harsh almost citrusy pine, but not in a bad way. I think I also smell a hint of patchouli and cedar, and maybe a smidgen of cinnamon. There's also a tiny bit of a waxy note and a smidgen of sourness that I don't care for, but it's not enough to detract from the scent. Looking at the notes, I don't smell tangerine or orange, although that's probably the citrusy note I detect. And I don't smell pear. It's not a sweet or fruity scent at all. I think I do detect a bit of the pepper. It's an unusual scent that I've never smelled before, and I like it.
Gardens of Savannah (Magnolia)
A fresh heart of magnolia grand flora, with hints of musk notes
This might be my favorite scent of the batch. It smells like real flowers. I don't know what magnolia actually smells like, but this is definitely a floral scent, and although it's sweet, it's not perfumey or overly sweet. It's a very complex scent, and there are some barely detectable notes of pine, cinnamon, wood and vanilla way in the background that help to make this scent so authentic.
Gatsby (Teak Mahogany)
Celebrates a time of rich woods, paneled dance halls, and the high life
A nice men's cologne scent with a little bit of a woodsy note. It also has a slight waxy note, like the wax might be a little old, but it's not enough to ruin the scent. It's similar to a lot of men's cologne scents I already have.
Irresistible (Marine Breeze & Sensual Musk)
Masculine woodland fresh scent of vetiver, oak moss & rosewood with a soft floral muguet & brightened with citrus & herbs
A very pleasant cologne scent with a fresh air note and a slight sinus clearing effect that's probably mint (although I don't actually smell mint). It's not an overly sweet cologne scent. Looking at the notes, I don't smell citrus, and not really floral per se although I'm sure it's in the background. It reminds me a bit of
ScentSationals Black Tux
, but with a cleaner, fresher note.
Island Blossom (Exotic Flowers)
Warm Island Breeze mingles with White Lilac, Jasmine, Gardenia, Cyclamen, Tropical Melon and a splash of Peach.
A beautiful warm sweet powdery perfumey floral scent, like a combination of sweet pea, jasmine and gardenia. There may be a smidgen of fruit way in the background, like watermelon or strawberry. I really like this one! Looking at the notes, I don't smell peach, but lilac, yes I think I detect that.
Monogrammed Linens (Lavender)
Rich lavender and herbal moss essences
I can't figure out this scent. I do smell lavender, but it has a soapy note with maybe a hint of patchouli, although it's not a patchouli scent either. Maybe a woodsy note? It's not really sweet, and has a smidgen of sourness that's a bit off-putting.
Mountain Lodge (Patchouli & Evergreen)
Top: Lime, eucalyptus, seaweed, & sage; Middle: Rosemary, lavender, & bois de rose; Base: Cedar, sandalwood, patchouli, & oakmoss
On cold sniff I smell pine and lavender with the nasal clearing effect of eucalyptus. There may also be a hint of fresh garden mint, and there's also a very slightly sweet soapy note which I guess is the patchouli, although I don't smell patchouli per se. Looking at the notes, I don't smell lime, but I think I do smell the cedar, and possibly the rose which might be the sweet, slightly floral soapy note. The soapy note makes it smell fresh, kind of like a bubble bath but not very sweet. Melted, I don't smell all the individual notes, and it smells like a super fresh herbal body wash scent. I really like it!
Pandemonium (Patchouli)
A complex layering of rich, woody elements that interweaves patchouli, cashmere, jasmine, citrus, and thyme
A fantastic patchouli scent with a hint of baby powder. It's not very sweet though. It has more of a raw wood note than patchouli scents I've smelled from other companies. It's fantastic! But it took about 2 hours to reach a good throw! When it did though, the scent lasted all day, at least 10 hours. Oh, and the scent name is actually "Pandamonium" with an "a", which is the wrong spelling of the word.
Perfectly Pomegranate
Fresh raspberries and strawberries intermingle accented by red delicious apple and sweetened by creamy vanilla.
This smells like rich sweet strawberry jam with a fresh apple note, and maybe a hint of sweet vanilla in the background. It smells great!
Smoke & Mirrors (Mahogany & Leather)
Enveloped by the warmth of supple mahogany and brushed by the velvety softness of leather and tobacco
This one is very weak on cold sniff. It's a men's cologne scent with a rich, slightly woodsy note, and a smidgen of leather. It's only slightly sweet, so it's good if you don't like sweet cologne scents. When melted, it has a nice cedar note.
Stay Awhile (Tropical Vanilla)
Long lasting rich and creamy tropical vanilla is accented with sugar notes of mango.
This is a rich sweet scent that smells like tropical pineapple candy with maybe watermelon and mango notes. Wait, it smells just like bubblegum! I'm not sure if I smell vanilla or not. Melted, it's still sweet, but doesn't have that candy or bubblegum note. It's quite nice!
Tahitian Pearls (Black Coral & Nectarine)
Lush, fruity floral dripping with the natural sweetness of juicy nectarines, with a soft whisper of jasmine, ylang and tuberose
All I smell is something bitter and waxy. I don't detect nectarine (peach) or anything tropical (coral). Maybe a floral? Looking at the notes, there's nothing in there that would create such a bitter scent. If anything, based on the notes, it should be a sweet, rich scent. I don't like this one. When melted, I do detect a floral note like rose, but it's still very bitter. It smells a lot like
Hanna's Candle Peony & Rose Bouquet
(as well as
Hanna's Candle Butterfly Wings
), which I didn't care for due to the bitterness.
White Sport Coat (Italian Bergamot)
The zesty freshness of citrus lime, bergamot, rosewood and yuzu grapefruit warmed by the rich notes of woody cedar, black amber, and velvet cashmere.
On cold sniff this smells like men's cologne but it's not overly sweet. It has a woodsy note (cedar?) and a warm amber note. Melted, I smell mostly cedar woods, with a cologne note in the background. It's quite nice. Looking at the scent notes, I don't smell lime or grapefruit at all. This is another scent that took 2 hours to throw well!
Zing! Eucalyptus Fresh
Fresh eucalyptus leaves, bright lemon cover floral herbal bouquet
I expected this to be a slightly minty spa type scent like
ScentSationals Zen
, but it's completely different. On cold sniff, it's definitely eucalyptus, with that sinus clearing effect, as well as fresh garden peppermint. There may also be a smidgen of lemon. There's a barely detectable floral way in the background that I think is rose, although this is not a sweet scent at all. Looking at the notes, they're spot on.
When melted, the rose scent really comes out, and it smells like rose scented soap! But it's still not very sweet because of the eucalyptus, which gives it a slight herbal note when melted. I don't smell the lemon at all, or even the eucalyptus, when melted. I really like this scent, even more after the rose note came out!