Liza Jane Candle Company Wax Melt Reviews
July 24, 2018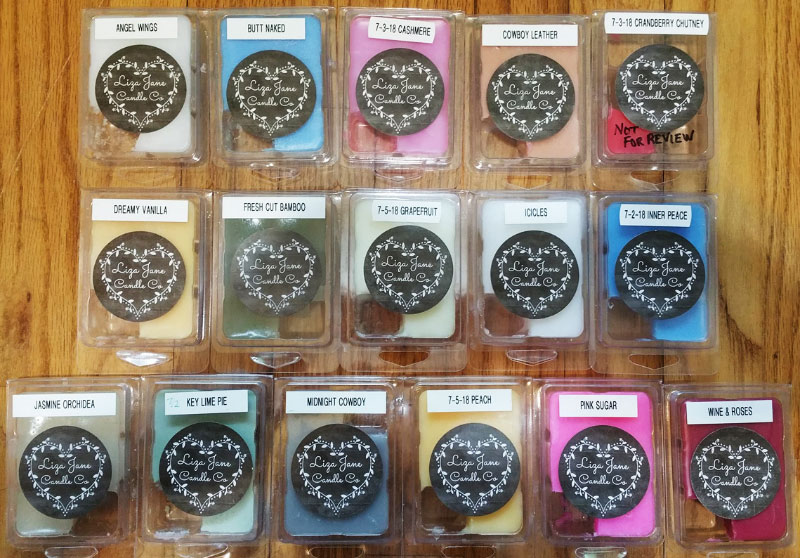 Liza Jane Candle CLOSED in 2019.
This is a review of wax melts by Liza Jane Candle Company wax melts, a candle and wax melt business in Waxahachie, Texas. Liza Jane Candle wax melts are made from paraffin wax, and they're fantastic. And at $3 for each 2.5 oz. clamshell, they're very affordable.
See my other Liza Jane Candle Company wax melt review from November 2018.
Angel Wings
A powdery bouquet of rose, jasmine and hawthorne enhanced by fresh vanilla, musk and wood
I love this scent! It's primarily a baby powder scent, but there's something else, a very sweet floral note like jasmine, and a little musk. Looking at the scent notes, I don't smell rose, wood or vanilla, and I don't know what hawthorne smells like.
Butt Naked
A saucy blend of melons, strawberries, pears and fresh green apples
I've smelled this scent before, and it smells like super sweet cherries with a watermelon note and a little bit of a tropical fruit note, and maybe rich vanilla (although it's definitely not a bakery scent). Very nice! Looking at the scent notes, I don't smell apples, and not really the strawberries either, although what I think is cherry is probably a combination of all those fruits.
Cashmere
A warm, herbal musky fragrance with a light musk base woven with notes of muguet, sandalwood, creamy vanilla and patchouli, with top notes of mandarin and lime
I can't figure out the notes in this one. It's kind of sweet and girly, but not overly sweet like Pink Sugar. Not really soapy either, and not a perfumey scent. Maybe a smidgen of sandalwood way in the background? Cashmere is actually a warm, rich, ambery perfumey scent, but this scent is not that at all. Looking at the scent notes, I definitely don't smell mandarin (orange) or lime. I think I detect a bit of the musk, and possibly a smidgen of patchouli. It's a pleasant scent, but just kind of "meh" for me (but just because it wasn't my favorite doesn't mean it won't be yours!)
Cowboy Leather
Smells like the inside of a saddle shop
Yep, it's leather, and it smells great! Also makes a great mixer... smells fantastic when mixed with pine, woodsy, patchouli or cologne scents.
Cranberry Chutney
This smells like a combination of maraschino cherry and cranberry, or maybe cranberry with a candy note. It's fresh and sweet with some cranberry tanginess. It's not an authentic cranberry scent, but I still really like it.
Dreamy Vanilla
A sweet rich vanilla buttercream. Scent started dissipating within 2 hours.
Fresh Cut Bamboo
This is not really a bamboo scent, as bamboo has a nutty coconut note. But it's fantastic! It smells like hothouse flowers, a combination of honeysuckle and jasmine with watery and grassy green notes that keep it from being too sweet or perfumey. Unfortunately, the scent started dissipating within 1.5 hour.
Grapefruit
Fantastic zesty white grapefruit scent. It's not a sweet pink grapefruit. It might have a smidgen of lemon in it. Nice and thirst-quenching!
Icicles
Ozone and cypress with mid notes of jasmine and spice on a base of cedar, sugar and moss
I've smelled this scent before, and it's fantastic. It's a raw wood scent, like a birch or light wood, with a fresh note, and maybe also mint (fresh mint, not peppermint or spearmint) and maybe a bit of eucalyptus and possibly a smidgen of pine. But it's not a pine scent. It's a nice wintry scent. Looking at the scent notes, no mint! And I don't smell jasmine or sugar, as it's not sweet at all and there are no floral notes.
Inner Peace
Energizing notes of cherry & almond blended with notes of neroli, orange flower, jasmine and strawberry. Base notes of cotton candy, vanilla, and raspberry.
I can't figure out what I'm smelling, but it's pleasant. It smells like soap with maybe a subtle citrus or orange note, and maybe a bit of floral, and possibly a smidgen of vanilla. It's a little sweet, but not perfumey. Looking at the scent notes, I don't smell most of those notes! On cold sniff it's not a fruity scent, but when melted I definitely smell the fruit, although it's more like fruit scented soap with an orangey note.
Jasmine Orchidea
Blend of jasmine, orange blossom and rose with a hint of sheer musk
A nice perfumey scent with jasmine and a hint of something else. Looking at the scent notes, I don't smell rose at all, and not really orange blossom (which is a scent I love).
Key Lime Pie
A sweet creamy lime scent. When melted, it has a hint of a lime scented cleaner note, but not in a bad way. It's a fresh, summery scent.
Midnight Cowboy
Notes of citrus, bergamot, sea salt and amber wood
A fresh "Cool Water" type men's cologne or body wash. I like it.
Peach
A nice peach scent, kind of authentic. It's a sour peach rather than a sweet peach, but if you like sweet peach, it smells fantastic mixed with Dreamy Vanilla!
Pink Sugar
A fruity blend of cotton candy, lemon drops, caramel and raspberry jam on a dry down of musk
I love the Pink Sugar scent, no matter who makes it. It's like a combination of a pre-teen girl's perfume, cotton candy, and a hint of raspberry. I don't smell lemon, but I do smell the musk of the perfume, and maybe a smidgen of the caramel although it's not a foodie scent at all. Fantastic!
Wine & Roses
Red roses mixed with red wine
This smells exactly like the scent name: roses and wine. The rose is the predominant note, but I also detect a sweet grapey wine. It's a nice, interesting combination.