Liza Jane Candle Company Wax Melt Reviews
November 12, 2018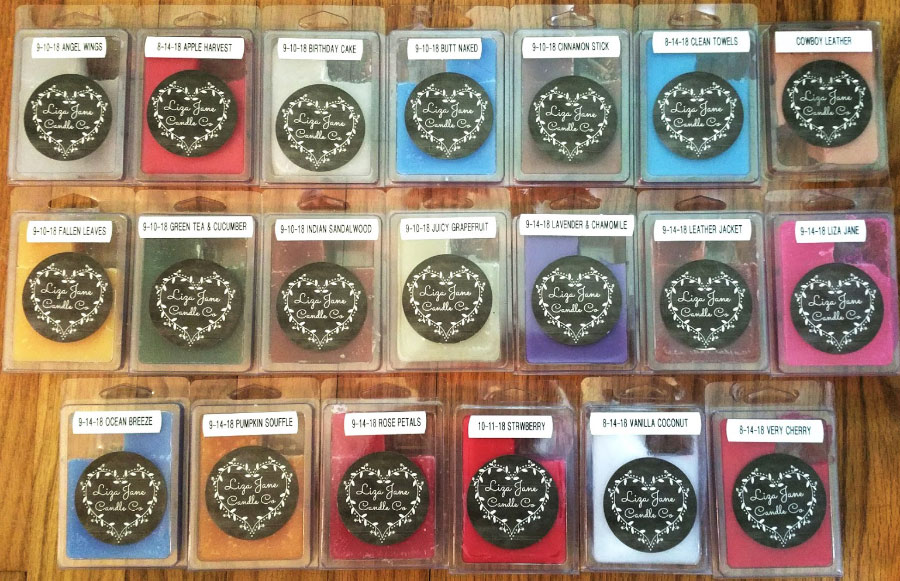 Liza Jane Candle CLOSED in 2019.
This is another review of wax melts by Liza Jane Candle Company wax melts, a candle and wax melt business in Waxahachie, Texas. Liza Jane Candle wax melts are made from paraffin wax, and they're fantastic. And at $3 for each 2.5 oz. clamshell, they're very affordable.
See my other Liza Jane Candle Company wax melt review from July 2018.
Angel Wings
A powdery bouquet of rose, jasmine and Hawthorne, enhanced by French vanilla, musk and sandalwood.
I love this scent! It smells like baby powder mixed with musk, a hint of jasmine, and maybe a hint of incense. Looking at the scent notes, I don't smell rose or sandalwood, but maybe a smidgen of the vanilla, and I don't know what Hawthorne smells like.
Apple Harvest
Ripe apple, cinnamon, clove, nutmeg, cedar wood and orange
A nice fall scent of crisp apples combined with apple cider and a smidgen of a brown leaves note. Looking at the scent notes, I smell just a hint of cinnamon and perhaps a smidgen of clove, but no nutmeg, and definitely no orange. It's more mild, slightly sweeter, and less authentic than other apple cider type scents I've smelled, but I like it.
Birthday Cake
Smells just like birthday cake with buttercream frosting
I love this scent! It really does smell like yellow cake (like the rich yellow cake mix from a box, but in a good way), with notes of marshmallow and vanilla buttercream, and even a smidgen of coconut that makes it smell a little like angel food cake. Yummy! Melted, it's a rich marshmallowy vanilla buttercream scent with a little bit of a cakey note.
Butt Naked
Melons, strawberries, pears and green apples
This smells like sweet candied watermelon mixed with cherries, strawberry and vanilla, with a little bit of a tropical fruit note. I love it! Looking at the scent notes, I don't think I smell apple or pear.
Cinnamon Stick
True spicy cinnamon with just a touch of clove
It's straight cinnamon but with a little bit of a candy note and a hint of cloves for warmth
Clean Towels
A house blend of a clean, fresh laundry (Downy April Fresh type and Beach Linen)
Fantastic scent that smells like jasmine, musk, orange blossom/neroli, and a hint of a laundry note. It smells a little bit like Cotton Blossom, but Cotton Blossom is mostly laundry with a note of musk. It's like a combination of Coppertone suntan oil and fabric softener.
Cowboy Leather
Smells like the inside of a saddle shop
Yep, it's leather, and it smells great! Also makes a great mixer... smells fantastic when mixed with pine, woodsy, patchouli or cologne scents.
Fallen Leaves
Top notes of cinnamon, citrus and chrysanthemum. The earthiness is enhanced by cinnamon leaf, patchouli, cedar wood, vetiver and sandalwood essential oils.
This is a typical old apple/sour brown leaves fall scent that a lot of companies carry, but with a twist. There's another note in there that I can't figure out, possibly a smidgen of cologne, and maybe a little caramel. It's still sour but also a little sweet. Looking at the notes, it's probably the patchouli and vetiver that I think are the cologne notes. I don't smell cinnamon at all, but maybe a smidgen of citrus.
Green Tea & Cucumber
A perfect blend of green teas as the high note and refreshing cucumber as the bottom note.
A super fresh clean summery scent of cucumber with a hint of zestiness that makes it smell like a salad, mixed with a little bit of sweetness from the green tea. Even though green tea is the high note, I smell mostly cucumbers and I might not realize the other note is tea if it weren't part of the scent name.
Indian Sandalwood
A warm, woodsy sensual fragrance
Sandalwood has a milky light wood note, and although I smell a little bit of that in this scent, this smells more like incense, with a slight baby powder note. It's a little perfumey, but subtle, not overly sweet. I like it.
Juicy Grapefruit
Tart, juicy and energizing! The true scent of a fresh cut grapefruit.
This is not a sweet pink grapefruit scent; it's a tart grapefruit with a lemon rind note. It's nice, but even better when mixed with Vanilla Coconut or Birthday Cake!
Lavender & Chamomile
Infused with natural essential oils including cedar wood, chamomile, lavender, eucalyptus and orange
This is a sweet fresh clean scent that smells like Fabuloso lavender scented cleaner mixed with a sweet slightly herbal slightly powdery fabric softener scent. It's fantastic! Looking at the notes, I don't smell eucalyptus or orange at all.
Leather Jacket
Smells like a new leather jacket
It's definitely leather, with possibly a hint of smokiness. It does indeed smell like a leather jacket, or like walking into a leather store. Comparing this scent to Cowboy Leather, Cowboy Leather is a more "intense" leather scent without any other notes. If you like leather scents, grab them both and see which one you like. I think I'm leaning more towards Cowboy Leather.
Liza Jane
An intriguing blend of jasmine, honeysuckle, fresh cotton and pear. This is a dupe of Liza Jane's perfume.
I smell jasmine with a slight bitter note, possibly rose. Looking at the notes, yes I guess I do detect a smidgen of a cottony note, but I don't detect pear at all.
Ocean Breeze
Salty ozone with fresh citrus, while honeydew blends with a trace of violet in the heart of this marine fragrance
I've smelled this scent before and it smells like air freshener spray. It's a fake fresh air scent with an oceany note, but I can't figure out the specific notes because there's nothing in nature that smells like it. But that's not a bad thing, because it's a nice scent, and perfect for the bathroom. Looking at the scent notes, I don't smell citrus, although this does have a very slight zesty but bitter note, possibly a barely detectable hint of grapefruit. And I think I detect a smidgen of honeydew and floral.
Pumpkin Souffle
Fresh pumpkin with notes of brown sugar, molasses and spice completing this bakery blend
A rich buttery pumpkin pie scent. Yummy! If you like pumpkin pie scents, get this one instead of the Pumpkin Pie. It smells better and the scent takes over the entire house!
Rose Petals
An authentic rose scent
This smells like a nice rose scented soap. It's not overly sweet, and has a smidgen of bitterness but not enough to be annoying. It does smell a little bit like real rose, although it does have that soapy note. I like it.
Strawberry
Enjoy the delicious fragrance of sun ripened strawberries
A sweet strawberry buttercream scent. It's not an authentic strawberry, but that's okay because it smells great!
Toasted Marshmallow
Marshmallows roasted over a campfire
This smells like either marshmallow with peanut butter, or a burnt marshmallow. Looking at the notes, I guess it's a burnt note, although it smells a bit like peanut butter to me. I don't smell any smokiness. It's a nice scent.
Vanilla Coconut
A house blend of coconut and vanilla
I love this scent! It's similar to the Birthday Cake scent, but not as vanilla cakey, and with a slight coconut buttercream note. When melted, I think there's also a hint of warm amber/cashmere that gives it just a touch of a perfumey note.
Very Cherry
Mouthwatering juicy sweet cherries
This smells just like super cherryish cherry soda, but without the fizziness (or there may be a tiny bit of fizziness). It's not an authentic cherry scent at all, which is okay. I like it! The scent only lasted about 2 hours though.