Michaels (Ashland) Fall Wax Melt Reviews - 2016
July 22, 2016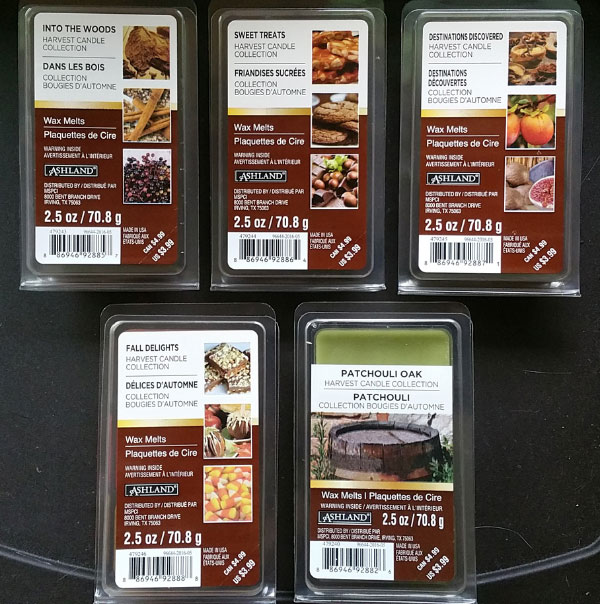 This is a review of Michaels (Ashland) Fall Wax Melts Reviews from 2016. Like many of their trios, they don't show the names of the individual scents, so I'm guessing based on the picture on the label and the scent itself.
Destinations Discovered Trio
Vanilla Bean
The beige colored wax smells like a rich classy ambery cashmere vanilla scent. Not a true vanilla scent. Very nice!
---
Persimmon
The picture on this side of the label is of persimmons, a very sweet almost apricot type fruit. But this smells sweet with a slightly sour bitter note. I'm not a fan of this scent.
---
Fig
I can't figure out what I'm smelling. It doesn't smell like fig; actually, it's similar to the Persimmon scent with that sourness, but a little more of a fruity note. I'm not a fan,
Fall Delights Trio
Caramel Nut Squares
Yummy buttery caramel or butterscotch
---
Caramel Apples
Apple scent with a slightly caramel sweet candy note.
---
Candy Corn
This does smell like candy corn, although it has a rich buttery quality that makes it smell more like a rich sweet vanilla type cookie. Very nice scent!
Into The Woods Trio
Fall Leaves
The first picture looks like a dried up brown leaf, and the brown wax is a nice woodsy scent with a slightly sweet and smoky note. The scent lasted an hour at most.
---
Cloves
The second picture looks like cinnamon sticks, but the red wax in the middle smells like cloves with a hint of smoky wood. Actually, it smells like barbecue sauce!
---
Berries
The third picture shows tiny dark berries but I don't know what they're called. The wax smells similar to the cloves wax but maybe with more wood and a bit of a savory quality. I don't think I smell any kind of berries. Maybe it's supposed to be fall leaves? I can't figure out this scent, and I'm not sure if I like it or not. The scent lasted an hour at most.
Patchouli Oak
This one is not very strong on cold sniff. It's definitely patchouli but not as woodsy as the name would suggest. It's a little sweet and maybe a bit perfumey and I think there's a smidgen of vanilla. It's a nice scent
Sweet Treats Trio
Almond
The first picture looks like caramel and peanuts, but the beige wax smells like almond and vanilla with maybe a hint of coconut. Nice scent, it fizzled within a little over an hour.
---
Ginger Snaps
I think the picture is of ginger snap cookies, and the orange wax smells like sweet frosted ginger snaps.
---
Hazelnut Chocolate
I see chocolate and hazelnuts in the picture, and the brown wax is very light on cold sniff but I do detect a slightly nutty chocolate note. Melted, it smells really good, like rich fudgy nut brownies. I smell not only the chocolate fudge but the nutty note as well.
They had other scents that I didn't buy: Harvest (typical fall spice type scent), Pumpkin Trio (typical pumpkiny fall scents), Vanilla Bean (I already have a lot of vanilla scents, but this is one of the scents in the Destinations Discovered Trio and it's fantastic), Cranberry Compote (typical cranberryish type scent), Orange Cinnamon Clove (this smells like pomander, which I'm not a fan of), Apple Cinnamon (typical generic fall scent), and Pumpkin Spice (typical pumpkin scent).