Mixture Wax Melt Reviews
January 22, 2018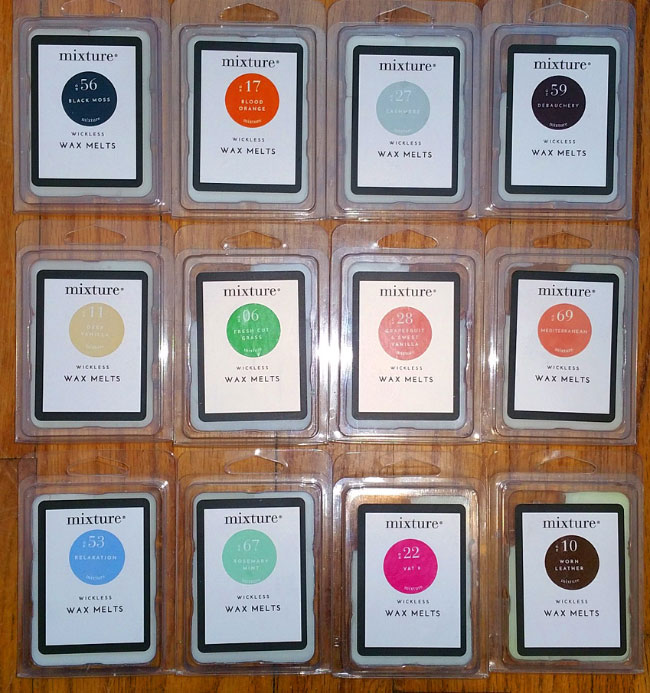 This is a review of Mixture Wax Melts, a company in Kansas City that makes candles, wax melts, scented home products and related accessories.
Mixture candles and other products are available on their website, and can also be found in over 2,000 stores throughout the U.S. They can also be found on Facebook.
I really enjoyed these wax melts. The first thing I noticed were the labels. I love these labels! They're simple and refined. The scents themselves were high quality and unique, not the usual run-of-the-mill generic type scents. And in general, the throw was very good.
Black Moss - No. 56
Black pepper, amber musk, and bergamot to start, followed by blue cypress, patchouli, and moss.
This smells like black pepper, although it's very light on cold sniff. I think there's a barely detectable hint of cologne, but it's too light to tell.
Blood Orange - No. 17
A sweet blend of ripe blood orange infused with fresh goji berry, raspberry, and strawberry. You will want a glass.
This smells like orange with lemon and something else I can't figure out, like a milky note. I like it though. Looking at the scent notes, I don't really smell the berries. 
Cashmere - No. 27
Spicy floral as found in an oriental garden. Strong jasmine, rose, and tuberose followed by orange, black pepper, and musk.
Cashmere scents are warm and ambery with a hint of laundry, and this is definitely not a cashmere scent. But I actually like it much more. It's an oriental spice perfume scent with a bit of an incensey note. Looking at the scent notes, there's the oriental spice, which is the dominating note. I do smell the musk, and maybe a little bit of the jasmine and tuberose, but not the orange or black pepper (although the pepper might be that incensey note I'm detecting). It's lovely and feminine (but not girlish) and classy.
Debauchery - No. 59
Very complex with strong patchouli, clove, cedarwood, and floral ylang. Finishes with tonka bean, honey, and amber.
This smells like expensive department store perfume that got old. But it's not a bad thing, as it smells great! There's also a little bit of a natural essential oil note, and hint of patchouli, and maybe a smidgen of ylang ylang. It's different from any wax melt I've smelled. Looking at the scent notes, I don't smell clove or vanilla. This scent lasted all day!
Deep Vanilla - No. 11
Sweet, creamy vanilla with a touch of crisp spruce needles. Finishes with rich musk.
This smells fantastic, like a buttercream vanilla mixed with a little bit of sweet tobacco and perhaps a hint of black pepper. Looking at the scent notes, the musk is probably the tobacco I detect, and the pepper is probably the spruce. Although I don't smell spruce or pine at all. It has kind of incensey vibe. I love it!
Fresh Cut Grass - No. 6
This heavily fragranced candle will make any day a sunny day.
I've never smelled a wax melt that smells just like authentic grass, and this one is no exception. But it still smells very nice, like a floral soap that's not overly perfumey and has a fresh green note. There's also a little bit of a bitterness which is a bit harsh, but it's still a nice scent.
Grapefruit & Sweet Vanilla - No. 28
Strong ruby red grapefruit followed by bergamot, orange, and key lime. A hint of jasmine on the finish.
I smell grapefruit first, but it's a light, subtle grapefruit and it's not very bitter due to the sweet vanilla. There's also a floral or slightly perfumey note. And maybe a smidgen of lemon. It's very nice. Looking at the scent notes, they're spot on.
Mediterranean - No. 69
Strong rich olive harmonized with sweet orange and lemon, followed by green notes. Finished with freesia, wood, and musk.
This smells more like fresh cut grass than the Fresh Cut Grass scent. It's fresh, green, airy and natural. On cold sniff there's just a smidgen of a sweet floral, but when it's melted it's not sweet, more savory. There's something else that I can't put my finger on, almost like palm (a woodsy nutty tropical note) but it's not a tropical scent at all. Looking at the scent notes, ah, the palm is actually olive. I don't think I've ever smelled olive in a wax melt, but this is probably an olive leaf scent, as it's definitely not a foodie green pickled olive or black olive scent. Although it does kind of have a little bit of a salad scent, kind of like strong olive! And I don't smell orange and lemon, but there is a tiny bit of a zesty note. A very nice scent. I think if I mixed it with the Fresh Cut Grass scent, the result would really smell like grass!
Relaxation - No. 53
Clear your head with peppermint, lavender, spearmint, and eucalyptus.
This is a strong mint scent that smells like a combination of peppermint and spearmint, with a little bit of a sweet creamy vanilla note. Looking at the scent notes, I don't smell lavender, and it's probably the eucalyptus that gives this scent its strong sinus clearing effect. 
Rosemary Mint - No. 67
An invigorating blend of rosemary, sweet spearmint, and robust peppermint.
This smells similar to
ScentSationals Zen
. It's a relaxing combination of fresh mint (spearmint I think, although it doesn't have that overly spearminty toothpaste note) and perhaps a laundry or slightly perfumey note, and maybe a hint of vanilla. There's a smidgen of a savory note which is probably the rosemary, but it's very subtle. This type of scent seems to be everyone's favorite, and it's very nice.
Vat 9 - No. 22
Opens up with cranberry, clove, honeysuckle, and cedarwood followed by vanilla sugar and nutmeg.
This smells like orange with sweet red berries and maybe a hint of floral. It's a nice summery scent, and it lasted the entire day! Looking at the scent notes, I was way off! I really do smell orange! I don't smell clove or nutmeg, which is good because I'm tired of fall type scents. 
Worn Leather - No. 10
Saffron, thyme, and strawberry. Frankincense and jasmine accord. Dries down to a leather suede with amber woody notes.
Based on the scent name, I expected this to smell like pure leather, like a leather jacket. But it doesn't, and that's a good thing, since I like the smell of leather but not in my house. This is a sweet raw woodsy cedar scent with maybe a hint of patchouli and tobacco. But it's not the same as other similar scents with those notes. It has a little bit of a perfumey note, a hint of warmth from amber perhaps, and maybe a smidgen of floral and perhaps a barely detectable pinch of fruit. I detect a smidgen of the leather on cold sniff, but not really when melted. Looking at the scent notes, that hint of fruit is the strawberry, and the hint of floral is the jasmine. This is a unique scent, and I really like it!