Pioneer Woman Wax Melts Reviews 2022
October 24, 2022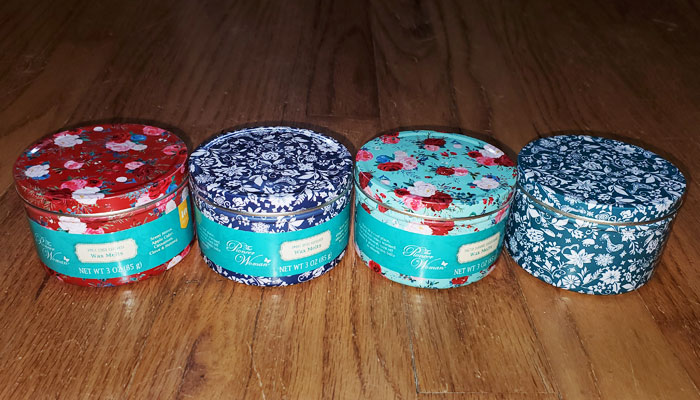 This is a review of 4 new Pioneer Woman wax melts at Walmart from October 2022, made by Rimports (the company that makes ScentSationals wax melts). These are 4 new fall bakery type scents.
You can find out more about these Pioneer Woman wax melts, including size, pricing, etc., in the review I did of 12 new Pioneer Woman wax melt scents in August 2022.
Apple Cider Cupcakes
Ombre Spice Cupcakes
Ginger, Cinnamon, Allspice, Nutmeg & Buttercream
On cold sniff I'm getting ginger and nutmeg (but it's not a pumpkiny scent), as well as Eastern spices that give it a tiny bit of an incensey, or even perfumey, vibe, and a smidgen of citrus (orange? lemon?), and possibly a smidgen of saffron. BUT when melting, no incensey, perfumey, or citrus notes at all, and it's not a bakery type scent. I'm also getting a subtle milky espresso note (definitely espresso, as the coffee note is slightly harsh, but toned down by the milkiness, and the coffee note is subtle so the bitterness is barely noticeable). This scent is sweet, but not nearly as sweet as most similar scents. It's a nice scent, but after several hours it takes on a tiny bit of a burnt note. Looking at the notes, I'm not getting cinnamon or buttercream. I like it.
Salted Caramel Cheesecake
Graham Cracker, Pecans, Cheesecake & Caramel
I'm getting vanilla with the fake (not at all in a bad way) cheesecake note, but it's not really a foodie scent, and is actually a little bit perfumey even though it's not overly sweet. I'm detecting a tiny bit of a floral note. It's a great scent though, and I really like it. So if you're not a fan of bakery scents, you might actually like this one too. The scent lasted almost the entire day.
Spicy Cowgirl Coffee
Spicy Cowgirl Coffee is a dessert coffee created by Ree Drummond ("Pioneer Woman"), and is made with coffee, chocolate sauce, chili syrup, cinnamon, and cayenne. This is a fantastic, super sweet scent that smells like super milky, creamy coffee with a hint of chocolate. I detect a smidgen of cinnamon on cold sniff, but not at all when melting.