Pioneer Woman Wax Melts Reviews 2022
August 12, 2022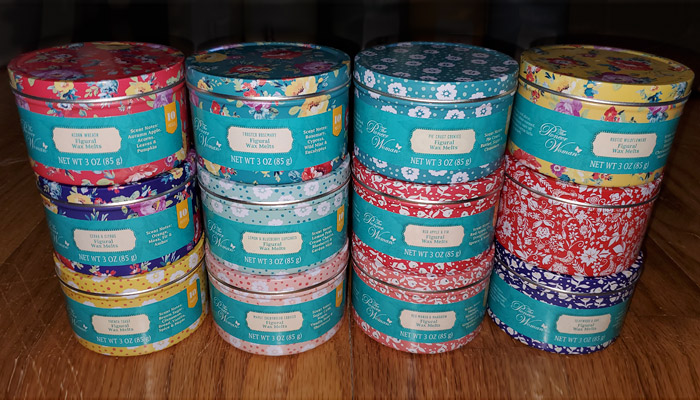 This is a review of the Walmart Pioneer Woman wax melts from 2022, made by Rimports (the company that makes ScentSationals wax melts).
I love the cute floral designed tins, even though the scent names, and especially the notes, are so tiny that they're barely legible. The tins can be re-used to store other things after you've finished the wax melts.
Each 3 oz. tin container has 10 wax melts in it in the shape of a flower. You can use one wax melt at a time if you normally use 1 cube from a standard 2 oz. or 2.5 oz. clamshell. However, some of the melts are a little thinner or thicker than others, so you may need to use 2 melts if they're on the thinner side. The cost is $4.67, which sounds high, but since you get 10 melts instead of 6, if you use one at a time, these work out to the equivalent of $2.80 if they were a standard 2.5 oz.
Acorn Wreath
Autumn Apple, Acorns, Leaves & Pumpkin
This smells like pumpkin pie with a hint of fall apple and a tiny bit of a woodsy note. It has a little bit of a "harsh" note that I can't figure out and I'm not crazy about, but it's still a nice scent.
Cedar & Citrus
Orange, Moss, Fir & Amber
Bergamot with smoky pine, a rich, salty note, and a fresh note. Although it's not a cologne scent, it does have enough of a cologne note for me to classify it as such. Fantastic!
French Toast
Frosted Rosemary
Rosemary, Cypress, Wild Mint & Eucalyptus
Very minty, sinus clearing garden mint. Not spearminty, and not sweet at all. Just straight, herbal mint that might have a bit of sage, menthol and eucalyptus (but no pine notes) mixed in. Very nice, and perfect to melt if you have a cold.
Lemon & Blueberry Cupcakes
Lemon Peel, Cream Cheese, Blueberry & Garden Mint
I'm getting the bakery lemon scent and a bit of a cream cheese type note, like a lemon cheesecake. I'm also getting a little bit of the blueberry. It's a great scent, and not overly sweet. It's totally different from
ScentSationals Lemon Blueberry Donuts
(which is sweeter, richer, and more authentic, with more blueberry, less lemon, and no cream cheese). This scent reminds me quite a bit of
Better Homes & Gardens Iced Lemon Poundcake
and
Oak & Rye Lemon Raspberry Bars
. Looking at the notes, there's the cream cheese, but garden mint is an odd ingredient for this scent. Peppermint maybe, but not garden mint. Thankfully, I'm not getting any minty or herbal notes.
Maple Shortbread Cookies
Pie Crust Cookies
Pie Crust, Butter, Sugar & Cinnamon
A yummy scent that does indeed smell like pie crust, but it has cinnamon and I think a bit of nutmeg, both of which make this smell like pumpkin pie cookies (not straight pumpkin pie, as it's not that "pumpkiny") or cinnamon spice cookies.
Red Apple & Fir
Red Apple, Fir, Evergreen, Spruce & Wood
Red Mango & Mandarin
Mango, Mandarin, Guava, Grapefruit & Orange
Fantastic rich, sweet, very slightly salty orange with maybe a tiny bit of a lemony note. It's not sour like satsuma, and not bitter like grapefruit. I think I'm also getting just a smidgen of tropical fruit. I love this scent, but it only lasted for about 2 hours.
Rustic Wildflowers
Sunflower, Marigold, Chrysanthemum & Meadow Grass
A woodsy scent with a little bit of pine and a hint of an herbal note. It's not sweet, and I'm not getting any floral notes. In fact, it's even a little savory, but not zesty like a salad (no savory herbs like sage or rosemary). It smells "natural", like the scent of walking through the woods. Looking at the notes, marigold and chrysanthemum are very bitter flowers, but this scent is not bitter at all. It's actually quite nice.
Spiced Apple Crisp
Fantastic, authentic apple pie scent, with nutmeg, a bit of cinnamon, and lots of cloves.
Teakwood & Oak
Teakwood, Oak, Grapefruit, Tonka, Amber & Incense
This is my favorite scent of this collection. I'm getting oud, which is a dark, intense, rich, tarry, woody scent with tree sap and cedar notes, no smokiness, and very deep slightly patchouli-ish notes. But this is a bit sweeter than just oud, so there are some incensey notes as well (Eastern spices and maybe a bit more patchouli), as well as maybe a hint of some other kind of wood, and maybe a bit of amber for warmth. It's an absolutely incredible scent. Looking at the notes, they're spot on except for grapefruit, which I don't detect at all. This is the only scent I have from last year's Pioneer Woman wax melts, and strangely, the throw was slightly stronger (closer to a 4.00).