Sam's Smell Goods Wax Melt Reviews
October 16, 2017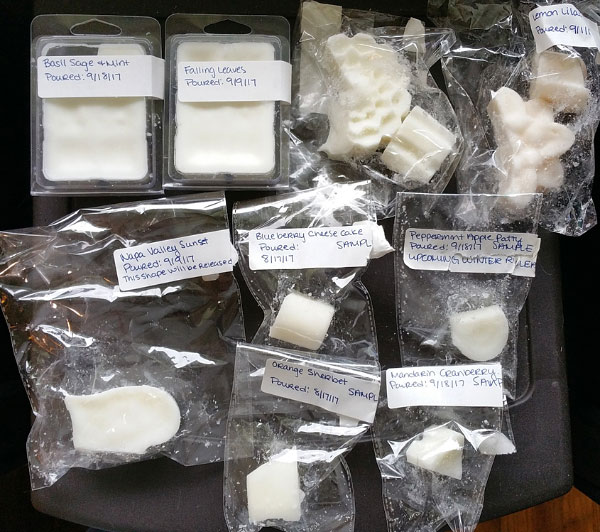 This is a review of Sam's Smell Goods wax melts, a small wax melt vendor in Virginia. Sam's Smell Goods wax melts are a parasoy blend, all handmade and made to order, with zero additives or artificial colors. And all the melts are white, so no dyes to stain your warmer. Her wax comes in a couple of different shapes, including the regular rectangular clamshells, as well as flower and heart shapes.
I received my order very quickly, and Samantha was a breeze to work with. She stayed in close communication with me, and was professional and provided fantastic customer service. I really enjoyed working with her.
Sam's Smell Goods can be found on Etsy and Facebook.
Basil Sage & Mint
An exhilarating blend of cool mint, refreshing basil and earthy sage enhanced with a sparkle of citrus and underscored with white musk and woods.
This smells a little bit like Dawn dish detergent (but not in a bad way at all) or a nice shampoo or body wash (but it's not a cologne or perfumey scent). It's fantastic! It's clean and soapy and a tiny bit herbal, with a little bit of sweetness and there might be a smidgen of sweet kitchen lemon. I also smell a hint of spa type mint, although it's barely noticeable, but it gives this scent a tiny bit of a
ScentSationals Zen
type note. Looking at the scent notes, the smidgen of lemon I smell is the citrus, and the slight sweetness is the white musk. I don't smell basil or sage, and this is not an earthy or savory scent at all.
Blueberry Cheesecake
A luscious buttery bakery accord leads to the blend of wild blueberry and cheesecake filling at the heart of this fragrance. Sweet vanilla bean creates gourmand appeal for the fruit dessert.
This smells yummy. It smells like sweet blueberries with a bready note, so it's more like a blueberry muffin scent than blueberry cheesecake.
Falling Leaves
A wonderful blend of orange slices, peaches, and apples surrounded by crushed cloves and ground cinnamon with a warm background of tonka and sweet vanilla.
This smells like apple cider with a little bit of mulling spices, and maybe a bit of woodsiness in the background. It's a perfect fall scent. Looking at the scent notes, I don't smell orange or peach.
Lemon Lilac
A sweet floral combination consisting of rose, lily of the valley, wild jasmine, and sweet lilac flowers blended perfectly with airy lemongrass, citrus oils and juicy fresh accords.
This smells like lemon verbena with a slight citronella note, and maybe a hint of regular lemon, and a little bit of lilac. It's a nice spa type scent. Looking at the scent notes, I don't smell as much floral as the notes would suggest. And I don't think I detect rose, lily of the valley, or jasmine. Melted, it's a nice soapy lemony citronella lilac scent.
Mandarin Cranberry
A zesty scent that blends mandarins and golden oranges into a fruit medley of juicy cranberries and plums.
A perfect blend of sweet citrusy orange and tart cranberry. I think I detect a smidgen of grape, but looking at the scent notes, that's probably the plum. Melted, I smell mostly the orange, like a fruity berry orange punch type scent. Very nice! The scent only lasted about 1 hour.
Mountain Memories
Rich earth notes blend with dark amber and patchouli for a fragrance that will remind you of snowy mountain caps and a comforting fireplace inside of a log cabin.
I really like this one! It smells like cloves, smoke, black pepper, and maybe a smidgen of pine, in that order. It's a warm fireplace type scent.
Napa Valley Sunset
A musky fig tonality blends with a tart fruit scent. The subtle pear juice and gentle white musk nuance blend together to enhance and complete this fragrant accord. Inspired by the BBW scent.
I can't figure out what I'm smelling. A sweet peach or apricot maybe, but there's another note in there, almost like pepper. It's a nice, unique scent. Looking at the scent notes, okay it's pear, although I'm not sure where the peppery note is coming from; maybe the musk and fig?
Orange Sherbet
A bright scent with juicy sweet orange notes, exotic Hawaiian pineapple, and tropical red fruits swirled in a pool of creamy vanilla.
I very nice orange creamsicle type scent. It's not quite as sweet as other orange creamsicle scents I've smelled, but then it's orange sherbet, not a creamsicle. The orange scent was kind of like that powdered orange Tang rather than an authentic orange, but that's okay, as it's a very nice, refreshing scent. Looking at the scent notes, I don't smell pineapple or red fruits, but I'm sure they're somewhere in the background.
Peppermint Apple Patty
This sparkling clean and refreshing fragrance is a classic blend of peppermint with light nuances of warm vanilla on top of a rich combination of green apple, clove buds and red hot cinnamon creates a nostalgic scent of the holiday season.
Who knew the combination of apple and peppermint could smell so fantastic? This is Sam's own blend and it was a fantastic and very creative idea! It smells like an apple scented candy cane. It's sweet peppermint with apple and a little cinnamon and maybe a touch of vanilla. It smells a little bit like
Better Homes & Gardens A Wonderful Winter
.
Watermelon Lemonade
Watermelon chunks are mixed with iced lemonade in this ultra refreshing scent
Although this scent is weak on cold sniff, I smell watermelon with a hint of lemon. Refreshing!