ScentSationals Wax Melt Reviews from H-E-B in Texas
June 21, 2020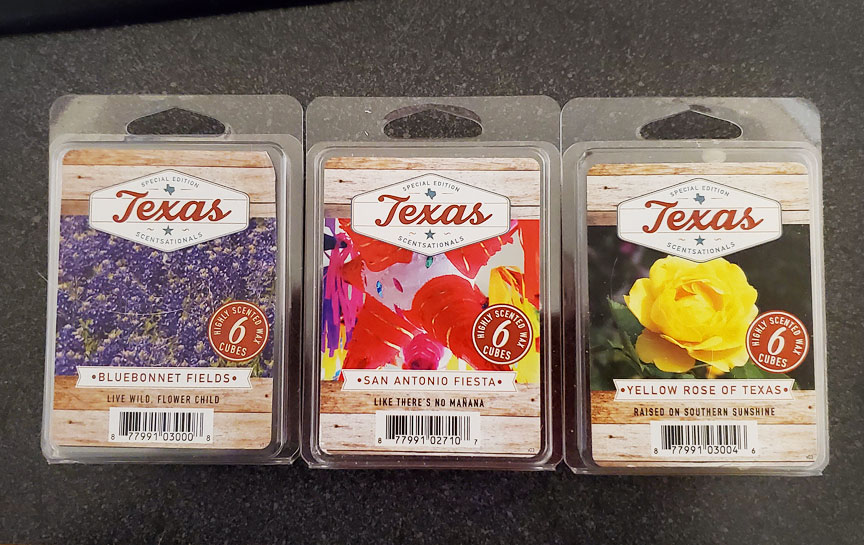 This is a review of the older ScentSationals Texas Edition H.E.B. Wax Melts Bluebonnet Fields, San Antonio Fiesta, and Yellow Rose of Texas.
These are older "core" scents that say "Texas" at the top. However, these scents also come in the non-Texas editions that may be available in other stores such as Meijer and Kroger (but not Walmart).
Bluebonnet Fields
A luxurious medley of lush, leafy greens wrapped in dewy hyacinth, sweet lilac, and breezy jonquil amid brilliant daisy blossom, heady jasmine, blushed freesia, and wild ivy
A fantastic bright floral scent with a hyacinth or lilac note, along with a delicate quality like lily-of-the-valley, and a hint of fresh dewy grass. It's very sweet but not perfumey. And it's bright like it might have a smidgen of a watery note. I don't think I've ever smelled a bluebonnet flower so I can't compare. I love this scent! And the scent notes are spot on.
San Antonio Fiesta
Sweet island pineapple, crisp melon, juicy berry, and ripe kiwi fruit shimmer over dewy lotus flower, white orchid, and sapphire rose wrapped in soft musk and sheer ozone
This is a scent that was used for several ScentSationals and AmbiEscents tropical scents a few years ago (including ScentSationals Tropical Fiesta,
AmbiEscents Flower Festival
(why a totally non-floral scent for a flower scent??), and
Better Homes & Gardens Pineapple Melon Freeze
). It's a sour, waxy tropical scent with no sweetness (or maybe just a smidgen). If it were sweet I might like it more. I can't figure out what the scent is supposed to be, maybe a sour tropical fruit, although it doesn't smell fruity. Maybe some type of lemony or grapefruity citrus, although it's not lemon or grapefruit per se. And unlike most tropical scents, I don't detect any coconut. I've never been a fan of this scent.
Yellow Rose of Texas
Sparkling greens, ethereal rose, and sweet jasmine petals swirl with sweet peach nectar and pure lily-of-the-valley wrapped in tranquil musks and warm, precious woods
A wonderful, authentic bright rose scent, sweet but not perfumey or soapy. It's not a tea rose scent, and it doesn't have any bitterness that some rose scents have in order to try to make them smell more authentic. It does have a smidgen of magnolia, with that barely detectable lemony note. This is a different scent from the
ScentSationals Fusion Rose
scent (which is tea rose with a smidgen of bitterness). I love both scents, but I think I adore this one! Looking at the notes, I don't detect peach or wood at all. Actually, these are the same notes as the Fusion Rose scent, but it's a totally different scent, not even close. So these notes are incorrect (because of the peach, I'm pretty sure they're the notes for the Fusion Rose scent).