Scentsy Bars Wax Melt Reviews - December 2017
December 3, 2017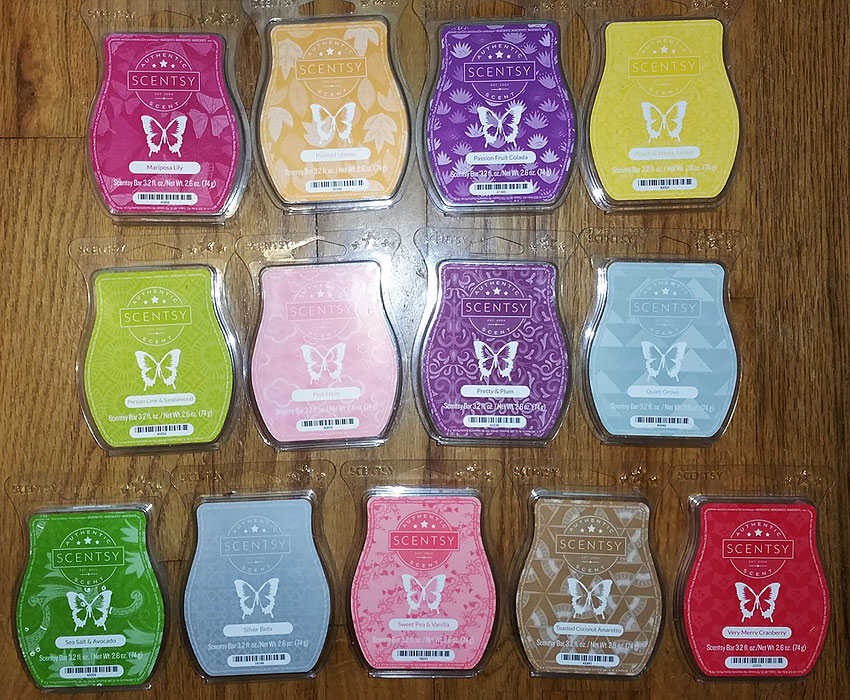 This is a review of Scentsy Bar Wax Melts from December 2017. I bought these Scentsy bars from Carrie Mamulski, a Scentsy Star Consultant from New Jersey.
Carrie Mamulski is a Scentsy "Star Consultant" who joined the Scentsy family in 2013. She is located in New Jersey (NJ) but ships anywhere in the country. Carrie hosts Scentsy parties, loves Scentsy, and enjoys sharing it with others. She goes the extra mile for her customers, like including something extra with each order. Carrie is a pleasure to work with, is always friendly and professional, ships quickly and provides fantastic customer service.
Carrie Mamulski's Scentsy page is https://carriemamulski.scentsy.us.
This review is part 2 of 2, with scents starting with M to V. My reviews of scents beginning with B to L are here.
Mariposa Lily
Mariposa lily blooms with sugar apple and pineapple slices
A creamy fruity floral. I can't tell if it's strawberry or apple or some other kind of fruit. It's not overly sweet and not perfumey at all. Nice and subtle. Looking at the scent notes, I don't smell pineapple at all.
Painted Leaves
Blue spruce, red maple and golden woods
Pine with a hint of woodsiness and a smidgen of mint. Very nice scent! Looking at the notes, I don't know why mint is not listed; I definitely smell mint, and it has a sinus clearing effect. There's a note in this one that makes it smell just a bit different from other pine scents, but I can't figure out what that note is. It's not a biting pine, there's no eucalyptus, and there are no smoky notes at all. Maybe it's the red maple and golden woods.
Passion Fruit Colada
Honeydew and passion fruit surge with sugarcane
This smells like a lot of their other warm perfumey slightly fruity creamy blackberry type scents. Not that I'm complaining; this smells great, but I have like 6 other Scentsy scents that smell almost exactly like it. This doesn't have a colada or tropical note, which I expected based on the scent name. Looking at the scent notes, yes I think I do detect honeydew melon. And when melted, I think I detect a barely noticeable smidgen of coconut.
Peach & White Amber
Deep floral notes and earthy, provocative amber
Fantastic warm ambery perfumey type scent, but it's not overly sweet or perfumey. I think I smell a hint of gardenia or jasmine. I definitely smell a sweet creamy vanilla. And maybe a smidgen of a fruit note which I assume is peach, although if I didn't know that, I wouldn't be able to tell what kind of fruit. And maybe a barely detectable hint of woods which is the amber (a warm woodsy note). Looking at the scent notes, hmm, no peach? Melted, I do smell more of a fruit note and this scent takes on a bit of a creamy fruity vibe.
Persian Lime & Sandalwood
Tangy kaffir lime, cultured by earthy notes and an urbane touch of sandalwood
A nice fresh clean men's cologne scent. I don't actually smell lime.
Pink Haze
A sweet confection of berries, nectarines and vanilla-laced whipped cream nestled in marshmallow fondant.
This is weak on cold sniff and smells like pink sugar, that very sweet cotton candy like perfumey scent with a hint of berry. But it's more subtle than pink sugar, and not as cloyingly sweet, with maybe a bit of vanilla marshmallow and a hint of floral.
Pretty & Plum
Red plum gets pasty-perfect with black coconut and sweet cream.
Rich vanilla cake. On cold sniff I also smell a little bit of a sweet berry filling that smells like blueberries and blackberries, but I don't really smell the fruit when melted. I also smell coconut on cold sniff, which I also don't really smell when melted. It's still quite nice!
Quiet Grove
Bergamot, jasmine and sandalwood
I can't figure this one out, but I like it. It smells kind of like a body wash, sort of fresh and maybe with a smidgen of floral and lemon. Looking at the scent notes, bergamot makes sense as that's a base for a lot of fresh body wash and cologne scents (although this is not really a cologne scent). Jasmine is the floral (although it's not a sweet floral so I would not have known it was jasmine per se). And sandalwood, yes I guess there is a subtle light woods note.
Sea Salt & Avocado
Pink sea salt, Valencia orange and creamy avocado
It's very weak on cold sniff, and I just smell a bland green scent. But melted, it's a fresh green scent with a hint of grapefruit and a little bit of creaminess. It's fresh with just a hint of sweetness. Looking at the scent notes, the grapefruit I'm smelling is actually orange, although this is not an orange scent. It's an unusual mix of notes that actually work quite well together.
Silver Bells
Minty candy canes with pear, in a blanket of caramel and vanilla sugar.
Very nice warm perfumey scent, similar to Scentsy Luna but with a minty note, and perhaps a slight blackberry note. OK looking at the scent notes, it's pear, not blackberry. I really like this scent!
Sweet Pea & Vanilla
Raspberries and sweet pea petals with vanilla
This is definitely a sweet pea scent, and I do detect the slight foodie quality of sweet vanilla that adds a bit of richness to this scent. I like this one. Looking at the scent notes, yes now I do detect a hint of berry although it's subtle. When melted, I definitely smell the raspberry note, which gives this a little bit of a berry candy vibe. And the vanilla gives it a smidgen of a caramel note. I really like this one, and the scent on cold sniff does not do it justice!
Toasted Coconut Amaretto
Praline cream, almond and just a hint of anise
Yum! I smell almond and sweet amaretto liquor (amaretto has a hint of cherry in it), with maybe a creamy vanilla. Coconut is in the scent name, but not in the notes, although I think I do smell it just a little on cold sniff (but not when melted). I don't smell anise at all though (which is good). When melted, the cherry note really comes out, and it becomes more of a perfect blend of maraschino cherry, almond, and a bit of sweet creamy vanilla. I believe the fragrance oil Serendipity consists of almond, cherry and coconut notes, but I'm not a fan of Serendipity scents, so while this scent might share some of those notes, it's quite different. I really like this one!
Very Merry Cranberry
Red winter berries pop against a backdrop of snow-covered cedar
Fantastic sweet cranberry scent, almost a little candy-like. I think I also detect a smidgen of peppermint, cinnamon and cloves, but all very subtle. Looking at the scent notes, okay I think I do smell cedar. But I definitely smell peppermint, although it's not very strong and has a mild sinus clearing effect. I really thought I smelled cinnamon and cloves, but maybe not.