Scentsy Bars Wax Melt Reviews - January 2018
January 28, 2018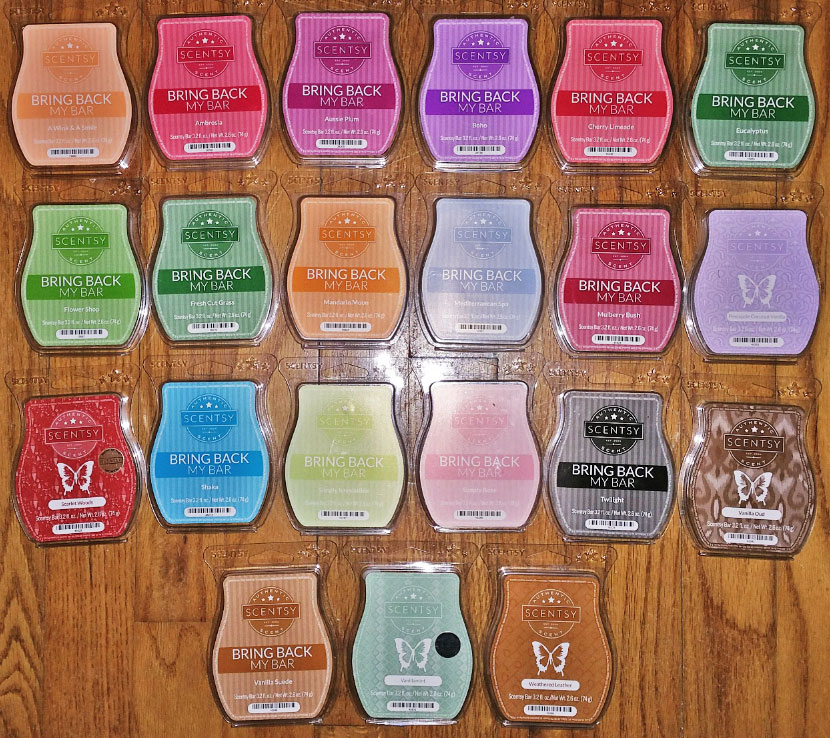 Before I start this Scentsy Bar Wax Melt review, I'd like to focus on Carrie Mamulski, a Scentsy Star Consultant from NJ (New Jersey). Carrie joined Scentsy in 2013. She hosts Scentsy parties, and although she is located in New Jersey, she ships anywhere in the U.S.
Carrie loves Scentsy and enjoys sharing it. She always tries to throw in something extra with each order. And if you buy warmers from her, she will replace their bulbs for free as needed. Just a little extra gesture to show her appreciation! So you can buy Scentsy from any Scentsy rep, but it's nice to deal with someone who is completely knowledgeable about the product, provides great customer service and quick shipping, goes the extra mile for her customers, and is just really a nice person! Carrie Mamulski's Scentsy page is https://carriemamulski.scentsy.us.
Just about all of the Scentsy scents in this review are "Bring Back My Bars" scents and they are only available until the end of January 2018. After that, they will be gone forever (unless Scentsy decides to bring them back again in the future).
A Wink & A Smile
Dutch tulips, sunny daffodils, and a refreshing splash of tangy lemonade with sweet and flirty plum
This smells like fresh body wash or shampoo with a hint of floral, a very slight fruity note and maybe a smidgen of coconut. It has a tiny bit of a cologne note, but it's not a men's cologne scent. Looking at the scent notes, the fruit is the lemon and plum, but I really don't smell either of those, especially the lemon. The fruit is like a fruit-smelling shampoo rather than a specific type of fruit. It's more of a fruity floral than a true fruity scent. I like it.
Ambrosia
Like the sweetest fruit salad ever: tropical pineapple, mandarin orange slices, juicy pears, and ripe concord grapes with hints of jam and fruit nectar
This smells like strawberry flavored candy or bubble gum, but it also has a little bit of a tropical note, like maybe a hint of pineapple, and possibly a little bit of grape. Melted, I smell a little bit of the orange (mandarin), and I think there's a slight floral note.
Aussie Plum
Melange of juicy plum, pink grapefruit, and tart pomegranate with smooth vanilla
A rich dark fruity scent that smells a little like raspberries with a warm slightly perfumey note. Fantastic scent! Looking at the notes, I don't smell grapefruit at all, although there's a barely detectable hint of tartness that could be the grapefruit.
Boho
Clove-studded winter apples entwined with black plums, candied mulberries, and cinnamon sticks
Apples and plums with a hint of caramel and a smidgen of balsam? I think I also smell a little bit of cinnamon. It has a bit of a candy note. Looking at the scent notes, they're spot on. The caramel I think I smell is probably the rich warmth of the cloves, although I don't really smell cloves per se. When melted, I definitely smell the cloves, and it's pretty much just an apple scent with cinnamon and cloves, but with that extra plum note that makes it a little different. It's a nice scent, but similar to a lot of fall scents I have.
Cherry Limeade
Sweet cherry contrasts with zesty key lime, dancing with tiny bubbles foaming up and bursting
This smells like cherry lime soda with a soapy note, and it's not as sweet as I'd like. I smell the lime first, but also a little bit of the cherry. It has a little bit of fizziness, kind of like ginger ale, which I don't like, but I think I'm in the minority as I believe most people will love this scent.
Eucalyptus
Soothing, medicinal and fresh
This is the scent to melt if you have a cold! It smells like Vicks VapoRub, a nasal-clearing menthol eucalyptus scent. It has a slight pine note that I don't smell in Vicks, but I really like it.
Flower Shop
Just like walking into a flower shop
A nice authentic green scent with a little bit of a floral note and a hint of bitterness to make it more realistic. But it's not really a floral scent. It's similar to the Fresh Cut Grass scent, but this scent is fresher and slightly sweeter.
Fresh Cut Grass
Like a freshly cut fairway on a cool summer morning, with early clean notes
A nice sweet green grass scent with a slightly soapy note. I've never found a grass scent that is truly authentic, and this one is no exception, but it's almost close. It smells a little more like a greenhouse, and similar to the Flower Shop scent, but slightly more soapy, and not as fresh and sweet.
Mandarin Moon
Spirited cinnamon and glowing ginger illuminated by sweet orange and star anise
This smells fantastic. It's sweet orange, and not overly citrusy, with cinnamon I think. But it's not really a fall scent, and not an orange pomander scent either. Looking at the notes, I don't smell anise, which has a licorice type scent. Maybe a little bit of the ginger, but I wouldn't notice it if I didn't see it in the notes. The predominant note is the orange, and then the cinnamon, but it's not an overly cinnamony scent either.
Mediterranean Spa
Relax with this smooth, fresh, and breezy scent, with the beach grasses, cleansing minerals and therapeutic herbs
I love this scent! It's a salty soapy savory herbal scent with a smidgen of lemon verbena.
Mulberry Bush
Sweet mulberry accented with bittersweet orange peels
This smells like black cherry, but it's not as harsh, and it's quite sweet, but not candy sweet. On cold sniff I also detect a smidgen of orange, but I don't really smell it when melting.
Pineapple Coconut Vanilla
Coconut, pineapple blush and blue fig
I expected a strong pineapple coconut scent based on the name, and this is not that at all. Which is good, because I'm not a fan of pineapple scents, and there are already a lot of pineapple coconut type scents out there. I do smell pineapple and coconut, but it's subtle and only very slightly sweet. I think there's also a light wood note, like driftwood, and maybe a hint of lemon. I really like this one. Looking at the scent notes, it's the fig that tones down the other notes. Fig and currant scents are slightly woodsy, with a hint of fruitiness that's not too sweet, and they make other scents smell "classy". Yes, I definitely smell the fig in this one; in fact, I think that's the predominant note.
Scarlet Woods
Vivid notes of cassis and redberry over crisp white cedar
This is a new 2018 scent, and it's fantastic. It smells like cranberries and balsam (a fresh, sweet, woodsy balsamic pine scent) with a bit of a warm soapy ambery slightly perfumey note. Actually, I think the fruit note is currant, not cranberry, although it does have a hint of tartness like cranberry. Looking at the scent notes, redberry is a type of evergreen shrub (which is probably where the balsam/pine note is coming from), and cassis is a type of currant that has a slight patchouli or soapy note. It's a strong, rich, kind of intense scent, but the scent started dissipating around 2 hours.
Shaka
Rich sandalwood infused with a splash of bergamot and lime
A nice pleasant masculine scent with a hint of leather and light wood, and maybe a smidgen of pepper, and possibly a barely detectable smidgen of coconut way in the background. It smells a little like a fresh men's body wash, but it's not sweet enough or cologney. Looking at the notes, I don't smell lime.
Simply Irresistible
Lavender with a strong, woody background of amber, moss and musk
A nice scent of garden mint (with a little bit of a nasal clearing effect), lavender, a hint of cologne, and a tiny bit of a "green" note. Melted, it also takes on a bit of a soapy, blue Dawn dish detergent note too. Nice, clean, fresh, and relaxing! Looking at the notes, no mint!
Simply Rose
An open bud of classic, floral fragrance
A lovely rose scented soap scent. It's not overly sweet, and has a slight bitterness that makes it smell authentic. It still smells like soap rather than a real rose, but I love it. And I started smelling it on the other side of the house only 10 minutes after I put a cube in the warmer. After a few hours it started taking on a little bit of a bug spray note, but not too bad.
Twilight
Suffused with fragrant dark floral notes, soft but intense, like a sea breeze sweeping through a moonlit garden
This might be one of my favorite scents ever! It smells like soap with a bit of a floral note and possibly a hint of light wood and maybe even a smidgen of barely detectable patchouli. It's sweet, but not a sweet floral or perfume or cologne type scent. When melted, it smells like a nice, expensive soap, almost like a bubble bath. Even though it's not a "clean" or laundry type scent, it does smell clean and refreshing, while also being warm and cozy. The scent lasted for 24 hours, and probably would have gone longer if I had let it!
Vanilla Oud
Sweet vanilla grounded by leather and earthy oud wood
A sweet woodsy vanilla scent with warm ambery, perfumey, and slight candy notes. I can smell the oud on cold sniff (a dark resinous woodsy scent with a "tree sap" type note), but it's subtle, and I don't smell it when melting, and I don't smell the leather. Very nice scent, but smells like a lot of other similar scents.
Vanilla Suede
Classic, comforting vanilla combined with rich amber and hints of sandalwood and spice, a cozy and subtly masculine fragrance
Fantastic combination of men's cologne, warm amber, sweet tobacco, and maybe a smidgen of leather. I don't smell vanilla.
Vanillamint
Wintergreen frost sparkles over vanilla and frozen citrus
This is the January Scent of the Month. On cold sniff I smell cool peppermint with a hint of a citrus note (I can't tell if it's lemon, lime, orange or a combination). Very refreshing, and would be great to melt on a hot summer day. Looking at the notes, I don't smell wintergreen at all (which has kind of an anise or licorice note), which is good. Melted, however, it smells totally different, like either a lemon tea cough drop or a lemon lime slushie with an iced tea note. I don't smell the mint at all when melting, but I definitely smell lemon iced tea. I think it's a scent that most people will love, but it's only "okay" for me.
Weathered Leather
Step into an old-fashioned saddle shop brimming with dark suede and tooled leather over a backdrop of oak
This is a new January 2018 scent. It's pure leather, like a leather jacket. But there's also a hint of a smoky note and maybe a smidgen of woodsiness. It's not a sweet or cologne scent at all. I don't usually care for pure leather scents, but I like this one because of that slight smoky and woodsy note.