Sizzlin Scents Wax Melt Reviews
March 24, 2018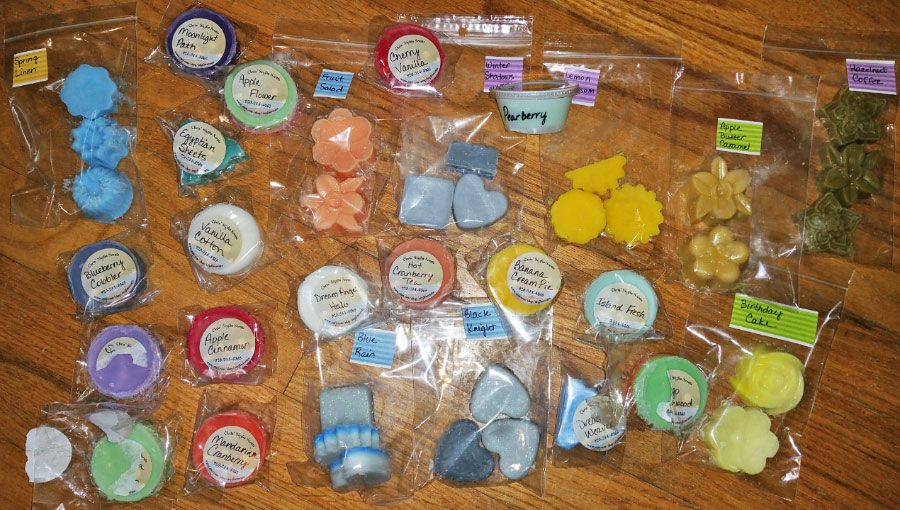 This is a review of wax melts by Sizzlin Scents, a small business in Fort Wayne, Indiana that makes candles and wax melts. Sizzlin Scents can be found on Etsy, and she is also on Facebook.
Sizzlin Scents candles and wax melts are made of a paraffin/soy (parasoy) blend, and the melts are available in many different shapes.
I enjoyed these wax melts, and Chris Anderson, the owner, was friendly, helpful and professional.
Apple Butter Caramel
This delectably sweet scent is a combination of delicious apple, gooey caramel, and sweet and spicy apple butter.
Fantastic super salty, super rich scent that smells like pretzels, but with an apple note and a hint of caramel. It's almost the same scent as
ScentSationals Pumpkin Apple Muffins
. 
Apple Cinnamon
Spicy red hots combined with a fresh apple for a delicious scent.
A generic cinnamon candy scent with a barely detectable smidgen of apple and cloves, but I like it.
Apple Flower
Red Delicious Apples entangled in delicate wild ivy, caressed by notes of fresh pomegranate and soft mandarin flowers. Blooming cherry trees and sheer musk surround this fragrance to give its handlers a delightful awakening!
A fantastic sweet apple candy scent with a perfume note. I really like this one!
Banana Cream Pie
The perfect banana cream pie, topped with whipped cream!
This is a fake banana candy scent, but I really like it
Birthday Cake
A sweet buttery bouquet reminiscent of vanilla cake.
Super rich extremely sweet buttery buttercream scent with a little bit of a vanilla cake note and maybe marshmallow. This one will give you cavities!
Black Knight
A sharp, spicy, lavender, amber fragrance. Contains a blend of lavender, citrus, spicy berries and sandalwood.
A nice fresh men's cologne or men's body wash scent.
Blue Rain
A blend of caramelized sugar and vanilla topped with heady notes of cedar and tonka bean combined with a refreshing blast of unique herbal fusion!
I've never smelled anything like this, but I like it! It's a sweet watery scent with a strong foodie note like vanilla, and another note I can't figure out, maybe caramel or brown sugar? Looking at the scent notes, there's the caramelized sugar and vanilla, and I think cedar is the other note, which I do smell. It's not an herbal scent though, nor is it a fresh watery scent, or a foodie scent, but a combination of watery and foodie. Very unique!
Blueberry Cobbler
Freshly baked blueberry cobbler straight from grandma's oven
Super sweet blueberry scent. It's the typical fake generic blueberry scent I smell everywhere, but I still like it. It smells better when melted and takes on a bit of a brown sugar note that's quite yummy!
Cherry Vanilla
Two classic fragrances swirl together in sweet harmony!
A very fake cherry scent with a strong chemical note. I don't care for it.
Dream Angels Halo
A close match to the popular Victoria's Secret fragrance, feminine accords of delicate muguet, rich jasmine and spring violets merge with fresh green notes and musk to create a luxurious aroma.
This one is very weak on cold sniff. It's a bit of a perfumey scent with maybe a hint of baby powder and vanilla.
Dream Weaver
This enchanting fragrance will take your breath away! A truly unique scent with a sensual earthy, musky type base note topped with a silky smooth powdery overtone
A wonderful perfumey scent that smells like baby powder with oriental spices and musk.
Egyptian Sheets
Clean and crisp top notes of orange zest and fresh greens highlight a feminine bouquet of jasmine, orchid vanilla and violet on a warm background of rosewood, sandalwood, and soft musk
I thought this would be a laundry scent, but it's really not. It's more like vanilla with a hint of a laundry note, and I think there's also musk and maybe a sweet watery note in this one. But it's not a sweet perfumey scent. There's also a strong vinyl type note that I don't care for. Looking at the scent notes, I don't smell orange at all.
Fruit Salad
A delicious blend of fresh apples, cherries, and fruit slices
A creamy fruity scent. I smell mostly cherry, but also orange and peach I think. It's a fake scent, but I like it. Looking at the scent notes, I don't smell apple. This one is similar to the Cherry Vanilla scent, with a hint of that chemical note but not enough to be annoying.
Green Tea & Cucumber
A duplicate of the popular Bath and Body Works fragrance, a sensual blend of cool citrus and melon with rich florals and a long lasting drydown of musk and cedarwood notes.
This smells exactly like the name, an almost even combination of watery cucumber and green herbal tea. There may be a smidgen of a floral note. It's nice, different, and relaxing. 
Hazelnut Coffee
An addicting brew of gourmet French roast coffee enhanced with the flavor of Turkish hazelnuts and a touch of sweet cream.
A fantastic sweet very creamy coffee scent with a nutty note. It's not overly sweet, and it's not a burnt coffee scent either.
Hot Cranberry Tea
A beautiful blend of cranberry, bergamot and lemon top notes with white flower and ylang ylang on a base of vanilla and amber.
A super sweet cranberry scent with a hint of cinnamon. Very nice! Looking at the scent notes, I don't detect any bergamot (which gives scents a cologne type note), flower, ylang, vanilla or amber. Maybe a barely detectable smidgen of lemon? I really do smell cinnamon even though it's not in the notes.
Island Fresh
Fresh water accords pervade the top as beautiful, floral notes come to full bloom. The clean scent of ozone carries the freshness throughout this splash of nature.
This is one of the best laundry scents I've ever smelled. It's an intense laundry scent, but not intense as in a harsh laundry detergent. It's super soft, soapy and "cuddly", kind of like a laundromat scent, not overly sweet or floral, and not really a fabric softener scent either. There may be a smidgen of baby powder.
Lemon Blossom
A citrus tree in your home, fresh lemon blended with a hint of vanilla
Fantastic lemon scent with a smidgen of sweetness, vanilla, soapiness, and perhaps floral and lime. But just a smidgen of each, which makes this lemon scent unique. 
Mandarin Cranberry
Another Yankee Candle duplication, this scent blends top notes of orange nuances, juicy cranberry, and mandarin essences with middle notes of floral accents, sweet rose, ripe berries, cranberry mango blossom, and strawberries into a base of vanilla and musky notes.
Fantastic scent that smells like black cherry with an orange (mandarin) note, almost like cherry/orange soda but without the fizziness. The cranberry note is very subtle. Looking at the scent notes, I do see berries and strawberries, which is probably why I think I smell cherry.
Mango Beachwood
Just like the popular Bath and Body Works fragrance, a blend of mango, tangerine and mandarin with mid notes of rose, jasmine and dewy cyclamen on a base of beechwood, amber and musk.
I really like this scent. I smell orange (mandarin) and red currant (a cedar woodsy fruity scent that gives other scents a classy note), along with a tropical note that might include a bit of pineapple.
Moonlight Path
A duplication of the Bath & Body Works fragrance, this fragrance is a soft floral scent enhanced by jasmine and rose.
I adore this scent! It's a super sweet girly floral perfume, like a combination of baby power, gardenia and musk.
Pearberry
A fresh fruity fragrant blend of pear and berry with a slight musk background.
Typical fake pear scent that I smell everywhere. I do kind of like it though. Looking at the scent notes, I don't smell musk at all on cold sniff, but when melted I do detect a hint of a perfumey note that I like.
Sassy Saffron
This unique aroma will take your mind on a trip to exotic places! The warm, spicy fragrance of Kashmiri saffron from India masterfully blended with earthy woods. White cedar, Indian sandalwood, and patchouli are softened by mid notes of vanilla and sensual musk, then brightened by top notes of grapefruit and fresh bergamot.
A smoky scent with a savory, soapy note. It smells a little like bacon, but there are other notes that I can't identify and that I don't care for. The scent notes don't match the scent. I've smelled this scent before and it's often used for fireplace scents (even though it doesn't smell like a fireplace or burning wood at all). I don't smell cedar, sandalwood, patchouli or vanilla at all (as those would be slightly sweet, and this scent has no sweetness at all).
Spring Linen
Smells just like the familiar aroma of a fresh, clean load of laundry just pulled from the dryer!
I love this scent! It smells like a combination of rich musk, sweet gardenia, warm amber, and a little bit of a laundry note. 
Vanilla Cotton
An inviting aura of twilight skies infused with red currant and soft dewberry. This southern cotton flower is blended with ylang petals and lily of the valley and has undertones of white amber and vanilla orchid wrapped in a blanket of warm musk.
Fantastic scent that smells like a combination of baby powder and laundry, with a vanilla note which tempers some of the sweetness. Looking at the scent notes, I don't smell any berry scents, although maybe a hint of the currant.
Winter Shadows
Northern Lights dance above an ancient spruce forest, illuminating an Indigo Sky on a crisp winter night. Notes of succulent Lemon Leaves and Nutty Cardamom carry this fragrance, as Crisp Air, Sandalwood and Musk hold a firm base. An absolute masterpiece, that brings you back to the mysterious winter wilderness!
A little woodsy with a hint of smokiness and a "dirt" note, but in a good way. It's an interesting scent, and I like it. Looking at the scent notes, I might detect maybe a smidgen of sandalwood and pine, and possibly musk because it has just a hint of sweetness. But no lemon at all.