St. Jude Candle Wax Melt Reviews
November 25, 2018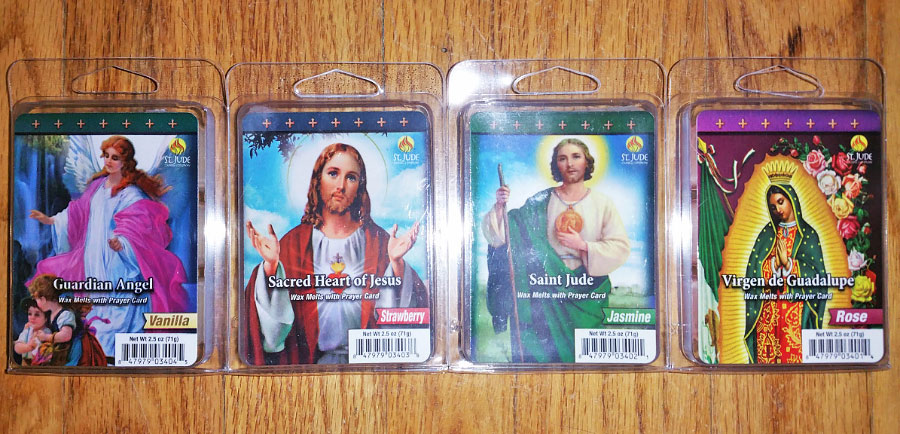 This is a review of St. Jude Candle wax melts. These wax melts are sold by Walmart, H-E-B, and smaller grocery store chains like Foodtown and Foodarama in Texas. They're made by St. Jude Candle Company in Houston, Texas. The candles can be found at most Walmarts (usually the next aisle over from the wax melts), but I've never seen the wax melts in the stores. Walmart online prices range from $2.45 to $3.00 depending on the scent, and only 4 scents are available. I expected these to be rather cheap "dollar store" type wax melts, but they're actually a good quality, they use a hard but slightly soft wax with a little bit of a greasy surface, and they smell great. And they even come with a prayer card!
St. Jude Candle Company's website is http://stjudecc.com, and these can be found on the Walmart website.
Guardian Angel (Vanilla)
This is a nice plain vanilla scent, very similar to
ScentSationals Vanilla Bean
, but with a bit of a sweet buttercream note. It's a common vanilla scent, but it's quite nice.
Sacred Heart of Jesus (Strawberry)
This is a super fake strawberry scent that smells kind of like cherry, like a strawberry-cherry hard candy, and with a smidgen of a perfumey note. It's not a biting cherry soda type scent though. It's absolutely fake but it smells pretty good on cold sniff. But when melted, there's a little bit of a chemical note in the background, and the scent is just a little too fake. It would probably smell better mixed with the vanilla scent.
Saint Jude (Jasmine)
A perfumey slightly soapy jasmine scent that I've smelled many times, but I love it. And the scent lasted all day, at least 12 hours.
Virgen de Guadalupe (Rose)
This is a fake rose scent, like rose scented soap. It's not an authentic rose, but I love it! And the scent lasted for most of the day.