Swan Creek Drizzle & Herbal Melts Wax Melts Reviews 2020
November 9, 2020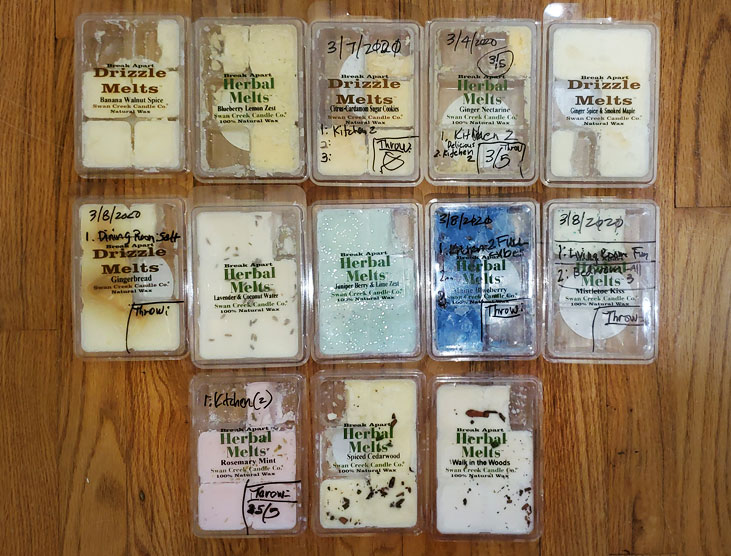 This is a review of Swan Creek Candle Drizzle and Herbal Melts Wax Melts.
I believe all of these scents are discontinued on the Swan Creek website, but may be available through other websites such as Cape Candle, The Lamp Stand, and Candles To My Door (see more details HERE).
Banana Walnut Spice
This smells like gingerbread with just a hint of banana, and slathered with a huge pat of butter. It's very rich and buttery! I'm not sure if I smell the walnuts. It's an incredibly yummy, authentic scent!
Blueberry Lemon Zest
This smells like blueberry with a bit of zestiness. It's a super sweet, fake blueberry, but not in a bad way. It's similar to the Maine Blueberry scent but not quite as sweet, and without that slight maple note. It's definitely zestier, and I do smell the lemon. Very nice scent!
Citrus-Cardamom Sugar Cookies
This smells like vanilla cookies with lemon, a little bit of orange, and cardamom (a nutty, buttery version of cloves, with a smidgen of fennel and herbal undertones). Great scent, and totally authentic!
Ginger Nectarine
This is a super milky peach scent, but there's something slightly savory in the background. I don't detect ginger at all. That odd note in the background makes this scent a bit nauseating. I'm not a fan.
Ginger Spice & Smoked Maple
Warm smoked maple with cinnamon and ginger
This smells just like gingerbread. It's rich and yummy and super authentic. I don't really smell maple, or anything smoked. Just delicious warm gingerbread! In fact, this scent smells more like gingerbread than their Gingerbread scent.
Gingerbread
The aroma of a freshly baked gingerbread cookie with hints of vanilla, nutmeg, cinnamon and of course, ginger.
This smells like rich vanilla buttercream with a hint of gingerbread. It's nice, but kind of one-dimensional, and it has a bit of a chemical note in the background. Ginger Spice & Smoked Maple smells more like real gingerbread.
Lavender & Coconut Water
Watery, light notes of coconut are infused with real French and Bulgarian lavender, a touch of clover and finished with hints of Italian bergamot for a botanical blend that is smooth, herbal and uplifting without being flowery
A fantastic lavender scent with just a hint of coconut. I'm not sure if I would know it was coconut if I didn't know it was supposed to be in there. It's not a sweet scent, and the lavender is an authentic garden lavender.
Juniper Berry & Lime Zest
This smells a lot like Pine Sol cleaner. It's an industrial clean type scent, not necessarily in a bad way though because it smells like you just scrubbed the house. I do smell the pine, and the lime is more of the rind of the lime rather than the fresh juicy insides. It's really not sweet either.
Maine Blueberry
I've smelled this particular blueberry scent many times. It's not a blueberry muffin scent like a lot of blueberry scents tend to be. Rather, it's a toothachingly sweet fake blueberry scent with a bit of a maple note. And it's perfectly okay that it's not authentic blueberry, because it smells fantastic.
Mistletoe Kiss
A fruity pine blend of cranberry, mulberry, bayberry and spruce
A fantastic soft pine scent with vanilla and a hint of sweet but slightly tart cranberry. I'd say 75% pine, 15% vanilla, 10% cranberry. I love this scent!
Rosemary Mint
This smells like authentic garden spearmint on cold sniff, with just a bit of sweetness. Melted, it's a bit sweeter, so it smells like toothpaste. But a high quality, mostly natural toothpaste. So it's actually quite nice, and would smell fantastic mixed with lemongrass and/or lavender.
Spiced Cedarwood
This smells like clove, patchouli, and maybe a smidgen of citrus (orange and/or lemon), and a smidgen of a "spice cake" type note. It smells fantastic!
Walk in the Woods
This smells like fig, soap, and a hint of wood. Even though figs are very sweet, for some reason fig scented candles and wax melts usually have no sweetness, and are a slightly fruity scent with a soapy note and zero sweetness. So I'm not really a fan of this scent, as it's very bland. But it would probably be great to use as a mixer to tone down scents that are too sweet.