The Candle Daddy Wax Melts Reviews
April 30, 2021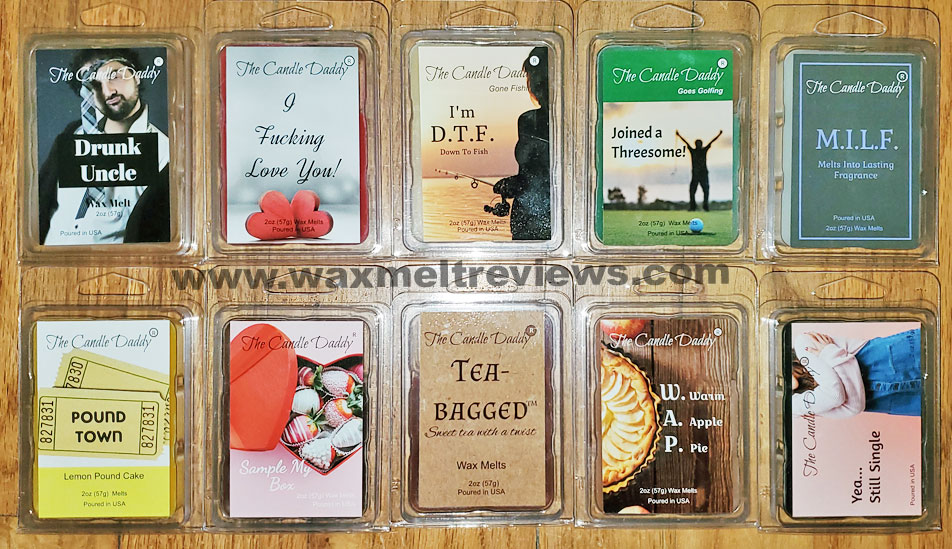 This is another review of wax melts from The Candle Daddy, which makes scents with unusual, creative, and somewhat risque names. See pros and cons on my first review.
The Candle Daddy candles and wax melts can be found on their website at https://thecandledaddy.com. They are also on Facebook.
Drunk Uncle
Whiskey, Oak Barrel, Smoke, Tonka, Musk
This is the same as their
Whiskey
scent. It doesn't smell like whiskey or any alcoholic beverage I've ever heard of! I understand what they were trying to do, and the types of notes they were putting together to try to make this smell like whiskey, but it doesn't work. Like grass scents, trying to duplicate the scent of an alcoholic beverage is nearly impossible, and usually ends up smelling weird. I can't even describe what this smells like, but I will say this, it's certainly unique! It has a smoky note, and something burnt. Maybe caramel? But like caramel that has been burned to a black crisp. It's not bitter and it's not sour, but there's something nauseating in there.
I Fucking Love You
Sea Salt, Floral, Tonka, Woody, Green Leaves
I'm getting salt water and coconut notes with a hint of floral and perhaps a smidgen of tropical fruit. I'd say 55% oceany note, 20% coconut, 20% floral, and maybe 5% of some kind of fruit, not sure if it's tropical but maybe I think it is because of the coconut. But the notes don't show fruit, tropical or coconut. This scent is so familiar, and I'm sure I've melted it recently.
I'm DTF (Down To Fish)
Melon, Violet, Citrus, Ozone, Moss
A very nice fresh scent with pear and floral. I'd say 70% fresh, 20% pear, and 10% floral. Looking at the notes, I don't detect melon; the fruit I smell is definitely pear. It's a generic fresh room spray scent that I've smelled before, but in a good way, and perfect for a bathroom.
Joined a Threesome (Fairway Grass)
Lemongrass, Citrus, Sage, Mossy, Green Leaves/Grass
A soapy herbal scent that smells like a combination of green grass and lemongrass, like 55% green grass, 40% lemongrass, and 5% a fresh note. It's barely sweet at all, and quite soapy, so would be a good scent to use in the bathroom. Looking at the notes, I don't detect citrus. And sage is a savory scent, although I think I do detect a hint of that in this scent.
M.I.L.F.
Apple, Citrus, All Spice, Bourbon, Coconut, Vanilla, Maple
This is the same as their
Dickens Cider
scent. It's a rich, sweet caramel apple scent, and it smells fantastic! Looking at the notes, I don't detect coconut or citrus at all. But maybe a hint of maple.
Pound Town (Lemon Pound Cake)
Lemon Peel, Citrus, Butter, Cake, Vanilla, Sugar
A yummy, super lemony scent with a little bit of bakery. It's sweet and rich, but more lemony and not quite as sweet as other similar scents I've smelled.
Sample My Box
Chocolate, Vanilla, Nutty, Butter Cream, Sugar
This smells like chocolate nut fudge! It's yummy! It does have a little bit of that harsh "stinky feet" note that some chocolate scents have (kind of like a Hershey's type chocolate), but after about 2 hours that note dissipates and it smells much better.
Shart
This is the same as their
Fart
scent. This may very well be the worst scent I've ever smelled in my life, like a combination of the nastiest diarrhea and a rotting corpse. And it's not a mistake... this scent is
supposed
to smell awful! I have this one wrapped up in several thick bags, and I can smell the stench through the bags and even a bit in the room. I'm not sure why I'm even keeping it. Your kids will love using this one as a prank, but don't bring it in the house. Obviously I didn't melt this one, and I can't imagine how awful that would be!
Tea Bagged
Tea Leaves, Sugar, Citrus, Woody
This smells a lot like ScentSationals Tea Thyme. It's not really all that "tea-y", but the tea is definitely black tea rather than green tea. And it has an earthy note with a smidgen of woodsiness.
W.A.P. (Warm Apple Pie)
Cinnamon, Apple, Clove, Almond, Vanilla, Caramel, Pastry
A nice apple pie scent with cloves, cinnamon, and maybe a smidgen of cherry and nutty notes.
Yea... Still Single
Strawberry, Peach, Vanilla, Guava, Tropical Fruit, Sugar
A super sweet, artificial (not in a bad way) strawberry kiwi scent with a bit of watermelon. I like it! It's almost a candy scent, but might have just a smidgen of floral way in the background that keeps it from really being a candy scent. Looking at the notes, I don't detect peach, and not really any tropical notes either.