The Candle Daddy Wax Melts Reviews
November 8, 2020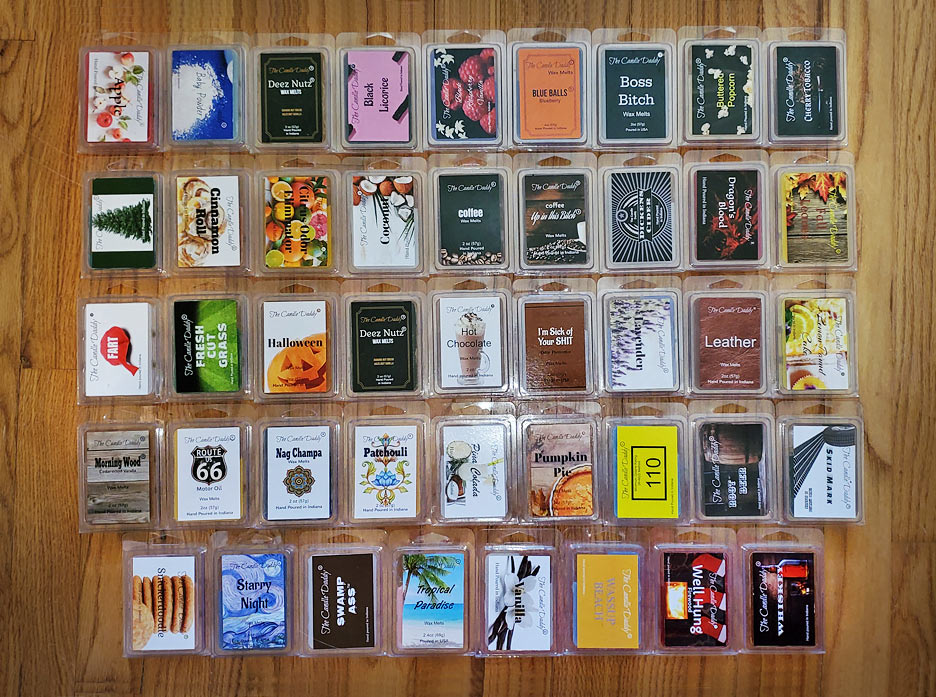 This is a review of wax melts from The Candle Daddy, a candle company in Indiana that makes paraffin candles and wax melts in a variety of scents, some of which are unusual and creative, with interesting and somewhat risque names.
Pros:
A very large variety of nice smelling scents
Most scents have strong throw
Some unusual scents that are not available elsewhere
Very creative scent names
Great for gifts!
Their products are hand-poured in a pet-free, smoke-free facility.
Excellent customer service
Cons:
$9.99 for a standard 2.5 oz. clamshell is exorbitantly high (on sale for $5.99 as of the date of this review, which is still expensive).
Some of the more standard scents smelled generic, and are available from a lot of other wax melt companies. At this price point, we would expect their standard scents to be of a higher quality or at least their own custom creations.
Many of the scents didn't last long, and dissipated within 2 or 3 hours.
The Candle Daddy candles and wax melts can be found on their website at https://thecandledaddy.com. They are also on Facebook.
Apple
Top: Orange Peel, Cinnamon, Nutmeg; Middle: Apple; Base: Clove, Vanilla
This is indeed an apple scent! It's crisp and VERY sweet, somewhere between an authentic apple and apple candy. It doesn't have that waxy note that some apple scents tend to have. And despite the scent notes, I don't smell orange, cinnamon, nutmeg or clove. I really like it!
Baby Powder
This is definitely baby powder, no mistaking that!! It's just slightly less sweet than real baby powder, and has a tiny bit of a soapy note. I love it!
Banana Nut Bread (Deez Nuts and Bofa Deez Nuts)
Top: Banana, Walnut, Lemon Peel; Middle: Nutmeg, Sugar; Base: Tonka Bean, Butter, Vanilla
Super yummy scent that does indeed smell like banana nut bread, sweet with a lot of banana and not so much bread. Fantastic!
Black Licorice
This is indeed a black licorice scent! Although it's sweet (but not overly so), it's more like authentic black licorice (like anise), rather than sweet candy licorice.
Black Raspberry Vanilla
Top: Raspberry, Citrus; Middle: Blackberry; Base: Vanilla
A lovely sweet raspberry scent that smells a bit like Pink Sugar (a fruity girly perfume that combines orange, raspberry, cotton candy, musk, and other notes), but is more raspberry-ish. It's more of a raspberry scented lip balm type raspberry rather than a foodie scent. I LOVE it!
Blue Balls (Blueberry)
Top: Blueberry; Middle: Cream; Base: Cinnamon, Vanilla
Although this is definitely not an authentic blueberry scent, it smells incredible. Most blueberry scents tend to smell like a fake blueberry muffin, but this one is super sweet with the extra sugariness of brown sugar and/or maple. It's cavity-inducing sweet, and I love it! Looking at the notes, I don't smell any cinnamon at all.
Boss Bitch (Apple Maple Bourbon)
Fantastic caramel apple scent with something else, like an extra richness to the caramel (probably the bourbon). That additional note is very subtle, and this really just smells like an extra good caramel apple scent.
Buttered Popcorn
This does indeed smell like salty popcorn with just a little bit of butter. After about an hour, it turned into more of a rich, buttery vanilla cookie scent. And within another hour after that, the scent was pretty much gone.
Cherry Tobacco
Top: Black Cherry, Tobacco; Middle: Wood; Base: Light Musk, Sandalwood
A fantastic juicy black cherry scent with a little bit of cinnamon and a hint of tobacco. It's mostly cherry, like 85%, with maybe 10% cinnamon and 5% tobacco. Great scent!
Christmas Tree (Morning Wood)
Top: Apple; Middle: Pine; Base: Cedar, Fir, Cypress
A fantastic blue spruce scent with a hint of balsam, rather than a sharp, biting pine. It's not really authentic and smells more like the pine scented spray you put on a Christmas tree to make it smell extra good. Fantastic scent! Looking at the notes, I don't smell apple at all.
Cinnamon Roll
Top: Cinnamon, Clove; Middle: Butter, Sugar; Base: Vanilla, Cream
This scent is true to its name. It's sweet cinnamon with the bready note from the roll. It's sweet, with maybe a little bit of sweet white glaze, but not as much as some other cinnamon roll scents I've smelled.
Citrus Odor Eliminator
Top: Ozone, Lemon, Citrus; Middle: Basil, Cucumber; Base: Geranium
I detect grapefruit, and possibly a smidgen of pineapple, but it's not all that citrusy, and it has an odd, slightly sour vinyl chemical note that I don't care for. Looking at the notes, no grapefruit, but geranium has a bitter note which might explain the oddness, basil is a savory herb, and cucumber is bland and watery (similar to aloe). So I think the notes don't work well together.
Coconut
Top: Rum, Lime; Middle: Coconut; Base: Coconut, Vanilla
This is unlike most coconut wax melts out there. It smells like pure, milky, authentic coconut pulp scraped from the inside of an actual coconut, before it's mixed with pineapple and sugar and all the other notes that make it smell like a "typical" coconut scent. It smells like coconut water! I like it, although on its own it's a bit bland, and with no sweetness, but for that reason it's a great coconut scent to mix with other scents like vanilla, floral, tropical fruit (or any kind of fruit), and chocolate! It smells like
Shortie's Coconut Cove
.
Coffee
Top: Coffee; Middle: Sugar; Base: Cream, Coffee
Wow, this is a great coffee scent! On cold sniff it's a very strong coffee scent that may have a smidgen of chocolate way, way in the background that gives it an extra richness. Although it's not sweet, it's also not muddy and bitter like some espresso scents can be. When melted, however, it's straight up dark coffee with a little bitterness, but it's totally authentic and it really smells like someone is brewing a cup of coffee! WOW!!
Coffee Up In This Bitch
Top: Coffee; Middle: Sugar; Base: Cream, Coffee
This is supposedly the same as the Coffee scent, but it's more bitter. Maybe it's just because it's part of a different batch. Most people probably won't notice the difference though. It still smells great!
Dickens Cider
Top: Apple Cider; Middle: Pomegranate, Cranberry, Red Currant; Base: Lemon Peel, Spice
Although this is an apple scent, it's definitely not cider. It doesn't have any of the slightly sour mulling spices that apple cider has. It's not even a light cider, which smells like sweet apple juice with a hint of cinnamon. Rather, this is a rich, sweet caramel apple scent, and it smells great, better than apple cider. It smells almost exactly the same as Boss Bitch, but without the subtle addition of the rich bourbon note.
Dragon's Blood
Top: Orange, Orange Blossom; Middle: Cedar, Patchouli, Clove; Base: Incense, Tonka Bean
Dragon's Blood smells like Nag Champa (a sweet incensey scent with a baby powder note) with a hint of orange blossom/neroli, and a little bit of the sweetness tempered by a tiny bit of sandalwood and patchouli. It's fantastic!
Fall Leaves
Top: Citrus, Cinnamon, Chrysanthemum; Middle: Apple, Berry, Green Leaves; Base: Pecan, Cedar
I've smelled this scent before. It's not the usual old apples falling to the ground and mixing with brown leaves type scent. It does smell like that, but it's sweeter and might have a caramely note and a smidgen of nuttiness. But it also has a strong, slightly sour nauseating note, but I can't figure out what it is. Looking at the notes, it could be chrysanthemum, which is a bitter floral that I don't think ever smells good as a note in any wax melt.
Fart
When I ordered this I thought, "How bad can it really be?" I figured it would be some kind of weird sulphury popcorny scent, which I could have tolerated. This scent, however, is intolerable... but in the best way. It smells like a combination of the nastiest diarrhea and a rotting corpse. I don't know how they were able to come up with such a malodorous "scent", but the word "fart" doesn't do this scent justice as far as how nauseating this scent is. I don't think I've ever smelled anything so bad in my life. And because it's very strong on cold sniff, I put it in a polypropylene bag so that the odor doesn't rub off on any of the other wax melts next to it. If you have young boys, they will love teasing each other with this wax melt, but be sure they take it out of the house. This wax melt would be great to use as a prank... a cube under someone's car seat, under a couch cushion, or rubbed on the back of someone's pants! Obviously, I didn't melt this one, nor do I ever want to open it again!
Fresh Cut Grass
Top: Orange, Leafy Green Geranium; Middle: Rose, Jasmine, Violet; Base: Sandalwood
Grass is a scent that's nearly impossible to duplicate authentically. It always ends up smelling like a floral, and this scent is no exception. But still, it smells great, better than most grass scents I've smelled. It's floral, and sweet but not overly sweet. It has a little bit of an herbal note, and maybe a smidgen of aloe that gives it a watery, slightly cucumbery note that grass tends to have. Melted, I detect a little bit of a soapy note too. I like it.
Halloween
Top: Cinnamon, Ginger, Nutmeg; Middle: Pumpkin, Clove; Base: Vanilla, Pie Crust
This smells like pumpkin pie with a hint of caramel, and it has a bit less of the spice notes (nutmeg, cinnamon, ginger) than most pumpkin pie scents do. When melted, it's sweeter and I don't smell as much of the caramel, and it smells more like a cinnamon roll.
Hazelnut Vanilla (Deez Nuts and Bofa Deez Nuts)
Top: Coconut; Middle: Hazelnut, Butter; Base: Vanilla
I can't figure out what I'm smelling, but it's some kind of foodie scent. I detect coconut, nuttiness (although not hazelnut, per se), and maybe a smidgen of wood. Definitely not a hazelnut vanilla type scent. It's nice though, and different.
Hot Chocolate
Top: Chocolate, Cream, Sugar; Middle: Vanilla; Base: Walnuts
A yummy chocolate scent that smells like a rich chocolate bar. It's very sweet, and it's somewhere between a milk and dark chocolate, without any burnt notes at all. I think I detect a smidgen of nuts in the background that makes this smell like a super rich version of a Mr. Goodbar chocolate bar. Super yummy scent!
I'm Sick of Your Shit (Odor Eliminator)
Top: Citrus, Spice; Middle: Fruit; Base: Cedar, Cinnamon
A nice fresh, watery scent that smells like rain, even with a hint of ozone and a teensy bit of petrichor (the scent of rain on wet pavement on a hot day). It also has a little bit of a baby powder note that gives it some sweetness, but it's not overly sweet. It's a nice, pleasant scent. I think the notes provided belong to a different scent.
Lavender
Top: Bergamot, Lemon; Middle: Lavender; Base: Cedar
A nice spa lavender scent. It's not sweet, but also not medicinal. It has a subtle lemongrass note, which makes it a perfect spa lavender scent. Very nice!
Leather
Top: Saffron; Middle: Incense; Base: Leather, Amber
This is pure leather without any other notes, just like walking into a leather store. It smells great, although I'm not sure I want the scent of leather in my house. But it's also a good mixer for other scents, like smoky, tobacco, woodsy or cologne scents!
Lemon Pound Cake
Top: Lemon, Lemon Peel; Middle: Butter; Base: Cake, Vanilla, Sugar
A yummy, super lemony scent with a little bit of bakery. It's sweet and rich, but more lemony and not quite as sweet as other similar scents I've smelled.
Morning Wood (Cedarwood Vanilla)
Top: Cedar; Middle: Moss; Base: Cedar, Oak, Vanilla
On cold sniff this kind of smells like peanut butter. But melted, it's a very nice raw wood scent with a tiny bit of smokiness, a smidgen of a sweet vanilla note that gives it a little bit of a foodie note, and a barely detectable nuttiness. It does have a cedary note, but not a typical sweet cedar. I like it!
Morning Wood (White Birch)
A nice scent of pine and smoke. The smokiness is a bit sour but also has a little bit of a mesquite type note. I like it!
Motor Oil
I wish motor oil smelled this good, because this is a chocolate cake scent! But there's also a definite note of motor oil or watered down turpentine. Oddly, it smells really good because the two notes are not actually combined. I can smell the milk chocolate and the motor oil separately, rather than it being a chocolate motor oil scent. It smells like someone just sliced chocolate cake with sweet milk chocolate frosting... while in their garage changing oil in their car. If all I smelled was the motor oil part without the chocolate, this would be a totally authentic motor oil scent. Melted, the motor oil note dissipates a bit, and the milk chocolate becomes more of a dark fudgy chocolate.
Nag Champa
Top: Powder; Middle: Amber, Rose, Lily of the Valley; Base: Sandalwood, Dark Musk, Patchouli, Violet
I love Nag Champa, and this one is perfect, a super sweet incensey scent with a little bit of a baby powder note.
Patchouli
Top: Ginger, Cinnamon, Clove; Middle: Patchouli, Jasmine, Cedar; Base: Patchouli, Oud, Amber
The unmistakable scent of rich, earthy, sweet, slightly musty patchouli. Fantastic scent!
Pina Colada
Top: Pineapple, Orange, Coconut; Middle: Mango, Peach; Base: Sugar
This smells like pineapple with a little bit of coconut. It smells like Pina Colada scented room spray.
Pumpkin Pie
Top: Cinnamon, Ginger, Nutmeg; Middle: Pumpkin, Clove; Base: Vanilla, Pie Crust
A yummy pumpkin pie scent, sweeter than most. It smells like a combination of a sweet glazed cinnamon roll and pumpkin pie. It's similar to the Halloween scent, but sweeter and "brighter", like it might have a barely detectable smidgen of orange way way in the background. But when melted, the Halloween scent is more similar to this one, so they may indeed be the same scent. And looking at the notes, they are indeed.
Race Fuel
Racing fuel smells a little different from regular gasoline, and can have a tiny bit of a bubble gum note. This scent smells like a combination of eucalyptus and something else, could be gasoline or turpentine or some other industrial chemical note. It's not awful, but not something I'd want my house to smell like. I like the smell of a racetrack or an auto mechanic garage, but this doesn't smell like that at all.
Root Beer
Top: Cardamom, Ginger; Middle: Anise, Nutmeg; Base: Anise, Vanilla
Yep, it's root beer, and very authentic! I'm not a fan of root beer scents in general, but this one is actually pretty good because it's quite sweet, and not as intense or harsh as some root beer scents can be.
Skid Mark
This does have a rubbery tire vibe, but it smells more like vinyl, plus a strong industrial chemical note. It doesn't smell like being at a race track, a smell I kind of like. I don't care for this one.
Snickerdoodle
Top: Cinnamon, Sugar; Middle: Honey, Butter; Base: Vanilla, Cream
A super yummy scent that smells like snowball cookies, which are rich buttery melty shortbread pecan cookies rolled in powdered sugar. It actually smells quite a bit like
Better Homes & Gardens Pumpkin Marshmallow Topping
(even though neither of these scents has a pumpkin note). This scent lasted 8 hours!
Starry Night
This smells like a combination of black pepper, ocean water, and fresh air. It has a tiny bit of bitterness that actually works in its favor. It has barely any sweetness. It's so different and I love it!
Swamp Ass
If you don't know what the term "swamp ass" means, look it up! This, however, doesn't actually smell like what I assume true swamp ass would smell like. Rather, it smells like a combination of authentic mildewy soil (like what you'd find at a swamp) and their Fart scent (see description of that "scent" above). This scent is only very slightly more tolerable than the Fart scent, but only because I rather like the soil part of the scent, which is a super authentic mildewy potting soil type scent. Like the Fart scent, I didn't melt this one, nor do I want to open it again!
Tropical Paradise
I don't like this one at all. It smells like some kind of chemical that's supposed to have a coconut and/or pineapple scent, but it smells more like vinyl with a hint of scented nail polish remover. It was so harsh we had to remove it from the warmer after only 10 minutes.
Vanilla
Top: Buttercream; Middle: Vanilla, Cake; Base: Sugar, Bourbon
I've smelled this particular vanilla scent many times before. It's a basic, generic vanilla that smells like vanilla frosting, but the waxy kind on top of cheap supermarket cupcakes, with a little bit of a chemical note. It's actually still a nice scent though, and a good mixer to add sweetness and a little bit of a bakery note to other scents, because it doesn't have any strong notes in it. It's great mixed with coconut, lemon, cinnamon, coffee, or pine! Looking at the notes, it's probably the bourbon that gives this scent its waxy note, as alcohol notes in wax melts tend to smell weird and artificial.
Wassup Beach
Top: Sea Salt, Ozone, Citrus; Middle: Jasmine, Lavender; Base: Wood
This smells like oceany fresh bathroom deodorizer. It's generic and fake, but strangely, it smells really good and is perfect for a bathroom!
Well Hung (Firewood)
Top: Saffron; Middle: Clove, Incense, Sandalwood; Base: Amber, Patchouli, Smoke
This is definitely a smoky scent, and has a tiny bit of a mesquite note, but it's subtle so this doesn't have that bacony note that some smoky scents have. It also doesn't have the sour Play-Doh note that some smoky scents have.
Whiskey
Top: Whiskey; Middle: Whiskey; Base: Smoke, Oak, Tonka Bean
This doesn't smell like whiskey or any alcoholic beverage I've ever heard of! I understand what they were trying to do, and the types of notes they were putting together to try to make this smell like whiskey, but it doesn't work. Like grass scents, trying to duplicate the scent of an alcoholic beverage is nearly impossible, and usually ends up smelling weird. I can't even describe what this smells like, but I will say this, it's certainly unique! It has a smoky note, and something burnt. Maybe caramel? But like caramel that has been burned to a black crisp. It's not bitter and it's not sour, but there's something nauseating in there.